New Delhi/6/23:Union Minister of Fisheries, Animal Husbandry & Dairying, Shri Parshottam Rupala launched Nandi – NOC Approval for New Drug and Inoculation System portal today at Krishi Bhawan, New Delhi. With this portal, DAHD will facilitate the regulatory approval process with transparency to assess and examine veterinary product proposals will be more streamlined through seamless integration with the SUGAM portal of Central Drugs Standard Control Organization. Shri Rupala expressed appreciation for the outstanding work of the Department of Animal Husbandry and Dairying (DAHD) and highlighted the initiative as a significant step towards advancing Digital India and promoting the well-being of livestock and the livestock industry. The launch of the NANDI portal is another notable undertaking following the animal vaccination coverage initiative and Mobile Veterinary Units (MVUs). This initiative would also provide valuable support to researchers and industries from a commercial perspective. By raising awareness among livestock rearers and improving logistical facilities, there would be an increase in the consumption of drugs. Union Minister stressed the importance of closely monitoring the portal's activities for a few months to establish a robust system. Shri Rupala expressed appreciation for the contributions of all stakeholders, including CDAC, in the development of the NANDI portal.
On the occasion, Dr. Sanjeev Balyan, Minister of State for Animal Husbandry, Dairying, and Fisheries of India commended the department's efforts in alignment with the Digital India mission.
The veterinary vaccines have had, and continue to have, a major impact not only on animal health and production but also on human health through increasing safe food supplies and preventing animal-to-human transmission of infectious diseases. This is a part of our whole ecosystem. it is important to keep our livestock healthy and maintain regular supply of vaccines and medicines
The DAHD has been making constant efforts to facilitate the regulatory approval process in timely manner, which is very important for the availability of veterinary drugs and vaccines in the country.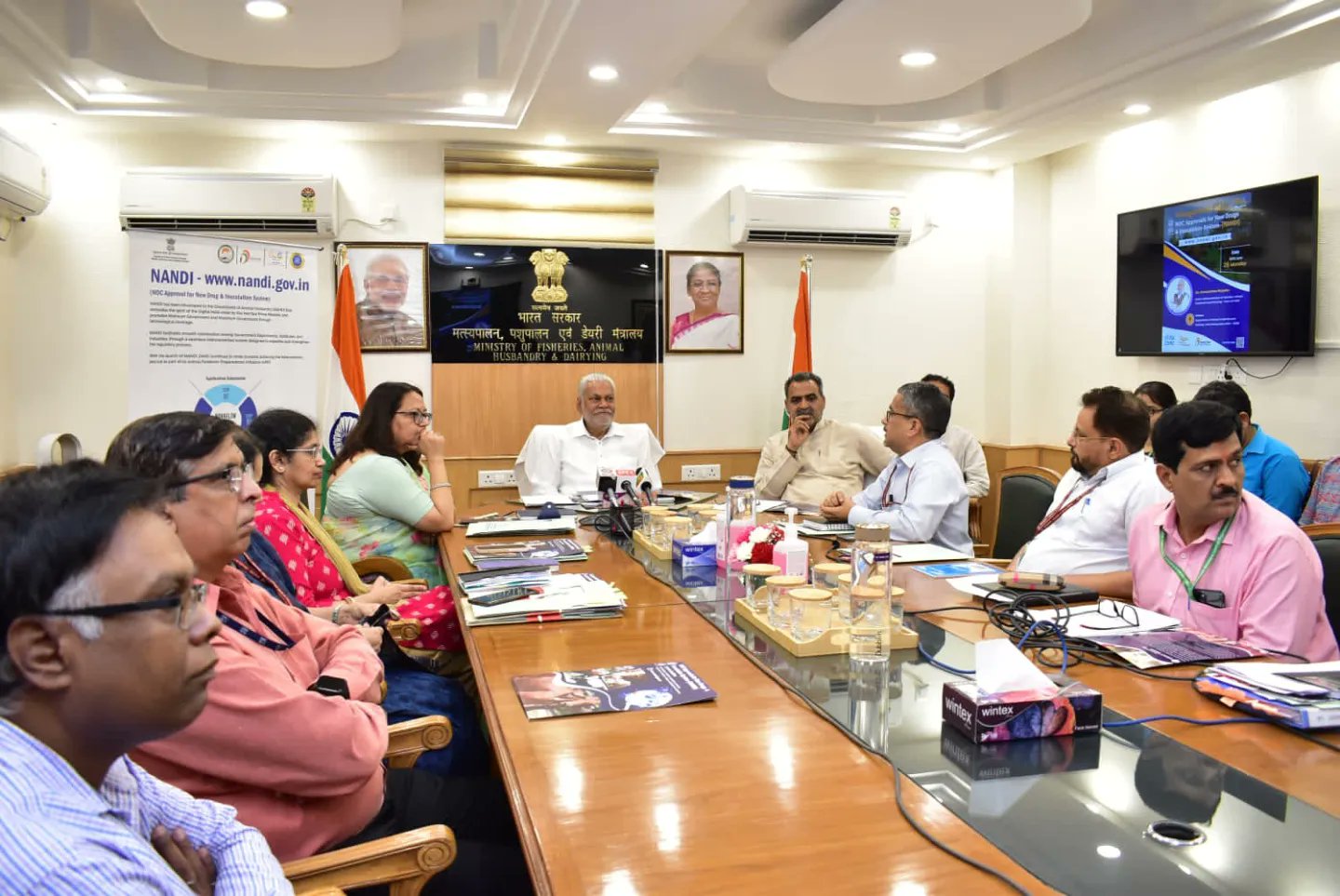 DAHD has been working towards improving the regulatory process through setting up empowered committees such as Empowered Committee for Animal Health (ECAH), chaired by PSA (GoI), which is working towards creating resilient, farmer-centric animal health systems in India and bringing forth changes to ensure the long-term success of India's livestock sector. Under ECAH, Regulatory Subcommittee, consisting of various veterinary experts from industry and academia, has been set up with the goal to comprehensively deliberate, efficiently take action, and provide recommendation/policy inputs on submissions of veterinary vaccine/biologicals/drugs in the Department for its opinion.
In order to expedite regulatory process for approval of animal drugs and vaccines NANDI (NOC Approval for New Drug and Inoculation System) the department has developed NANDI portal through CDAC in coordination with Central Drugs Standard Control Organization (CDSCO) in pursuance of the spirit of Digital India vision initiated by the Hon'ble Prime Minister and captures the essence of Minimum Government and Maximum Governance by leveraging the IT Systems. NANDI will bring about growth and innovation by enabling quick and easy coordination between various Government Departments, Institutes, and Industry through a seamless interconnected system designed to expedite and strengthen the regulatory process. The portal has inbuilt features for end-to-end coordination between Departments, Committees/Subcommittee and Applicants.
With the launch of NANDI (NOC Approval for New Drug and Inoculation System), DAHD continues to stride towards achieving the interventions laid out as part of its Animal Pandemic Preparedness Initiative (APPI).