Bhubaneswar:26/6/23:The Government of Odisha & the Quality Council of India, in collaboration with industry associations – ASSOCHAM, FICCI, EEPC, OASME, PHDCCI, CIPET, FHRAI – launched the Odisha Gunvatta Sankalp (Odisha Quality Mission) at Bhubaneswar today. The Sankalp was inaugurated by the Chief Secretary of Odisha Shri Pradeep Kumar Jena in the august presence of the Development Commissioner Smt. Anu Garg. Several policymakers, industry leaders, practitioners and members of academia, discussed promoting and prioritising quality across various sectors in the state of Odisha to pave an ecosystem of quality that underlines the idea of a progressive and Sashakta Odisha.
"Odisha, with its abundant natural resources, talented and hardworking workforce and an enabling administration is poised to be one of the States leading the mantle in India's growth story. It is making great strides in the sports sector. Today, we are here to create a connection with the grassroots and permeate the idea of Quality in the DNA of each and every citizen in every part of India", remarked Jaxay Shah, Chairperson of QCI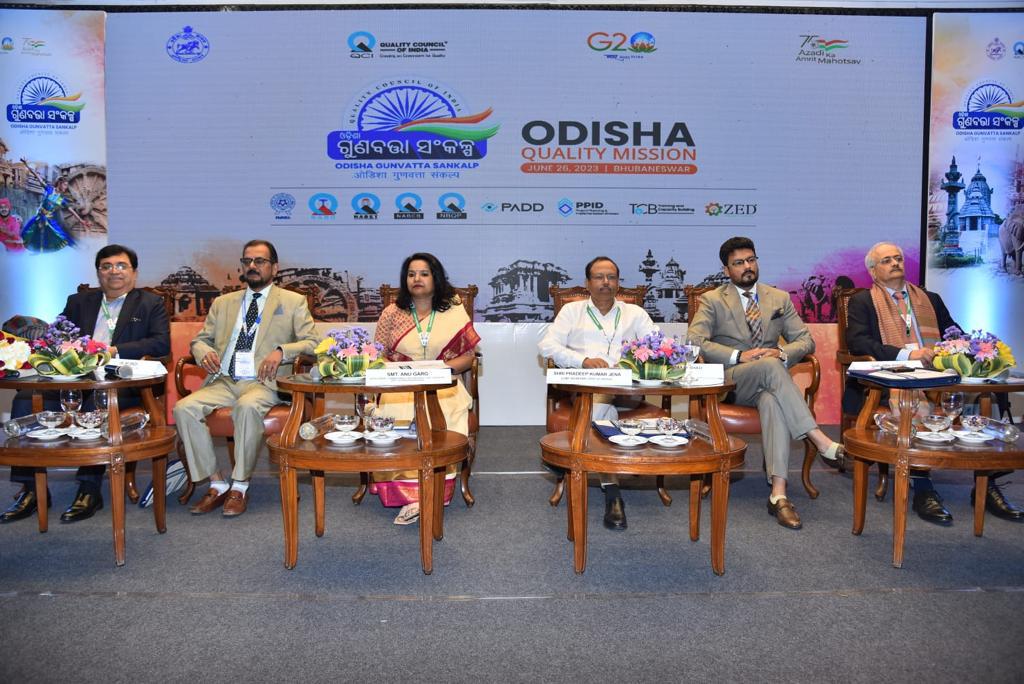 Hon'ble Chief Minister, Naveen Patnaik graced the occasion through a recorded message that emphasised the role of quality as a key aspect in every sphere of human activity. "Odisha's dynamic 5T initiative has made significant inroads in bringing about quality across domains such as public service delivery, heritage tourism, healthcare, education and skilling, drinking water and so on. We must be able to leverage the role played by quality as a metric that can be measured, tracked and scaled, and work together to create a new and empowered Odisha", highlighted the Hon'ble CM.
Shri Pradeep Kumar Jena resonated with the sentiment about quality and mentioned that quality is a continuous process; and not an end. "Within just 98 days, the Kalinga stadium was renovated for the Athletic Championship to be held in the state. This year, we built the largest hockey stadium in Rourkela in 15 months enabling two consecutive Hockey World Cups to be organized in the state. This was a quality project executed within a short span of time, with quality being engineered into the project from the beginning. You will witness even in our rath yatra, how medical services are provided to the 1.5 million participants. In Odisha, we spend the highest percentage of our budget on infrastructure, therefore, we have the resources and the willingness to ensure that quality forms a core component and becomes part of the value system of Odisha", remarked the Chief Secretary.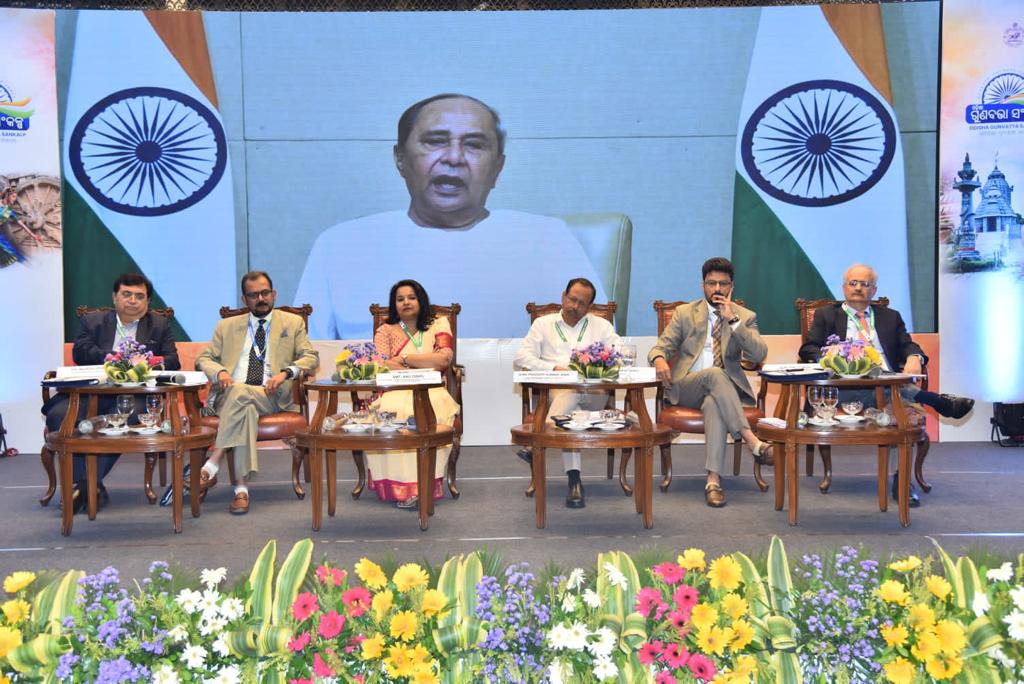 Smt. Anu Garg, reiterating the pace of change in Odisha, stated that the government is taking up around 40-50 irrigation projects instead of 5-10 as it did earlier. "While there are 3 international flights from Bhubaneswar, there are also flights under the Mukhyamantri Vayu Swasthya Seva air health services wherein special doctors reach remote regions of Odisha. When public feedback was sought under Mo Sarkar across departments, we have found a positive response. We already conduct monthly programs for quality assurance and discuss common topics related to quality. However, there is much to do and QCI can assist us in finding gaps and going the extra mile that Odisha requires to achieve transformational change and ensure quality of life for its people", asserted the Development Commissioner.
"The Odisha government has been extremely supportive of the Gunvatta Sankalp initiative. Our discussions with secretaries across MSME, Electronics and IT, and skilling have yielded focused interventions in the domains of ZED, LEAN and ONDC. QCI will be working closely with the government to make sure that these interventions get materialized at the earliest. We will be discussing, deliberating and collaborating with the relevant partners to create an overall impact on Odisha's Economy", stressed Dr. Ravi P. Singh, Secretary General QCI.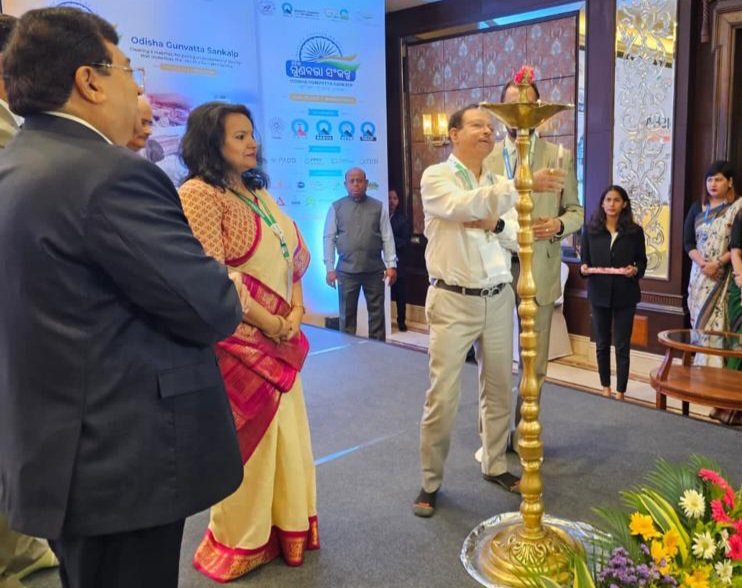 Culminating the Sankalp, His Excellency Prof. Ganeshi Lal, Governor of Odisha graced the occasion with his presence and addressed the participants. He reinforced the need for adopting quality practices across domains and for creating an ecosystem for quality in Odisha thereby enabling the achievement of the vision of a new and empowered Odisha. "We are the siblings of the Adi Shakti; we bow our heads to the smallest particle of earth. QCI means Quotient of Collectivism and Individualism. As far as quality is concerned, we will be a global product but more than quality of India, it has to be the purity of India.", emphasized the Hon'ble Governor.
The Quality Council of India, established in 1997 by the Government of India and the Indian industry, is the apex organisation in India responsible for establishing and operating the third-party national accreditation system, improving quality across sectors and advising the government and other stakeholders on all matters concerning quality. It has established constituent Boards that offer accreditation in respective areas – such as NABL for labs and NABH for hospitals, NABCB for certification and inspection bodies, and NABET for education and training. Its National Board for Quality Promotion is responsible for running the national quality campaign. The Chairperson of QCI, nominated by the Prime Minister of India, is Shri Jaxay Shah, CMD of Savvy Group of Companies.