Bhubaneswar:17/5/23: With a vision of catering high quality nutritious eggs to the egg lovers of Bhubaneswar under one roof, OVO Farm has launched its flagship egg retail store, KENKO AGSTRA at IRC Village, Bhubaneswar which is Odisha's 1st exclusive egg retail store.  The 1000 sq ft unique egg store will cater high quality eggs such as high protein eggs, brown eggs, and selenium rich eggs which are directly sourced fresh from the advanced and fully-automated technology facility of OVO Farm where not only the quality but the hygiene of the eggs are also ensured.  The company also introduced its Blockchain technology which will allow customers to trace the products through QR code on the pack ensuring the right product is delivered to them.
The Store was inaugurated by Asit Tripathy, Chairman, WODC as Chief Guest in the presence of Samarendra Mishra Founder of OVO Farm. Dr. Yeddula Vijay, Director, AH & VS graced the occasion as the guest of honour and congratulated the team.
Expressing his delight, Asit Tripathy, Chairman, WODC, "I congratulate OVO Farm for this exclusive egg store. This is something new and advanced for the people of Bhubaneswar as well as Odisha as they can now get eggs as per their nutritional requirement. These eggs are high in quality and hygiene. I wish good luck to the team for their future plans. "
KENKO Agstra is going to cater products of 6 categories including Hi Pro, Brown, Immuno, MoreOVOr and On-Day which will be available in packs of 6, 10 and 20 eggs This store would serve customers directly, providing them with a range of nutritious and fresh egg options straight from the farm. All eggs sold in the store would be sourced directly from OVO Farm's own facilities, ensuring that customers receive the highest quality products.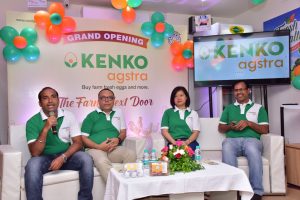 Speaking about the future plans of KENKO Agstra Samarendra Mishra, Founder of OVO Farm said, "Kenko Agstra is our flagship store. With our exclusive outlet we want more people to have access to fresh, high-quality eggs directly from the farm, produced using innovative and sustainable farming practices. In the future, we look forward to open up stores in every locality of Bhubaneswar and also are planning to expand the operations to Kolkata and other cities in India in the near future."
The egg farm makes use of block chain technology that facilitates traceability of their eggs from the farm to the end consumer. This technology allows tracking of the eggs at every stage of the supply chain, ensuring transparency and accountability. Consumers can access this information through a QR code on the pack, and get details such as the location of the farm, the date the egg was laid and the processing and transportation history of the egg.
The eggs after being collected from the OVO Farm, undergo a series of processing steps to ensure their quality and freshness like Freshness Test, Shell Strength Test, Candling, Cleaning, and Grading. Quality assurance is ensured in every step as OVO Farm uses specialized packaging that is designed to protect the eggs during transit and maintain their freshness. The logistics of transporting the eggs from the farm to the final destination also involves careful planning.
OVO farm has expertise in egg farming with two decades of experience in high quality egg production. Currently the farm produces one million eggs every day in their three units located in Balangir. The farm is now a source of livelihood to as many as 250 employees.
Apart from the exclusive store, the KENKO products are available to consumers in Bhubaneswar and Kolkata through a wide network of retail shops like general trade retail units and modern trade store in both cities. Additionally, the products are also available through ecommerce platforms, where consumers can order the products online.
Known for its export quality products, the eggs from OVO Farm have been continuously exported globally including Middle East countries and Africa. It should be noted, the global event FIFA World Cup in Qatar was importing eggs from OVO Farm to meet its sudden demand for eggs.
OVO Farm was found by two brothers, Soumendra Mishra and Samarendra Mishra. Soumendra Mishra is a dedicated farmer who possesses a deep understanding of poultry operations. His primary focus is on delivering the highest standards of egg production to customers. Samarendra Mishra, on the other hand, is a UK MBA graduate who brings a wealth of knowledge and experience in new technologies and sustainable farming practices. He is keen on driving transformational change in the agriculture business and is passionate about exploring innovative ways to make farming more sustainable and eco-friendly. Together, the Mishra brothers bring a unique blend of expertise and experience to OVO Farm, enabling the farm to achieve its vision of producing high-quality, sustainably-produced eggs.