Bhubaneswar:1/4/23:Under the dynamic leadership of our Hon'ble Prime Minister, Mr Narendra Modi, India proudly hosts the G20 presidency for 2023. In joining hands for this prestigious moment,The Ministry of Education and Skill Development & Entrepreneurship,under the guidance of Mr Dharmendra Pradhan,has initiated Education Working Group Meeting and associated programs in Odisha and other parts of the country.
Indian Institute of TechnologyBhubaneswar is pleased to announce that the Institutehas been chosen as one of the anchoring institutes in Odisha to conduct the events in three districts: Khordha, Puri and Cuttack and to coordinatemonth-long activities of the Ministry across Odisha.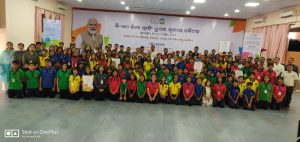 To commemorate the spirit of hosting the premier presidency of G20, IIT Bhubaneswarkick-started the launch of G20Jan – Bhagidarion April 1st 2023, by organising a Cyclathon at the Institute. Students, staff, and faculty members of the Institute participated in the eventalong with the Institute Director,Prof.ShreepadKarmalkar. The event enthusiast cycled back and forth from the Institute main gate toKhurda Railway Station.
Followed by this, the InstituteDirectorand other Institute G20 committee members – (Shri DebrajRath, Prof. P.V. Satyam, Prof.Prasant Kumar Sahu and Dr Srinivas BhaskarKaranki)in the presence of Institute Staff, Faculty, and students,officially launched the G20 posters. The students and teachers of KendriyaVidyalaya IIT Bhubaneswar and Institute residents were also present for the official launch.
The Institute Director briefed the audience on the significance of India's participation in hosting the premiership. He also expressed pride on behalf of the Institute in organising and coordinating month-long events, including the 3rd Education Working Group Meetingto be held in Bhubaneswar.