Newdelhi:1/4/23:Through consistent policy initiatives of the Government and tremendous contribution of the defence industry, India has achieved a remarkable milestone in defence exports in Financial Year 2022-23. The exports have reached an all-time high of approx. Rs 16,000 crore, almost Rs 3,000 crore more than the previous financial year. It a rise of over 10 times since 2016-17. Details are given below:
(Rs in crores)
| | |
| --- | --- |
| Financial Year | Total Export Value |
| 2016-17 | 1,521 |
| 2017-18 | 4,682 |
| 2018-19 | 10,745 |
| 2019-20 | 9,115 |
| 2020-21 | 8,434 |
| 2021-22 | 12,814 |
| 2022-23 | 15,920 |
India is now exporting to over 85 countries. Indian industry has shown its capability of design and development to the world, with 100 firms exporting defence products at present. The rising defence exports and participation of 104 countries in Aero India 2023 are proof of India's growing defence manufacturing capabilities.
          In a tweet, Prime Minister Shri Narendra Modi described the achievement as a clear manifestation of India's talent and the enthusiasm towards 'Make in India'. "It also shows the reforms in this sector over the last few years are delivering good results. Our Government will keep supporting efforts to make India a defence production hub," he said.
Raksha Mantri Shri Rajnath Singh termed record defence exports as a remarkable achievement of the country. "Under the inspiring leadership of Prime Minister Shri Narendra Modi, the defence exports will continue to grow exponentially," he tweeted.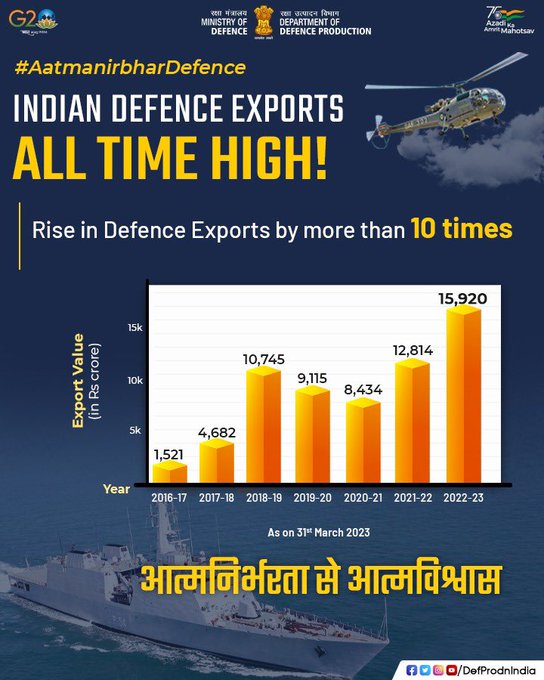 Today, India, which was known as an importer about eight years back, exports major platforms like Dornier-228, 155 mm Advanced Towed Artillery Guns (ATAGs), Brahmos Missiles, Akash Missile System, Radars, Simulators, Mine Protected Vehicles, Armoured Vehicles, PINAKA Rockets & Launchers, Ammunitions, Thermal Imagers, Body Armours, besides Systems, Line Replaceable Units and Parts & components of Avionics and Small Arms. There is growing global demand of LCA-Tejas, Light Combat Helicopters, Aircraft Carrier, MRO activities etc.
To give a push to defence exports, Government has taken a number of policy initiatives and brought reforms over the last 5-6 years. Export procedures have been simplified and made industry friendly with end-to-end online export authorisation curtailing delays and bringing Ease of Doing Business.  Government has notified three Open General Export License (OGEL) for export of Parts and Components/Transfer of Technology/Major Platforms and Equipment. OGEL is one-time export license, which permits the industry to export specified items to specified destinations, enumerated in the OGEL, without seeking export authorisation during the validity of the OGEL.
Export leads received from various countries are disseminated to the registered Indian Defence Exporters through online portal on real time basis to enable them to respond to export opportunities. Regular reviews are held with Indian Missions abroad to promote Indian defence products and facilitate Indian Industry. More than 40 webinars organized with Friendly Foreign Countries (FFCs) with involvement of Industry Associations.