Bhubaneswar:14/2/23:The book launch of poet Anita Panda 's "Songs of my Soul" was successfully done in an exclusive ceremony at Bharatiya Vidya Bhawan, Bhubaneswar on 14th February 2023. The Chief Guest, eminent writer, Padma Bhushan Pratibha Ray brilliantly analysed Anita's writings & blessed her with a bright writing career. She said poetry should be like a mirror, a true reflection of emotions and experiences. She quoted from her poetry collection
" Chira Dina Do Do Chinha" and said poetry is a celebration of our soil.Anita, the poet spoke about the "why's" & "hows" of her book & eloquently elaborated upon the making of her anthology of poems. She highlighted the poems to be part of her life experiences and learnings. Shri Banoj Tripathy,Director, Pakshighara Prakashani, the Publisher said that this book was special among several projects.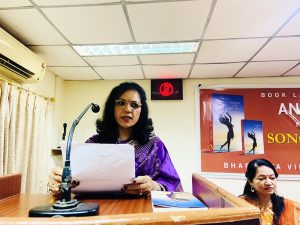 Dr. Adyasha Das hosted the event in her unique style, reviewing the collection as well. Shri Baikuntha Panigrahi, Convenor, Intach Bhubaneswar, Lalit Das , ADG, Police, representatives of the press, friends, writers & family were present for this unveiling function."Songs of my Soul" is a beautiful anthology of sensitively crafted poems, a journey to one's soul. The poems are expressions of
joys and sorrows, love and betrayal and the power to be resurrected again.
Songs of my Soul by Mumbai-based writer-poet Anita Panda, is her debut book- a collection of forty-seven poignant poems. Dedicated to her two greatest mentors- her Father and her beloved Late brother- Colonel Surya Panda.A soul-stirring journey through the meanderings of her intense thoughts and musings.