Lambodar Hota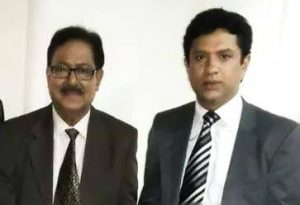 History in Odia Cinema as well in Indian Cinema that eleven Chartered Accountants and a Cost Accountant acted in the feature film "RAASTA" together for the first time and that to appeared together along with the veteran actor Debu Bose. History created along with  Debu Bose (Debu Daa) is an honor and achievement for team Rasta"
I came to know him in the year 2004 during the shooting of DD Classic "SWAPNA", I was driving him to the set t Cuttack and dropping him back at his home. Such a gentleman with lots of devotion and involvement, I had ever seen. We shared many emotions and sentiments of Odia cinema and can undoubtedly say cinema was in his blood, he was living with that. I relocated to Overseas soon after that shooting ………. since 2004 to 2014 there was no communication.
During the shooting of "RAASTA", I was interacting with our director and recalled Debu Daa, requested him to approach Debu Daa to appear on a guest appearance. He said Debu Daa will not agree, I said nothing wrong in approaching so please have a word with him or connect me, reluctantly, he asked his assistant to call him and connect me but Debu Daa surprised me by recognising my voice…. Instantly said the CA Actor (usually he calls me the CA Actor because he finds it as a rare combination) when I asked him whether he could recognize me. I was speechless thinking that how can somebody so confident about a voice after ten years of detachment……that was his strength on peech control and voice recognition. With lots of suppositions I said, if he would not mind I would like to ask for a favor, he said, why should he mind…….,abruptly I started, we are shooting a Movie and need his blessings with his appearance in a guest role, he asked about the date and time of shooting. I said sorry….this afternoon…. I was bit worried that he may say why did not I approach him in advance but with a smile he said organise to pick me from my home. That winsome smile, simplicity and sober approach once again mesmorised me….….., being at CA institute and meeting with CA's he had expressed his special weakness about the profession and with immense pleasure interacted with each and every CA's present there and all most all CA's cherished his company……
A great soul departed to attain the eternity……. RIP.