Puri/Bhubaneswar:16/8/23:Dr. Abhilaksh Likhi, Secretary, Department of Fisheries, GOI visited Penthakata, a coastal village of  Puri District of Odisha in order to understand the grass root level problems faced by the fisher folk of the coastal area and to formulate long term plans for them. At Penthakata, Dr. Likhi interacted with the Primary Fishermen Co-operative Society members (PFCS), Fisher folk and fisher women and learned their socio-economic status. While discussion, the fishermen highlighted the assistance received from Central and State Government under various schemes for purchase of nets, boats and diesel subsidy etc.  Fishermen of Penthakata demanded for construction of fish landing centre/Jetty, hygienic dry fish market and activities related towel fare of fishermen. He advised the Director of Fisheries, Odisha to look into the demand of fishermen and to extend Government assistance under Central and State Schemes. He also interacted with fish Farmers of Puri District benefitted under Pradhan Mantri Matsya Sampad Yojana (PMMSY)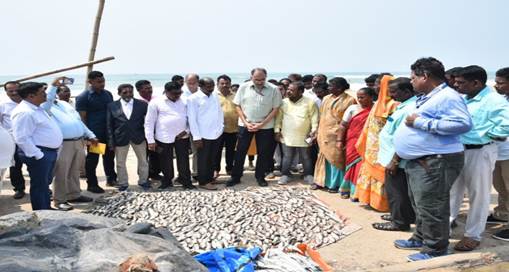 .Dr. Abhilaksh Likhi chaired a meeting in ICAR-Central Institute of Freshwater Aquaculture (CIFA)  Kausalyaganga to review the activities carried out by ICAR-CIFA and NFDB- National Fresh Water Fish Brood Bank (NFFBB), Bhubaneswar. He also reviewed the progress of the PMMSY projects in the state of Odisha.
Dr. Pramoda Kumar Sahoo, Director ICAR-CIFA made a detailed presentation on the research activities carried out at ICAR-CIFA. Dr. Sahoo highlighted achievements of the institutes such as genetically improved rohu and catla, GI-scampi, species and system diversification, new and innovative technologies in the field of aquaculture, feed formulations for various freshwater fish species, disease diagnostics and therapeutics, cutting edge research and training for enhancing the skills of farmers and several other stake holders.
Dr. Likhi stressed that CIFA should carry out the need based research for the benefit of the aqua farmers and special focus on diseases due to which the industry losses huge quantity of fish harvest every year. Official from NFDB-National Freshwater Fish Brood Bank (NFFBB) presented their activities and explain in details about the objectives of Brood Bank, achievements so far and current activities taken up. He informed that NFDB-NFFBB has a multiplication centre for breeding and production of breeder seed of GI fish strains (Carps) and cemented nursery facilities for GI Scampi. He also highlighted that training and capacity building on fish breeding and seed production technology carried out in order improve skill of fish farmers. Dr. Likhi advised NFDB-NFFBB to develop few commercially important fish varieties which has demand in Biofloc and RAS systems.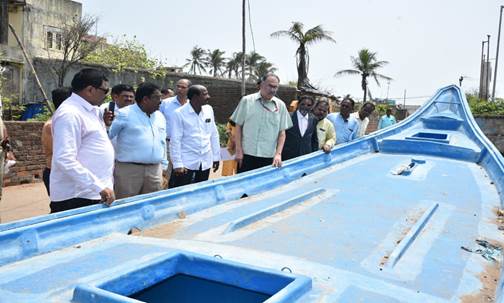 The Director of Fisheries, Government of Odisha made a brief presentation on achievements of  Odisha in fisheries and aquaculture sector. He highlighted the fish production, export, Domestic consumption etc are in increasing trend. Dr. Likhi while reviewing the activities of CIFA and NFFFBB also interacted with the Exporters, Progressive farmers, Women self Help Group ( WSHGs) members, Fish Framer Producer Organisation (FFPO) members in order to know the priorities of the sector and their aspirations from the Government and research Institutions.
The Secretary, urged that both CIFA and NFFBB to undertake activities for mass awareness among farmers through intensive campaigns in the electronic/print media, social media as well as through Kisan Melas, publications, seminars, advisories with the involvement of all stakeholders in this sector so that the developed technology and Best Managements practices (BMPs) can reach to the farmers at the earliest so that the farmers can take the benefit of the schemes and new technology.
Dr. Likhi visited the facilities of ICAR-CIFA such as Biofloc unit, GI-Scampi complex, Ornamental fish complex and the air-breathing Fish unit. He also visited the Multiplication facility, the Scampi nursery rearing facility of NFFBB and witnessed the GI fish species developed at NFFBB, Kausalyaganga, Odisha.