Newdelhi:15/8/23:As part of the 77th Independence Day celebrations, the Union Agriculture Minister hosted over 700 farmers here today. This event truly embodied the vision of engaging with grassroots as an integral aspect of the 77th Independence Day festivities. The gathering of more than 700 farmers at the event represented various farming communities from across the nation, showcasing their participation in different agricultural activities.Among the attendees around 100 farmer couples were the beneficiaries of PM KISSAN, and around 300 farmers couples from FPO's contributing to the diversity of the farmer representation at this event.
Furthermore, in line with the International Year of Millets, a special lunch was organized for the farmers, featuring dishes prepared from millets (Shree Anna). This culinary selection served as a demonstration of the assorted nutritional values and dietary benefits that millets offer in our everyday meals.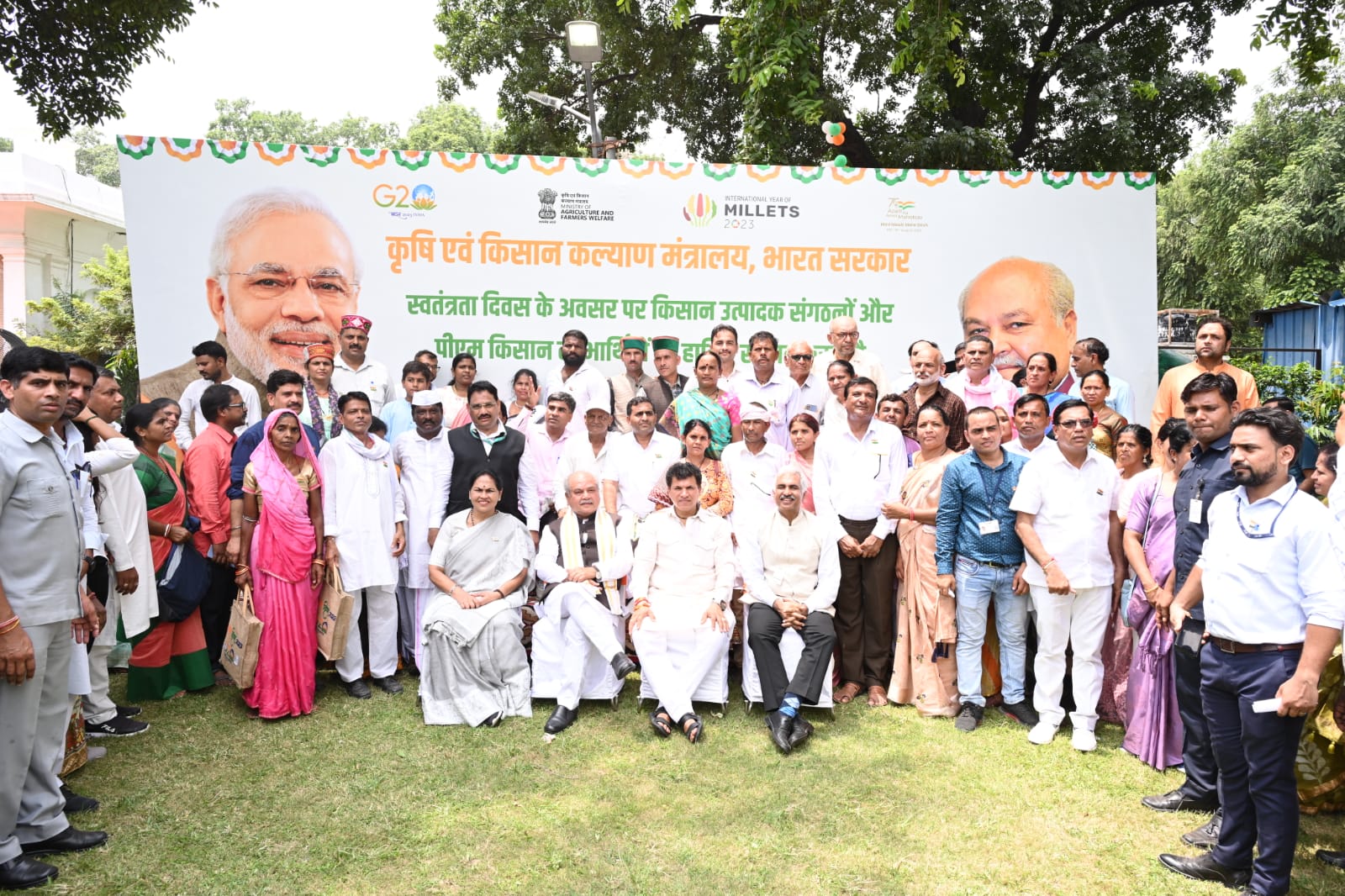 The farmers gathering was welcomed and honoured by the Union Agriculture Minister, along with the presence of Minister of state (Agriculture and Farmers Welfare), Shri Kailash Choudary and Smt. Shobha Karandlaje. During the address, the Union Minister said that the farmer participation at Independence Day celebrations at Red Fort reflects Prime Minister Narendra Modi's vision of Bhagidari and to ensure people's participation.
Shri Tomar asserted that agriculture and allied sectors have seen significant growth under this government with net budget of his Ministry growing five fold from around 23 thousand crores in 2013-14 to around 1,25,000 crores this year. Union Minister said that the efforts are on to cover every farmer under PM fasal Bima yojana.
Shri Tomar informed that around  140 lakh crore rupees have been paid as insurance payment against premium collection of around 24 thousand crore. Shri Tomar shed light on the Government of India's latest Central Sector Scheme titled "Formation and Promotion of 10,000 Farmer Producer Organizations (FPOs)."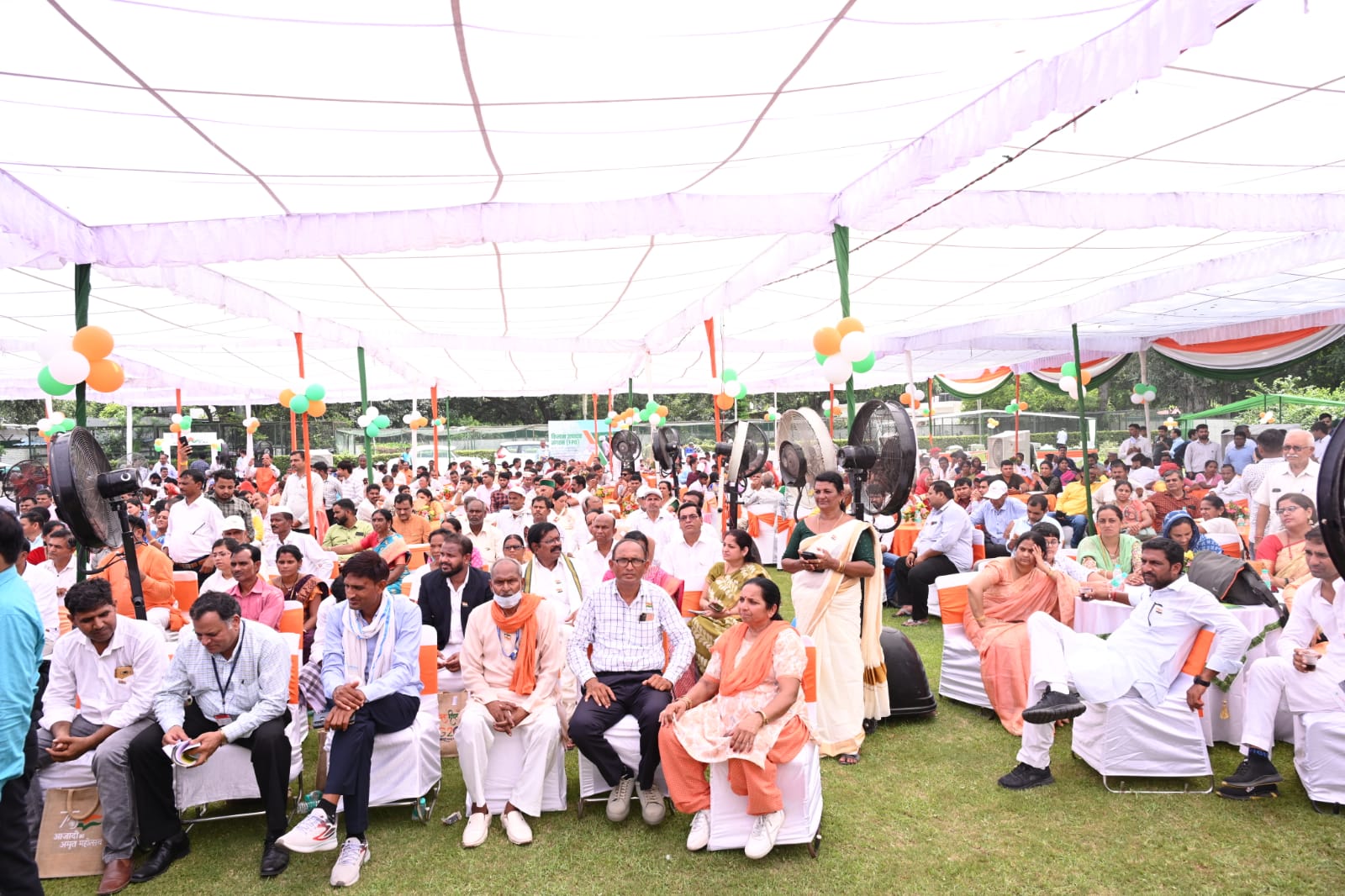 The Minister briefed about the strategy and dedicated resources for development of agriculture sector in the country. Shri Tomar reiterated that these initiatives are designed to provide support and guidance for the aggregation of small, marginal, and landless farmers into FPOs, thereby bolstering their economic viability and strengthening their market opportunity, ultimately leading to an improvement in their income levels.
In addition to the engaging interaction with the Minister, another noteworthy highlight of the Farmers Connect program was the chance for the farmers to understand the latest advances in agriculture research through an exhibition displayed by the ICAR.
Further the farmers were able to gain insights into the vibrant history, architectural marvels, and cultural landmarks of Delhi made possible through a visit to significant sites such as the Pradhanmantri Sangrahalaya, War Museum, and the iconic India Gate