Bhubaneswar:14/8/23: Railway Minister Ashwini Vaishaw on Monday confirmed that Odisha will soon get the second Vande Bharat Express train which will run on the Rourkela-Bhubaneswar route.
Addressing a gathering at the inauguration of the Bhubaneswar-New Delhi Rajdhani Express with Tejas rake at the Bhubaneswar railway station, the Railway Minister said that the route chart of the second Vande Bharat has been finalised and it will cover Rourkela, Sundargarh, Talcher, and Angul in Odisha.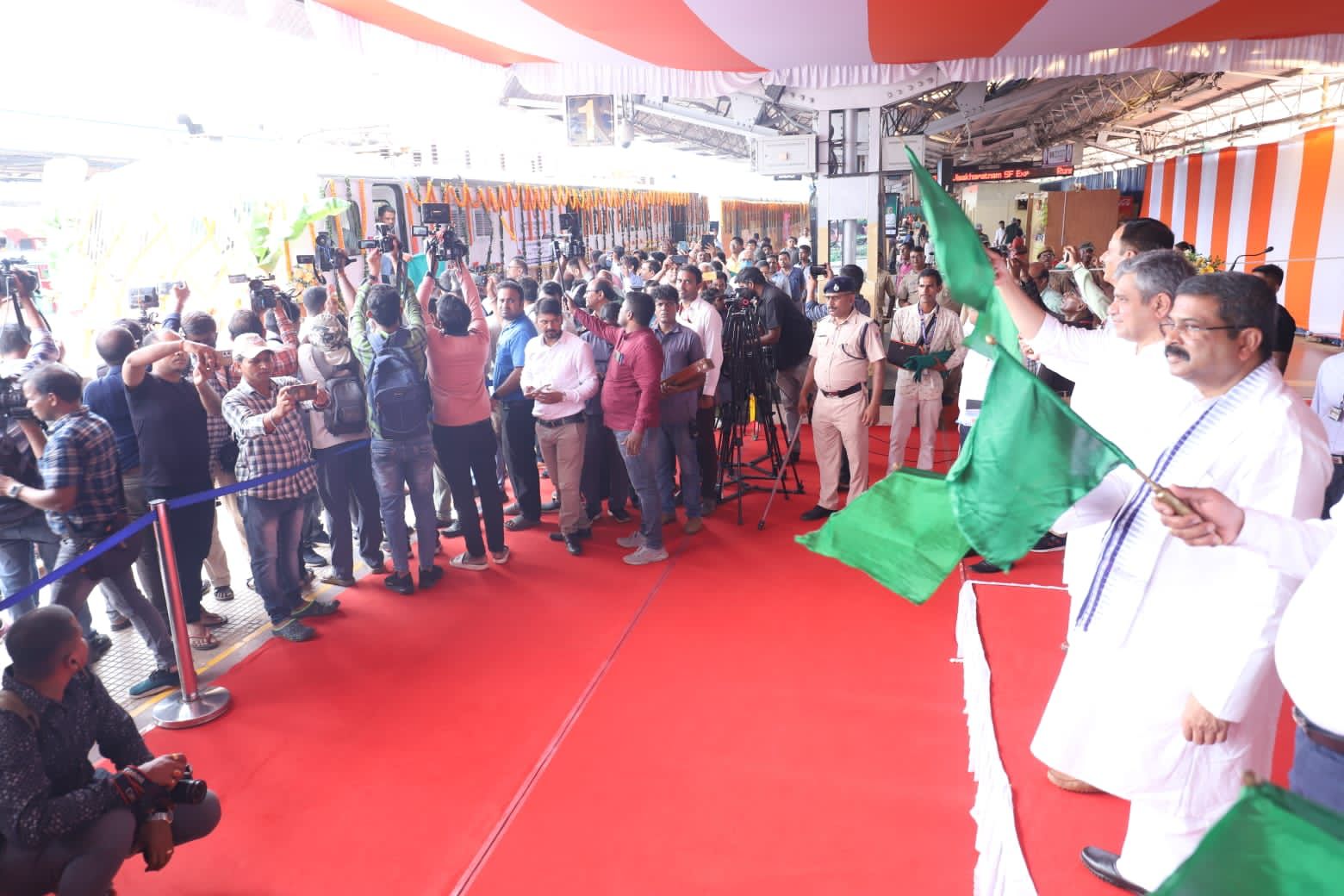 He reminded the gathering that the Prime Minister had promised another semi-high-speed train for Odisha while inaugurating the first some time back. "Keeping with that promise, the second Vande Bharat will run soon from Rourkela to Bhubaneswar," he said. Vaishnaw, however, did not disclose the date of the train's launch.
Union Minister Dharamendra Pradhan said that" After the installation of this Tejas rake, the capital express will run at a speed of 200 km per hour. The train has state-of-the-art facilities for the passengers. Passenger facilities have become important in Modiji's 'Developed India'. Railway grant and new railway line operation for Odisha has exceeded expectations. The Prime Minister Narendra Modi is committed to the development of Odisha.
ସ୍ୱାଧୀନତା ଦିବସର ପୂର୍ବ ଦିନରେ ଭୁବନେଶ୍ୱର ରେଳ ଷ୍ଟେସନ ଠାରେ ମୋର ସହଯୋଗୀ ତଥା କେନ୍ଦ୍ର ରେଳ ମନ୍ତ୍ରୀ @AshwiniVaishnaw ଙ୍କ ସହ ତେଜସ୍ ରେକ୍ ଯୁକ୍ତ ନୂଆଦିଲ୍ଲୀ-ଭୁବନେଶ୍ୱର ରାଜଧାନୀ ଏକ୍ସପ୍ରେସର ଉଦଘାଟନ କଲି । ଆଜିର ଏହି କାର୍ଯ୍ୟକ୍ରମ ପ୍ରଧାନମନ୍ତ୍ରୀ @narendramodi ଙ୍କ 'ବିକଶିତ ଭାରତ' ଦିଗରେ ଅନ୍ୟତମ ପଦକ୍ଷେପ । ଏଥିପାଇଁ… pic.twitter.com/0hW2ydw87L

— Dharmendra Pradhan (@dpradhanbjp) August 14, 2023