New Delhi :27/7/23:Union Minister of Finance and Corporate Affairs Smt.  Nirmala Sitharaman inaugurated the 3rd Edition of Summit on "Global Chemicals and Petrochemicals Manufacturing Hubs in India" (GCPMH 2023) today at New Delhi. Minister of State for Chemicals and Fertilisers Shri Bhagwant Khuba was also grace the occasion. Minister of Industries, MSME & Energy, Govt of Odisha Shri Pratap Keshari, Secretary, Department of Chemicals and Petrochemicals Shri Arun Baroka, Chairman-FICCI Petrochemicals Committee and MD & CEO Shri Prabh Das and Senior Officers of Ministry, Senior Captains of the Industry, Academicians, Policy makers and others with interest in the emerging opportunities in the Chemical & Petrochemical Industry were also present on this occasion.The Department of Chemical & Petrochemical, Ministry of Chemicals and Fertilisers  in association with the Federation of Indian Chambers of Commerce and Industry (FICCI) is organizing this summit.
On this occasion, Smt. Nirmala Sitharaman said that the Indian chemical and petrochemicals sector has huge potential and it also impacts other sectors of the economy. The importance of the sector can be gauged from the fact that it deals with more than 80,000 chemicals products which involves sectors like Agriculture, Infrastructure, Textiles, Pharma, Packaging, etc.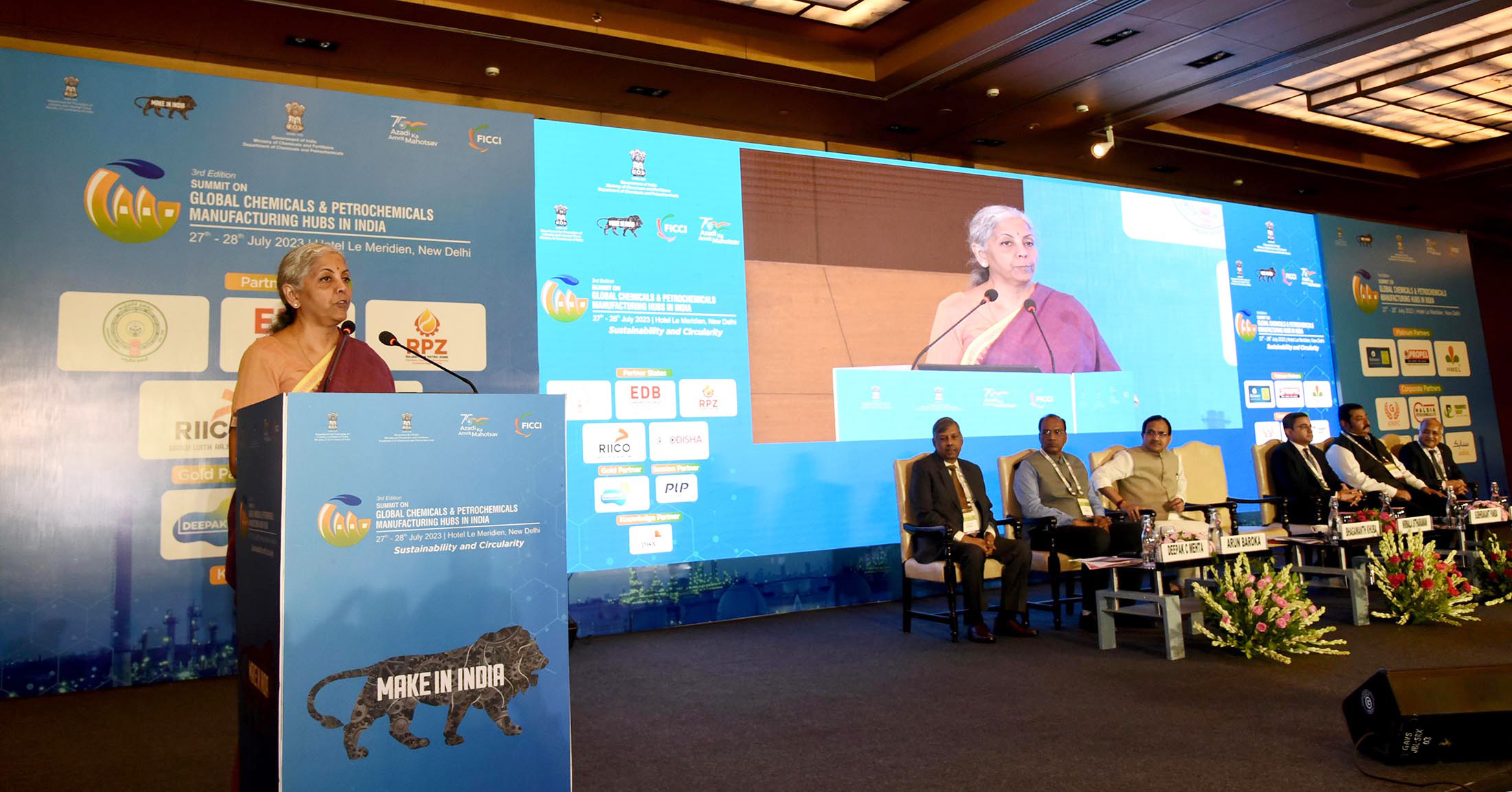 She also stated that India is all set to become energy independent by 2047 and achieving net zero by 2070. She highlighted the need to focus on Green growth and reduction in carbon intensity. The combined exports of major chemicals and petrochemicals in 2022-23 was $9 billion but imports also increased to $ 13.33 billion. Many of these imports included items which can be produced in India itself and the Government is putting all out efforts in this direction as well.
The Finance minister also brought attention towards the market of Specialty chemicals which is growing exponentially at 12% CAGR. Thus, there is need for more robust support for specialized chemicals. The emergence of this market is driven by country's strong process engineering capabilities, low-cost manufacturing capabilities and abundant manpower.
Shri Bhagwanth Khuba said that the government is working with state governments to set-up chemical parks in the country and the process of setting up plastic parks is already in place. Government is also creating Center of Excellences to bring industry and academia together along with promoting skill development. The market size of the Chemical and Petrochemical sector is around $ 190 billion and is likely to reach $ 300 billion by 2025 and $ 1 trillion by 2040 with huge opportunities for investments.
In his address, Shri Pratap Keshari Deb said that the State is growing domestically at 8 per cent in the chemicals sector and to sustain this over the next 10 years, Odisha would need 40 per cent growth in the capacity. The Industrial Policy Resolution, 2022 of Odisha is very industrial friendly with provisions like tax breaks for manufacturing units, electrical duty exemption etc.
Shri Arun Baroka, Secretary said that India is poised for a very high growth in Chemicals & Petrochemicals sector supported by the policy reforms along with increasing demand. If India grows at the prevailing rate, the chemicals sector will increase to USD 1 Trillion by 2047. Four PCPIRs is helping the growth of this sector. Along with this the proposed Chemical Parks will go a long way to help the industry grow at a faster rate.