Bhubaneswar :25/7/23:Prime Minister Shri Narendra Modi will inaugurate the second Akhil Bharatiya Shiksha Samagam which is coinciding with the 3rd anniversary of National Education Policy 2020, on 29th July 2023 at ITPO, Pragati Maidan, New Delhi. The two-day event is being organised by the Ministry of Education and the Ministry of Skill Development & Entrepreneurship. The Prime Minister will be launching various initiatives on the occasion. The Samagam will provide a platform for experts of schools, higher educational institutions, and skilling institutions to discuss, deliberate and share insights, strategies, success stories and best practices in implementing the NEP 2020.
In this connection a joint Press Conference was held at Regional Institute of Education, Bhubaneswar today on the theme "3rd anniversary of National Education Policy 2020: Initiatives in Odisha".
Addressing the Press Conference, Prof. Shreepad Karmalkar, Director, IIT Bhubaneswar said that National Education Policy (NEP-2020) will transform India into a vibrant knowledge society and Vishwaguru. He said that NEP promotes critical thinking, scientific temper and practical learning by bringing out unique capabilities of students. He said as envisioned in NEP, IIT Bhubaneswar promotes multidisciplinary education to make students self-reliant
.Briefing the mediapersons, Prof. Chakradhar Tripathi, Vice-Chancellor, Central University of Odisha said that in line with the vision of NEP, a language laboratory has been established in the CUO Campus. "While research on languages is going on, importance is given to Indian Knowledge Systems, Languages, Culture, Patriotism and Values. Translation work on Odia Literature into English and Hindi Language is in the process. CUO has decided to create Content in Regional Languages and efforts are underway for publishing text materials on KUWI and DESIA languages (tribal languages  spoken in Koraput, Odisha).", said Prof. Tripathi.Dr. Shiharan Bose, Deputy Commissioner, Kendriya Vidyalaya Sangathan briefed about "Effective Implementation of National Educational Policy 2020 in KVS, Bhubaneswar.
Dr. Shiharan Bose, Deputy Commissioner, Kendriya Vidyalaya Sangathan briefed about "Effective Implementation of National Educational Policy 2020 in KVS, Bhubaneswar.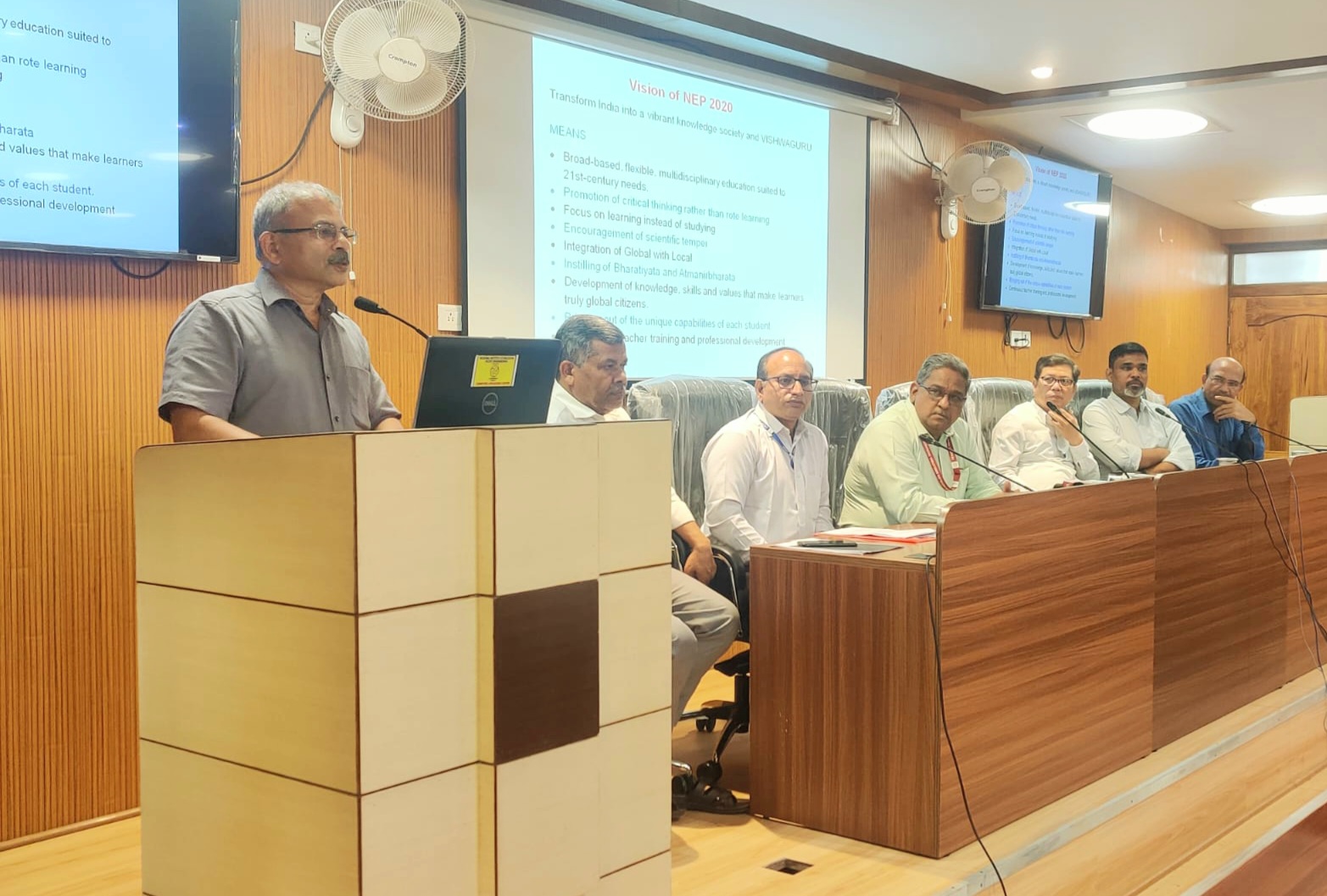 Elaborating on foundational learning under NEP, Dr. Bose said Bal-Vatika has been introduced in 3 KVs of Odisha region in the year 2022-23 and in the current academic session Bal Vatika-3 is being introduced in 19 schools of the state."National Curriculum Framework for Foundational Stage (NCF FS) launched on 20th October, 2022, is the first ever integrated Curriculum Framework for children between ages 3-8 in India and it is a direct outcome of the 5+3+3+4 'curricular and pedagogical' structure that NEP 2020 has come out with for School Education. Following which, Jadui Pitara:Learning Teaching Material (Jadui Pitara) based on NCF FS was launched on 20th Feb, 2023. It is a play-based learning teaching material tailored for children between the age group of 3 to 8 years.", he added.
Speaking on Vidya Pravesh, Dr. Bose said that NCERT has developed a 3 Months Play Based 'School Preparation Module' for grade I named 'Vidya Pravesh', which is essentially around 12 weeks of developmentally appropriate instruction for the children entering Grade I.  "It will bolster a child's pre-literacy, pre-numeracy, cognitive and social skills. As on date, 33 States/UTs have implemented Vidya Pravesh from the year 2022-23 and around 1,80,13,930 students from 8,77,793 schools have participated", he asserted
.Prof. Pranay Swain, Dean (Academics), NISER Bhubaneswar talked about major highlights of NEP including transfer of academic credits and multiple entry and exit option, whereas Shri B.K Sinha, RDSDE, Bhubaneswar spoke on NEP's thrust on vocational and applied learning and skill development. Prof. P.C Agarwal, Principal, RIE Bhubaneswar and Shri K Srinivasan, Regional Officer, CBSE also graced the occasion.