Newdelhi:25/7/23:Under the joint aegis of Central Sanskrit University and Sangeet Natak Akademi, by  the guidance of Honorable Vice-Chancellor Prof. Srinivas Varkhedi, a National Women's Seminar has been organized on 27th & 28th,July,2023 at Kamini Auditorium, New Delhi.On 27th,July at 4.30pm on wards Seminar on  Yagyaseni Patience,Penance and Power: Demystifying Women in Indian Epics and Literature will be held,which  was  based on  Eminent  writer Pratibha Ray   Novel 'Yagyaseni ' , in which many scholars will present their views on the various characteristics of Draupadi, known as Yagyaseni i.e. Vishwa Nari.
Central Sanskrit University  is in full swing for National Conference related to the prolific power of Draupadi as depicted in Indian literature.The Hon'ble ministers ,Govt of India Sri Dharmendra Pradhan ,Prof.Bhagairathi Nanda Hindi translator of 'Yagyaseni,' Dr. Sandhya Purecha, Prof. Srinivas Varkhedi along with 'Yagyaseni'writer Pratibha Ray will be grace the function.
Central Sanskrit University  's Vice Chancellor Prof. Srinivas Varkhedi and President of Music Drama Academy – Women-20 (G-20 India) Dr. Sandhya Purecha said that the heroine of world renowned energetic Mahabharata – Yagyaseni aka Draupadi will automatically be unique and historical as it contains the country Special clowns of Labdadh were also invited to present experiences and thoughts from their literary field. It is expected that this genre will highlight innovative philosophy and bringing light to the diversity and diverse river and quarterly contributions of this population of the world is global Eugene demand. At the same time it will also be confirmed that the first ray of women discussion had first bloomed from the fertile intellectual horizon of India. This will also deny many colonial myths.
Honorable Education Minister, Government of India Shri Dharmendra Pradhan will also beautify the two-day national conference women discussion, It is noted that under the guidance of Hon'ble Vice Chancellor Prof. Srinivas Varkhedi of Central Sanskrit University, Delhi, the character of world-famous Draupadi as the super heroine of women power is discussed in Indian Wangmay, regarding the events that have been discussed in Indian Vangmay
.A National Women's Conference is being organized which will be important not only by intellectual satisfaction, but also by the charity of Nayanotsava and consciousness of mind can be educated by the kind hearted society with its elegance expressions. The big reason for this is that it will keep their views on the famous clowns and scholars associated with their area. At the same time, the popular color experiment of well-known artist Nirupama Rajendran based on the characters of Lord Krishna and Draupadi will also be staged
Acharya Madhukeshwar Bhatt, the coordinator and director of publishing and research of this bilateral National Women's Conference, believes that conducting such innovative topics will open up new dimensions of research which are the demand of the time. A historical seminar on Indian feminism under supervision of VC Prof Srinivasa Varakhedi will be not only food for mind but also for blended with spirituality and it's aesthetics as feast of eyes and mind in which a noted artist Nirupama Rajendran's powerful play will be staged.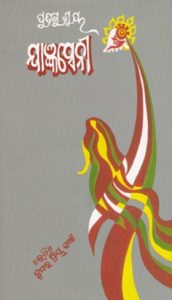 About'Yagyaseni'
Yajnaseni – The Story of Draupadi by Pratibha Ray written in odia which was published in 1985, now it has more than 100 Edition which was all time record in the annals of Odia. Publishing history. This book also won prestigious Moorti Devi Award, 1991 and Sarala Award, 1990
Background 
Starting off as a letter to Krishna, Draupadi looks back at her life on the verge of her death.  Her birth was marked by a prophecy, she was born from the holy sacrificial fire – yajna and hence named Yajnaseni to avenge her father Drupad's insult by Drona.  "From the sacred flames of the sacrificial fire a radiant son, my brother Dhrishtadyumna, was born and from the sacrificial altar I was born, like a blue lotus-coloured gem- Yajnaseni!" . At her birth, there appeared a prophecy that she was born to preserve Dharma on earth.
Best Quotes
"Full of anguish and anger I was thinking: was woman merely man's movable or immovable property? Being a woman did I not have the right even over myself, my own soul? If they had rights over this body of mine, did it mean they could do as they wished with me?"
"Death is more generous than life. Death is more composed. Those who were enemies yesterday, today their death drenches the heart with tender compassion. Those who were wicked, lustful, sinful till yesterday were made composed, steady and unperturbed by death today."
About Pratibha Ray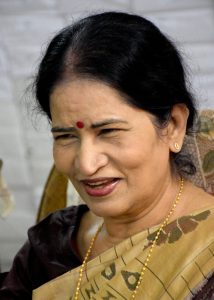 Pratibha Ray was born on 21 January 1944, at Alabol, a remote village in the Balikuda area of Jagatsinghpur district formerly part of Cuttack district of Odisha state. She was the first woman to win the Moortidevi Award in 1991, "Bharatiya Jnanpith" for 2011 (Fourth Odia writer and only Odia woman writer)..
Her first novel Barsha Basanta Baishakha (1974)was a best seller.Her latest novel Hrudaya Lagana has  published this year which was her 23rd Novel
 Some Important award and Honour
1985 – Odisha Sahitya Academi Award' for the novel Sheelapadma
1990 – 'Sarala Award' for the novel Yajnaseni
1991 – 'Moortidevi Award' for the Novel Yajnaseni
2000 – 'Sahitya Akademi Award' for the Short-Story Collection Ullaghna
2006 – 'Amrita Keerti Puraskar
2007 – 'Padma ShriAward' in Literature and Education by the Government of India.
2011 – 'Jnanpith Award'
2022 – Padma Bhushanfrom Government of India for literature and education