New Delhi:2 3/7/23:The Union Minister for Information and Broadcasting, Shri Anurag Thakur today conferred the 8th and 9th National Community Radio Awards.The awards were conferred during the Inaugural Session of thetwo-day Regional Community Radio Sammelan (North) which was inaugurated by the Union Minister at the Indian Institute of Mass Communication in New Delhi.
Addressing the gathering on the occasion the Minister said that Community Radio Stations play a key role in realizing the vision of Prime Minister Shri Narendra Modi of Jan Bhagidari se Jan Andolan. These stations compliment the efforts of Akashvani and have played a key role in keeping their listeners informed during calamities.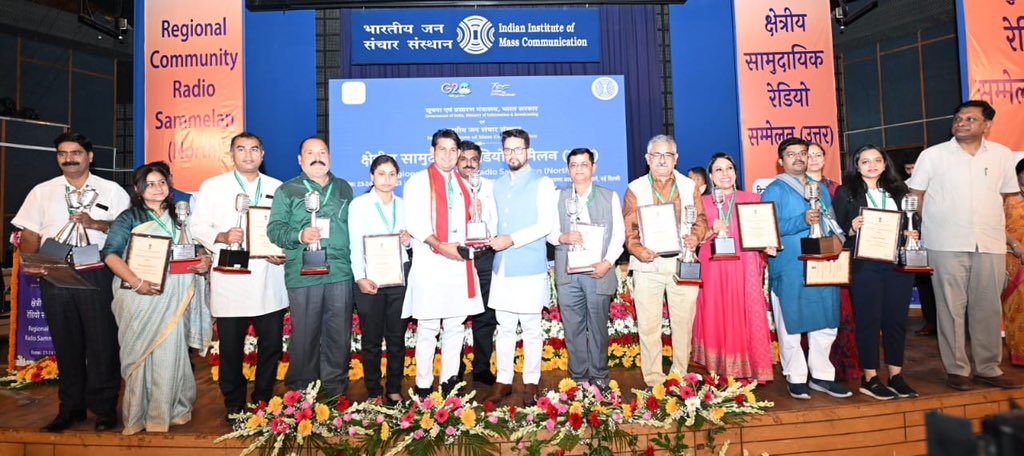 Shri Anurag Thakur said the Community Radio stations provide their service despite several challenges including Human Resource shortage, financial strains and lack of external support and for this spirit of nation service they ought to be commended. While the awards encourage the stations, the Minister said, they also recognise the importance of Community Radio in education, awareness generation and problem solving in the remotest corners of India. He expressed hope that the awards will encourage others to foray into this field.
Commenting on the expansion of reach of Radio in India, the Minister said that while today 80% of geographical area of the country and over 90% percent of population is covered by Radio, Government is working to expand this reach further and auction of 808 channels in 284 cities under the 3rd batch of e-auction is a big step in that direction.
Shri Thakur said that the increasing number of Community Radio Stations is a display of their Increasing popularity. Government of India is working to realise the vision of Prime Minister Shri Narendra Modi that there should be a Community Radio station in each district and this should further percolate to one in every Block
Secretary Shri Apurva Chandra, speaking earlier, said that the communication space has witnessed many advancements in the form of Television and then Internet and now OTT, but that has not dented the popularity and reach of Radio. Community Radio exists in a space not touched by other platforms and serves a need for connectivity not served by more modern media. He further stated that COVID19 pandemic had prevented organization of these Awards and thus this year the Ministry is giving away both the 8th and 9th National Community Radio Awards.
He further informed the audience that the last 2 years have seen an addition of over 120 community radio stations taking the total to over 450 with an additional over 100 Letters of Intent with the Ministry.
The winners of 8th and 9th National Community Radio Awards is a recognition of Community Radio Stations who have done commendable work in their field, in public interest. These awards are being conferred during Community Radio Regional Sammelan being held on the occasion of National Broadcasting Day on 23rd July 2023.
For the 9th National Community Radio Awards a total of 12 Awards in 4 Categories are being given. The award winning Community Radio Stations are situated in the States of Haryana, Bihar, Odisha, Uttar Pradesh, Uttrakhand, Tamil Nadu, Rajasthan and Tripura.
The Government of India instituted the National Community Radio Awards to promote better programming in Community Radio and encourage Community Radio Stations to generate programmes in the interest of local community. The National Community Radio Awards are given to those Community Radio Stations who have done exemplary work in the field of Community Radio Broadcasting through Community Centric Programmes. The various categories of awards have worked as a nudge for the Community Radios to develop programmes on various themes. The awards have promoted a culture of sustainability, innovation and citizen-participation.
Community Radio is an important third tier in Radio Broadcasting, distinct from Public Service Radio broadcasting and Commercial Radio. Community Radio Stations (CRSs) are low power Radio Stations, which are meant to be set-up and operated by community based organisations.
The National Community Radio Awards carry 1st, 2nd and 3rd prize for Rs, 1 Lakh, 75,000/= and 50,000/=respectively. Details of awardees are given below: –
Thematic Awards
•           First Prize: Radio Mind Tree, Ambala, Haryana; Name of Programme: Hope Jeene Ki Rah
•    Second Prize: Radio Hirakhand, Sambalpur, Odisha; Name of Programme: Adhar O PoshanBigyan
•           Third Prize: Green Radio, Sabour, Bihar; Name of Programme: PoshanShrinkhla
Most Innovative Community Engagement Awards
•           First Prize Radio SD, Muzaffarnagar, Uttar Pradesh; Name of the programme: Hizra in Between
•           Second Prize Kabir Radio, Sant Kabir Nagar, Uttar Pradesh; Name of Program: Selfie Le Le Re
•           Third Award: Radio Mind Tree, Ambala, Haryana Name of Programme: Book Bugs
Promoting Local Culture Awards
•           First Prize: Voice of SOA, Cuttack, Odisha; Name of Programme: Asmita
•           Second Prize: Friends FM, Tripura, Agartala; Name of Programme: Revived a dying art: MASK & POT
•           Third Prize: PantnagarJanvani, Pantnagar, Uttarakhand; Name of Program: Dadi Ma Ka Batua
Sustainability Model Awards
•           First Prize: Radio Hirakhand, Sambhalpur, Odisha
•           Second Prize: VayalagaVanoli, Madurai, Tamil Nadu
•           Third Prize: VAGAD Radio "90.8", Banswara, Rajasthan