Gandhinagar :16/7/23:Minister for Education, Skills Development and Entrepreneurship, Government of India, Shri Dharmendra Pradhan, and Singapore's Deputy Prime Minister & Minister for Finance, Mr. Lawrence Wong
 today felicitated the winners of 3rd Edition of Singapore – India Hackathon in Gandhinagar, Gujarat.
A tool to help regulators detect potential suspects of insider trading created by students of Nanyang Technological University, Amity University, and Dwarkadas College of Engineering took the top student prize at the third edition of the Singapore-India Hackathon, jointly organised by All India Council for Technical Education (AICTE) of Ministry of Education, India and Nanyang Technological University, Singapore (NTU Singapore). The top winner in the startup category, Haqdarshak won for enabling 2.8 million Indians to unlock close to SGD 700 million in government welfare services. Held under the G20 Presidency in IIT Gandhinagar, Gujarat, the hackathon's finale brought together the best start-ups and students from India and Singapore. It was attended by over 600 students, start-ups, investors, policymakers, corporates, and academics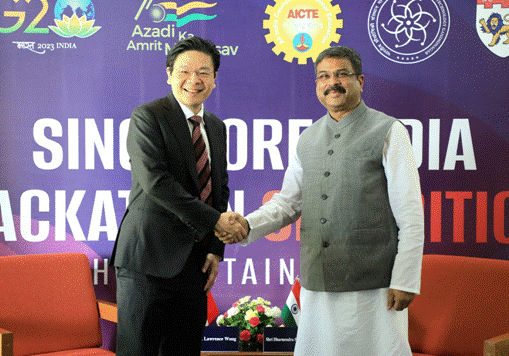 Speaking on the occasion Shri Pradhan stated that knowledge is power. He added that initiatives, like SIH, are a wonderful way to facilitate knowledge exchanges and unleash the innovation potential of youth of both our countries and that going forward we must take the hackathon culture beyond the realms of STEM to find solutions to common societal challenges
Mr Lawrence Wong, Deputy Prime Minister and Minister for Finance, Singapore said that the Singapore-India Hackathon is unique and precious, supported by the leaders of both the countries and is conceived from Prime Minister Shri Narendra Modi's vision.This year's Singapore-India Hackathon brought together not only research-intensive academic institutions like NTU Singapore and IIT Gandhinagar, but also leading corporates and the public sector from both nations to mentor the aspiring entrepreneurs for building start-ups that impact some of the world's most pressing global challenges, he added.
Later in the day, Shri Pradhan interacted with the participating students and start-ups that competed in the Singapore India Hackathon. He admired their passion to make a positive impact in people's life and make the world a better place through innovation and entrepreneurship.