Newdelhi:1/7/23:The Prime Minister, Shri Narendra Modi addressed the 17th Indian Cooperative Congress at Pragati Maidan, New Delhi today on the occasion of International Day of Cooperatives. The main theme of the 17th Indian Cooperative Congress is 'Amrit Kaal: Prosperity through Cooperation for a Vibrant India'. Shri Modi also launched E-Portals of e-Commerce website for Cooperative Marketing, and Cooperative Extension and Advisory Services Portal
Addressing the gathering, the Prime Minister congratulated everyone on the occasion and said that the country is working towards the goal of a 'Viksit and Atmanirbhar Bharat'. He reiterated the need for 'Sabka Prayas' (everyone's effort) in achieving these goals where the spirit of cooperation sends the message of everyone's effort. The Prime Minister noted the contributions of the dairy cooperative in making India the world's leading milk producer and the role of cooperatives in making India one of the top sugar-producing countries in the world. He underlined that cooperatives have become a huge support system for small farmers in many parts of the country. The Prime Minister also noted that the contribution of women in the dairy sector is approximately 60 percent. .
Highlighting the seriousness of the government towards providing the right price to the farmers for their produce, the Prime Minister informed that the government bought the farmers' produce at an increased MSP and handed out more than 15 lakh crores to the farmers in the last 9 years. "On average, the Government is spending more than 6.5 lakh crores yearly on agriculture and farmers", Shri Modi said. "The government is making sure that every farmer in the country receives around 50 thousand rupees every year in some way or the other", he asserted.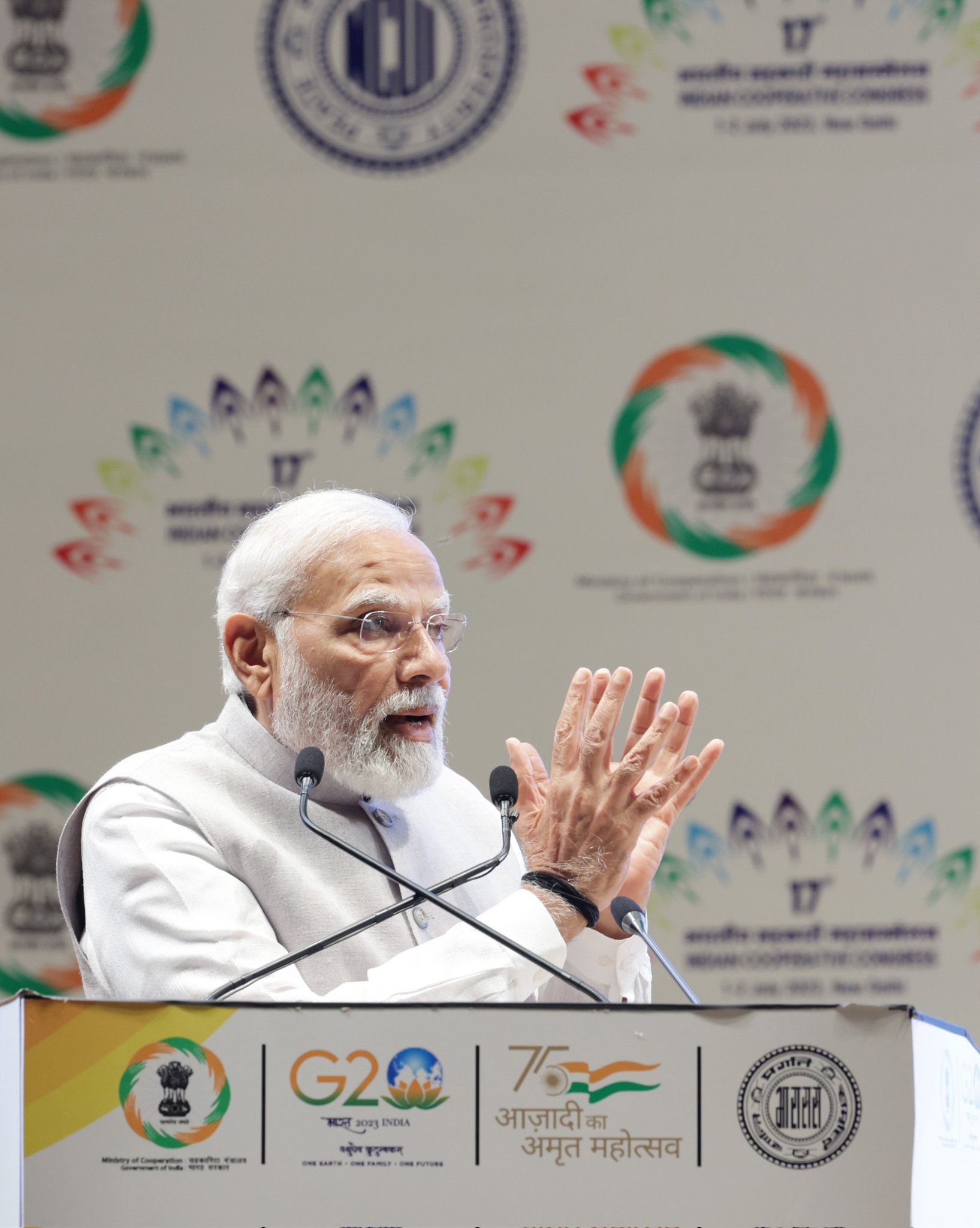 Continuing with the farmer welfare approach of the government, Shri Modi, informed about the recent package of Rs 3 lakh 70 Thousand crore and fair and remunerative price for the sugarcane farmers of Rs 315 per quintal. This will directly benefit 5 lakh sugarcane farmers and people working in sugar mills.
Concluding the address, the Prime Minister expressed confidence that cooperatives will become a powerful medium of the country's economic source in the new India. He also emphasized the need to build villages that will become self-sufficient by following the cooperative model. He also suggested improving cooperation in cooperatives and said that cooperatives should become the carrier of social policy and national policy instead of politics.
Union Minister for Home Affairs and Cooperation, Shri Amit Shah, Union Minister of State for Cooperation, Shri B L Verma, Chairman of International Cooperative Alliance for Asia Pacific, Dr Chandrapal Singh Yadav, and President of National Cooperative Union of India, Shri Dilip Sanghani were present on the occasion among others.