Newdelhi:28/6/23:Shri Parshottam Rupala, Minister of Fisheries, Animal Husbandry and Dairying, Government of India launched an android-based mobile app as "Report Fish Disease" here today in presence of Dr. L. Murugan, Minister of State for Fisheries, Animal Husbandry and Dairying, Shri J.N. Swain, Secretary, Department of Fisheries, MoFAH&D, Dr. Abhilaksh Likhi, Officer on Special Duty, MoFAH&D and Dr. Himanshu Pathak, Secretary, DARE & DG, ICAR, New Delhi. Contributing to the vision of "Digital India", the 'Report Fish Disease' has been developed by ICAR-National Bureau of Fish Genetic Resources (NBFGR), Lucknow and launched today under the National Surveillance Programme for Aquatic Animal Diseases.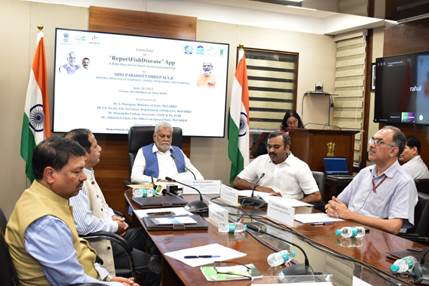 Background:
The Department of Fisheries has allocated ₹33.78 crore for a period of three years for the implementation of the second phase of the NSPAAD under the PMMSY scheme. With the launch of this App, NSPAAD was able to meet the national and international obligations through transparent reporting. The app will be a central platform for connecting and will integrate fish farmers, field-level officers and fish health experts seamlessly. The disease problem faced by the farmers which used to go unnoticed or not reported earlier, will reach to the experts and the problem will be addressed in efficient manner within a short period of time.
Benefits:
The farmers using this app will be able to connect directly to district fisheries officers and scientists. The Farmers and stakeholders can make self-reporting of diseases of finfish, shrimps and molluscs on their farms through this app for which scientific technical assistance will be provided through the same App by our scientists/ Experts to the farmers. Early warning system and scientific advice being provided to the farmers will be helping the farmers to reduce their losses due to diseases and will further strengthen the disease reporting by fish farmers in the country.