Newdelhi:17/6/23:The Vice President of India, Shri Jagdeep Dhankhar, conferred the 4th National Water Awards, 2022 at Vigyan Bhawan in New Delhi today. 41 winners, including joint winners across 11 categories were awarded for their exemplary work in the field of water conservation and management.  Each award winner was conferred with a citation and a trophy as well as cash prizes in certain categories. The Vice President also launched an animated short film on 'Piku', the mascot of National Water Mission for telecast on Doordarshan to spread the message of water conservation. The event started with the traditional 'Jal Kalash' ceremony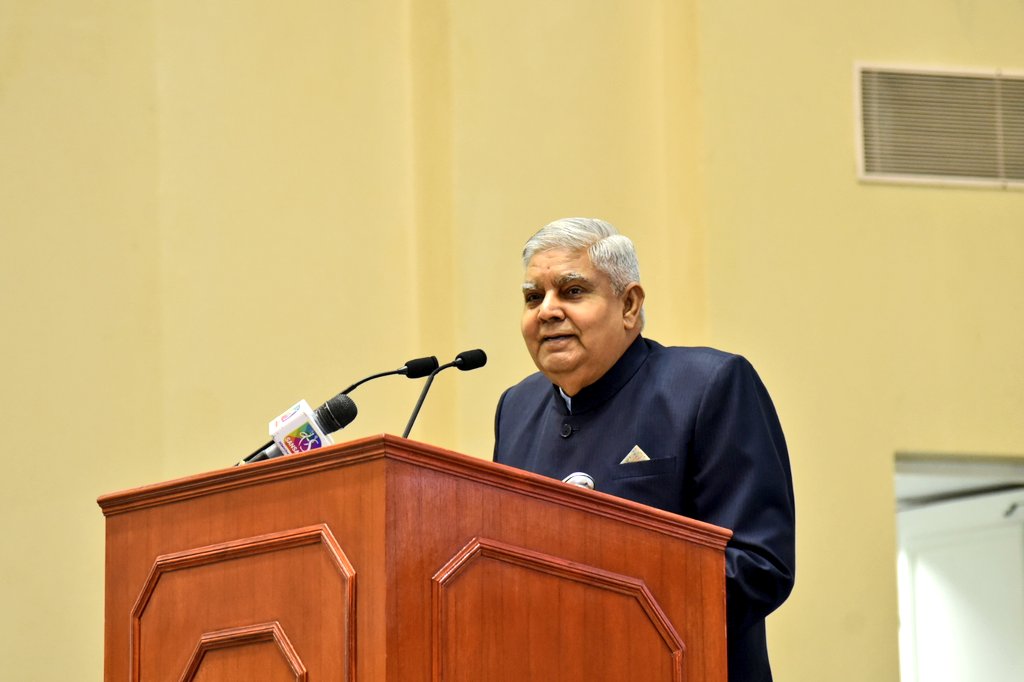 .Addressing the gathering, Vice President, Shri Jagdeep Dhankhar appreciated the award winners asserting that their contribution towards water conservation and management is extraordinary and will set an example for the coming generations towards the development of the nation. He said that it is the best example of the transformation that our country has seen in the last ten years. Shri Dhankhar appreciated the Ministry of Jal Shakti for very effective execution of the Jal Jeevan Mission which exemplifies the objectives of quantity, quality and continuity. He also commended the efforts of officers/staff of the Ministry for their outstanding work in the water sector and urged public representatives, media and civil society organisations for supporting them in implementation of their schemes & programmes
Excerpts of Vice-President's address: https://pib.gov.in/PressReleseDetail.aspx?PRID=1933040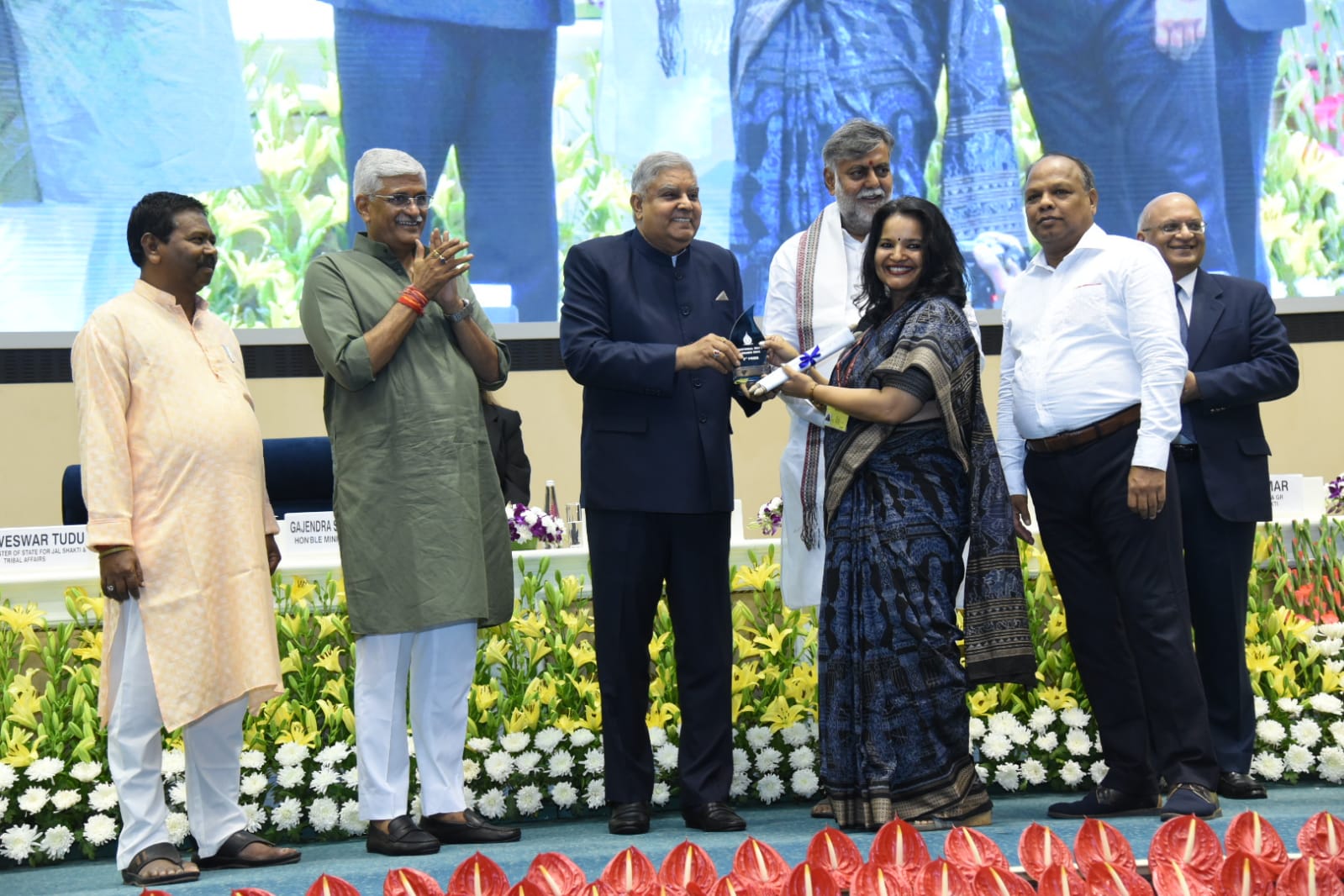 The Union Minister for Jal Shakti, Shri Gajendra Singh Shekhawat expressed gratitude toward the award winners for their efforts in the field of water management and conservation and said that these Awards have made a deep impact and fostered a healthy competitive environment among those working in the water sector. Shri Shekhawat congratulated the state of Madhya Pradesh for winning the first prize in best State category as well as Odisha for the second position and Andhra Pradesh and Bihar for winning the third position jointly. He specially congratulated Chief Minister of Madhya Pradesh, Shri Shivraj Singh Chauhan and his government for commendable work done in the direction of water conservation and water management. He said "The way Madhya Pradesh has worked from the point of view of water management, it will certainly serve as an inspiration for many states and institutions".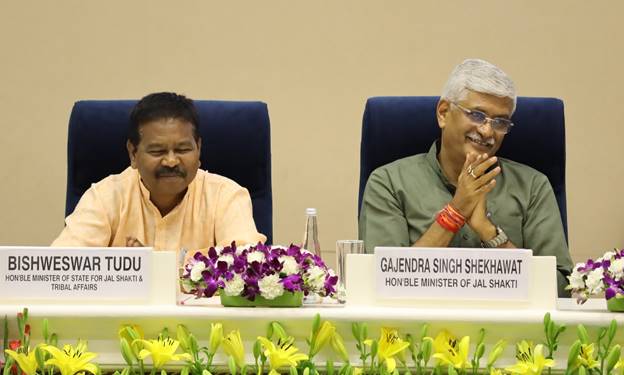 Delivering the welcome speech earlier, Minister of State for Jal Shakti, Shri Prahlad Singh Patel welcomed all the dignitaries, jury members, media personnel & participants to the award distribution ceremony and stated "Water is the fundamental need of life and is vital for survival of all living forms present on earth. The conservation of water requires joint efforts on the part of every section of society and from this standpoint, to create awareness among the people about the importance of water and to help motivate people to adopt the best water usage practices, the National Water Awards were launched in 2018 by the Department of Water Resources, RD & GR."Minister of State for Jal Shakti, Shri Bishweswar Tudu congratulated the award winners and stated that many water campaigns are being run by the Government of India but these campaigns can only be successful through active public participation. He emphasised the need for conserving water through community participation.
The Secretary, Department of Water Resources, RD & GR, Ministry of Jal Shakti, Shri Pankaj Kumar concluded the event with a vote of thanks to the Vice President for inaugurating the event and encouraging the national water awardees and other Dignitaries, Jury committee, the Officers of the Department and WAPCOS. He especially thanked the award winners for their exemplary efforts in carrying forward the message of water conservation and proper water use. He expressed confidence that their inspiring work will serve as a beacon in the field of water management and conservation for the years ahead.
Click Here to Read More about the Awards and the list of Awardees: https://pib.gov.in/PressReleasePage.aspx?PRID=193250