Bahanaga(Balasore) :3/6/23: The death toll in the tragic train derailment in Odisha's Balasore district has increased to 233, with at least more than 900 people injured, the state's Chief Secretary Pradeep Jena confirmed on Saturday.
On Friday evening, 17 coaches of the Coromandel Express and SMVT-Howrah Super Fast Express derailed, leading to one of the worst railway accidents in the country in the last 15 years.More than 200 ambulances along with 30 buses have been pressed into service, the Chief Secretary said.The Railways have also announced an inquiry by A.M. Chodhary, CRS/SE Circle.
A rescue operation by the NDRF, ODRAF, Odisha Fire Service along with several volunteer organisations kept the search for survivors and bodies trapped in the heap of mangled coaches on throughout the night.A senior Railway Ministry official in Delhi said the exact number of casualties will only be clear once the entire wreckage is sifted through.
Railway Minister Ashwini Vaishnaw tweeted to say that that air force has been called in to help with rescue operations.
"Rushing to the site in Odisha. My prayers for the speedy recovery of the injured and condolences to the bereaved families. Rescue teams mobilised from Bhubaneswar and Kolkata. NDRF, State govt. teams and Airforce also mobilised. Will take all hands required for the rescue ops," he tweeted.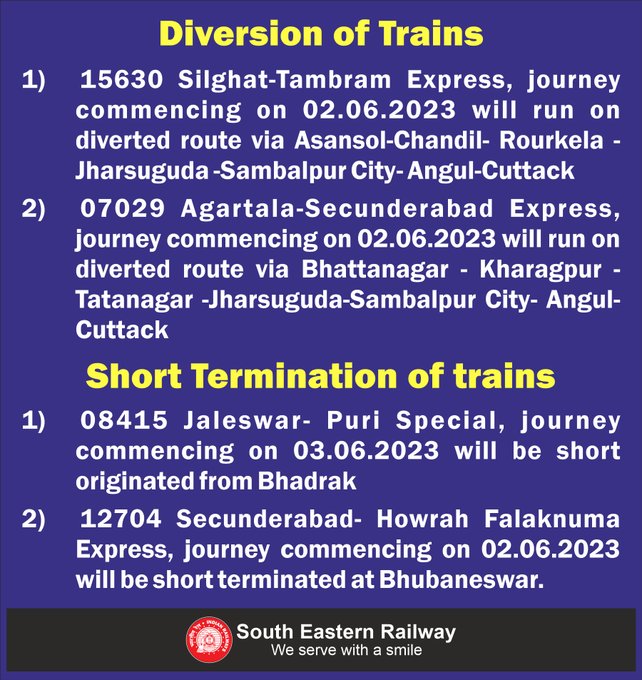 Mr Vaishnaw has also announced compensation of ₹ 10 lakh for those who have died, ₹ 2 lakh for those seriously injured and ₹ 50,000 for those who sustained minor injuries in the accident.
Prime Minister Narendra Modi too expressed his distress over the accident, and announced a compensation of ₹ 2 lakh for the family of the dead and ₹ 50,000 for the injured from the PM's National Relief Fund (PMNRF).
West Bengal Chief Minister Mamata Banerjee tweeted she is monitoring the situation continually personally with the Chief Secretary and other senior officers.
Post a commentSo far, 18 long-distance trains have been cancelled due to the accident, which happened on the Howrah-Chennai main line in the Kharagpur division of the South Eastern Railway.