Newdelhi:13/5/23:Union Minister of Health and Family Welfare, Dr Mansukh Mandaviya addressed the G7 Health Ministerial meeting on Global Health Architecture in Nagasaki, Japan today. The meeting was held to discuss global health challenges and ways to ensure preparedness, prevention and response to future health emergencies. Health Ministers of the G7 countries and invited "Outreach 4" countries of India, Indonesia, Vietnam and Thailand were present in the meeting.
Addressing the gathering, Dr Mandaviya stated that "when it comes to managing any health emergency, any country's national health system is heavily dependent on the global health system". He highlighted that "the COVID-19 pandemic has brought to forefront the fault lines in existing Global Health Architecture, emphasizing the need for a more robust, inclusive, & responsive Global Health Architecture, while maintaining centrality of the WHO"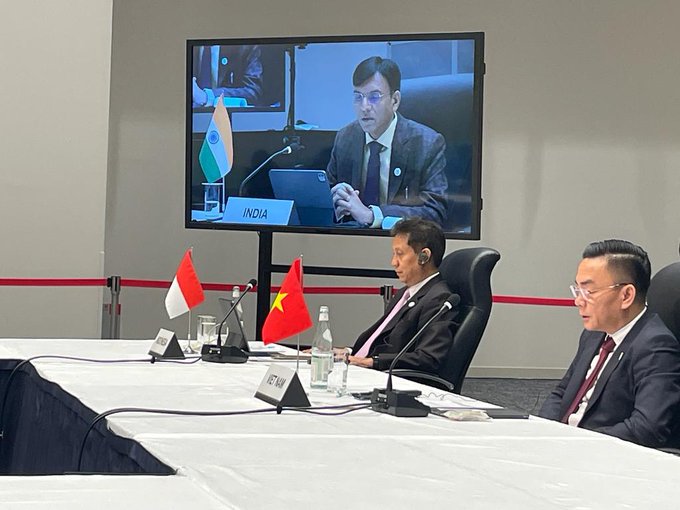 On India's G20 Presidency, the Union Health Minister informed that priority has been given towards building consensus for converging global efforts to address any health emergencies and ensure availability of medical countermeasures to all the countries during any health emergency, with specific focus on affordability and ensuring equitable availability. He also voiced his concern on the high level of global inequity in access to medical countermeasures by highlighting that the COVID-19 vaccination programme started in December 2020, but even after more than 2 years, only 34% of population in low-and-middle-income countries has access to COVID-19 vaccination, compared to 73% in high-income countries as on April 2023.
He concluded his address by stating that the theme of India's G20 Presidency – One Earth, One Family, One Future, enunciated by Hon'ble Prime Minister Shri Modi ji is based on Indian philosophy of "Vasudhaiva Kutumbakam" meaning the Whole World is One Family which exhorts us to work collectively and through an inclusive approach.