Bhubaneswar, :24/4/23:Shri Rajeev Chandrasekhar,  Minister of State, Skill Development and Entrepreneurship, and Electronics and Information today inaugurated the Day 2 of one of its kind Future of Work exhibition under 3rd Education Working Group (EdWG) meeting.  The inaugural ceremony was also graced by the august presence of Shri Atul Kumar Tiwari, Secretary, MSDE; Mr R Dinesh, President Designate, CII and Executive Vice-Chairman, TVS Supply Chain Solutions and Mr NSN Murty, Partner, Deloitte
.While addressing the gathering Shri Chandrasekhar expressed his happiness that a large number of students become a part of a critical discussion around future of work and skilling, and they are the most important beneficiary. The Minister said that the conference focusing on intersection of logistics, coastal economies and sustainability is an important topic and integral in the context of skilling in coastal economies. He further said that logistics will be an area full of opportunities for young students in the coming years, as much as Semiconductors, electronics, and Information technology, with huge scope for investment, entrepreneurship and employment. This is an interesting time for the world, representing opportunities and challenges and in this context, India has become the fastest growing nation of the world. And India is being looked upon by the world with lot more respect, he added.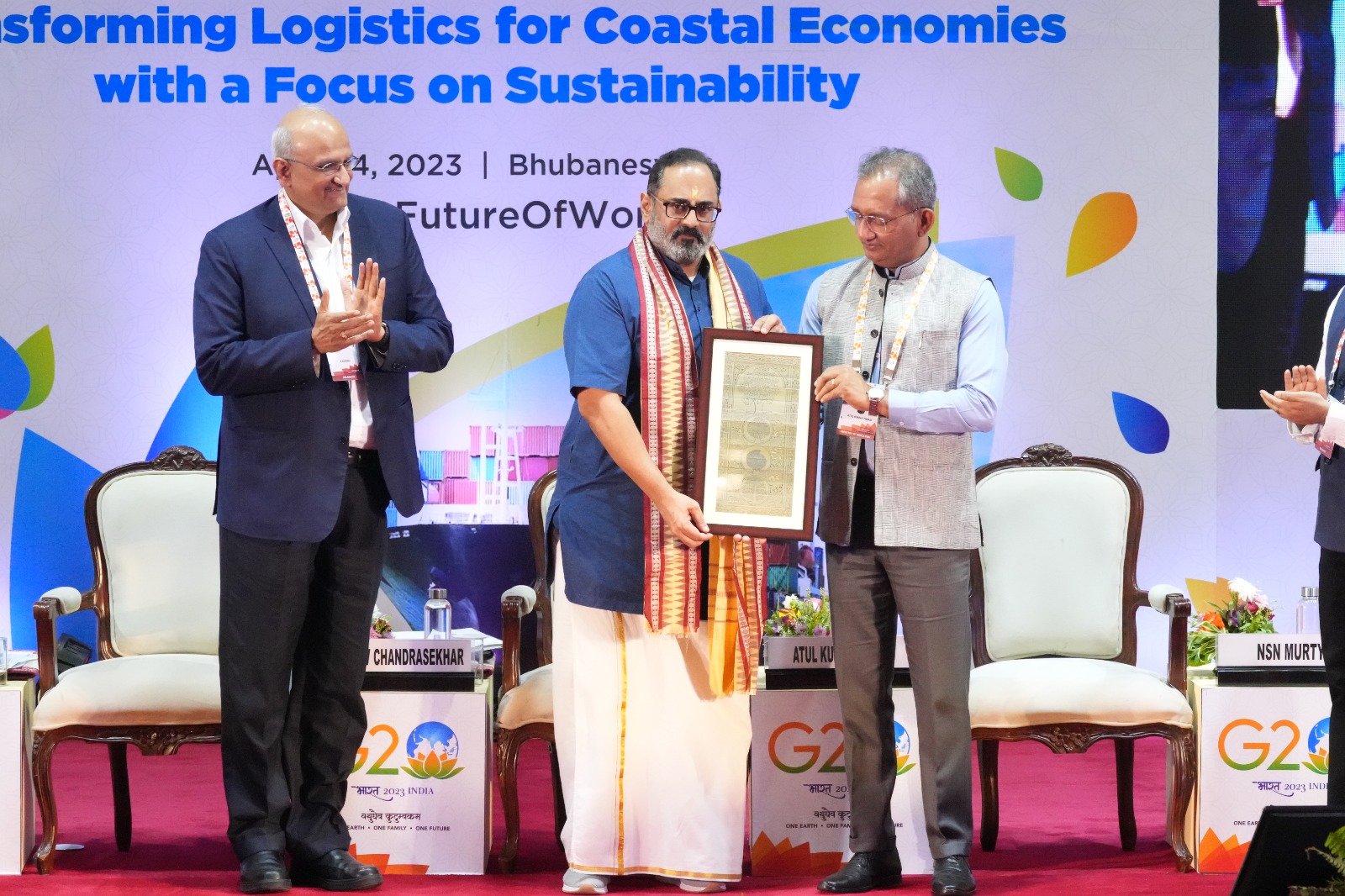 After the inaugural ceremony, the Minister visited nearly 70 exhibitors and lifted their morale by appreciating their efforts. The exhibitors included premier institutes and organizations from diverse sectors such as MeitY,  National Skill Development Corporation (NSDC), NIESBUD, UNICEF, NCERT, NIT Rourkela, IIT Bhubaneshwar, IIM Sambalpur, CV Raman Global Institute, Odisha based start-ups and many more, displaying technologies that will drive the future of work with constant innovations in modern workplace, future skills, and innovative delivery models.
The guests and visitors witnessed many highlights, Future of Work exhibit in 3 sectors- Agriculture, Mobility & Healthcare, Metaverse, Reverse engineering and automated design solutions, drone technology, Ed-tech solutions leveraging AR/VR, industry 4.0 skills, vernacular learning-based tech solutions, virtual internship solutions, and assistive technology & tactile display for inclusion and live demo of assistive technology innovation. This exclusive exhibition is being put together on the sidelines of the 3rd Education Working Group (EdWG) meeting under G20 presidency from April 23rd to 28th at CSIR-Institute of Minerals and Materials Technology (IMMT), Bhubaneswar, Odisha.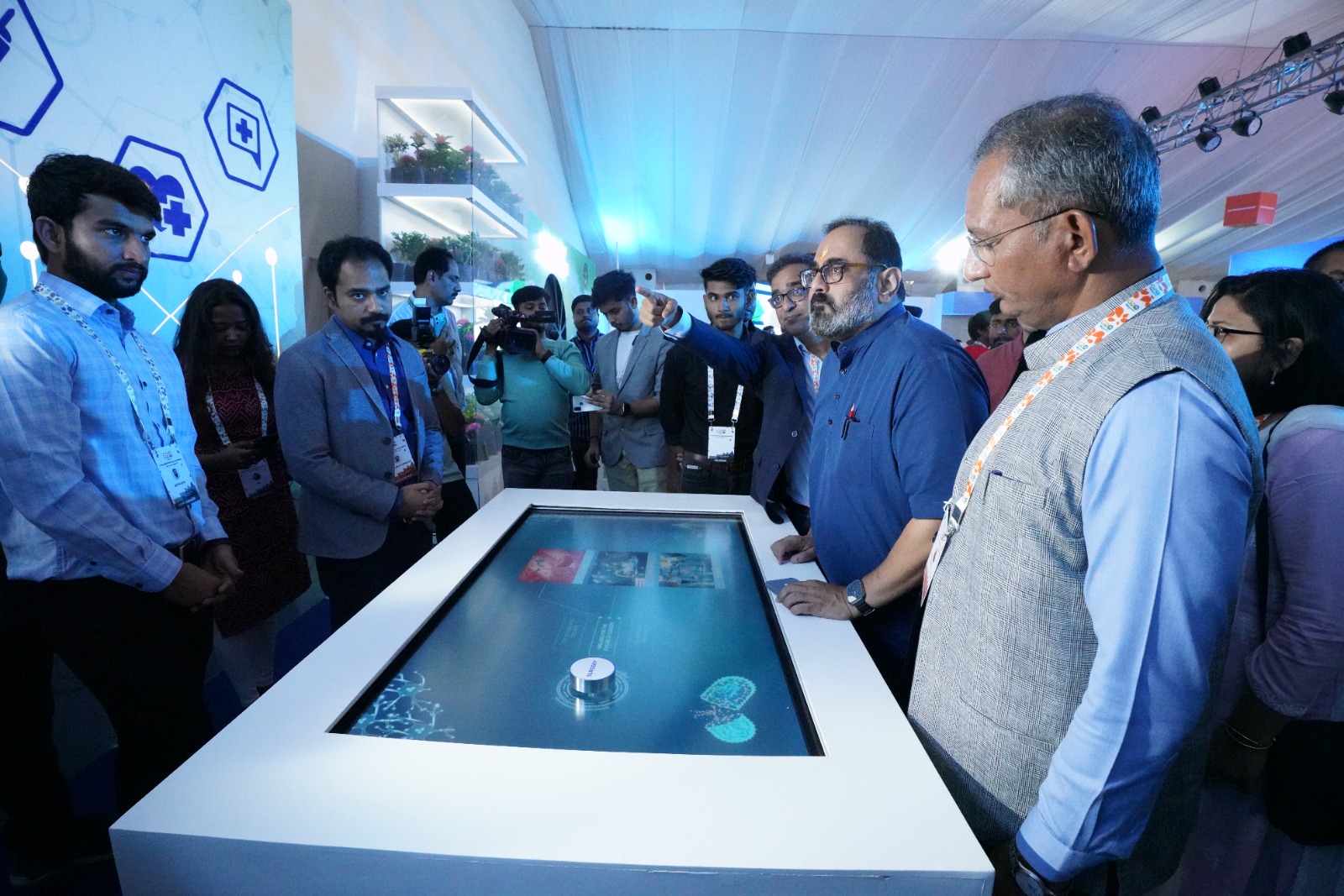 The Ministry of Skill Development & Entrepreneurship (MSDE) and the Ministry of Education (MoE) hosted the second precursor event on the theme Transforming logistics for coastal economies with a focus on Sustainability. The aim of the precursor events is to create an environment that promotes innovation, collaboration, and learning by bringing together professionals from different fields to explore the implications of future of work for the government, industry, and academia. Today's panels were attended by Mr Sanjay Mishra, Special Secretary, Commerce and Transport Department, Government of Odisha; Prof. Pradipta Kumar Nanda, Vice Chancellor, Siksha O Anusandhan University; Mr V. Venkateswara Rao, Chief Logistics Officer, Jindal Stainless Group; Mr Rahul Pandit, Chief Executive Officer, Horizon Industrial Parks; Prof Sasmita Rani Samanta, Vice Chancellor, Kalinga Institute of Industrial Technology (KIIT); Dr Vaibhav Chaturvedi, Fellow, Council on Energy, Environment and Water (CEEW); Ms Madhulika Sharma, Chief Sustainability Officer, ITC Ltd and many more eminent speakers.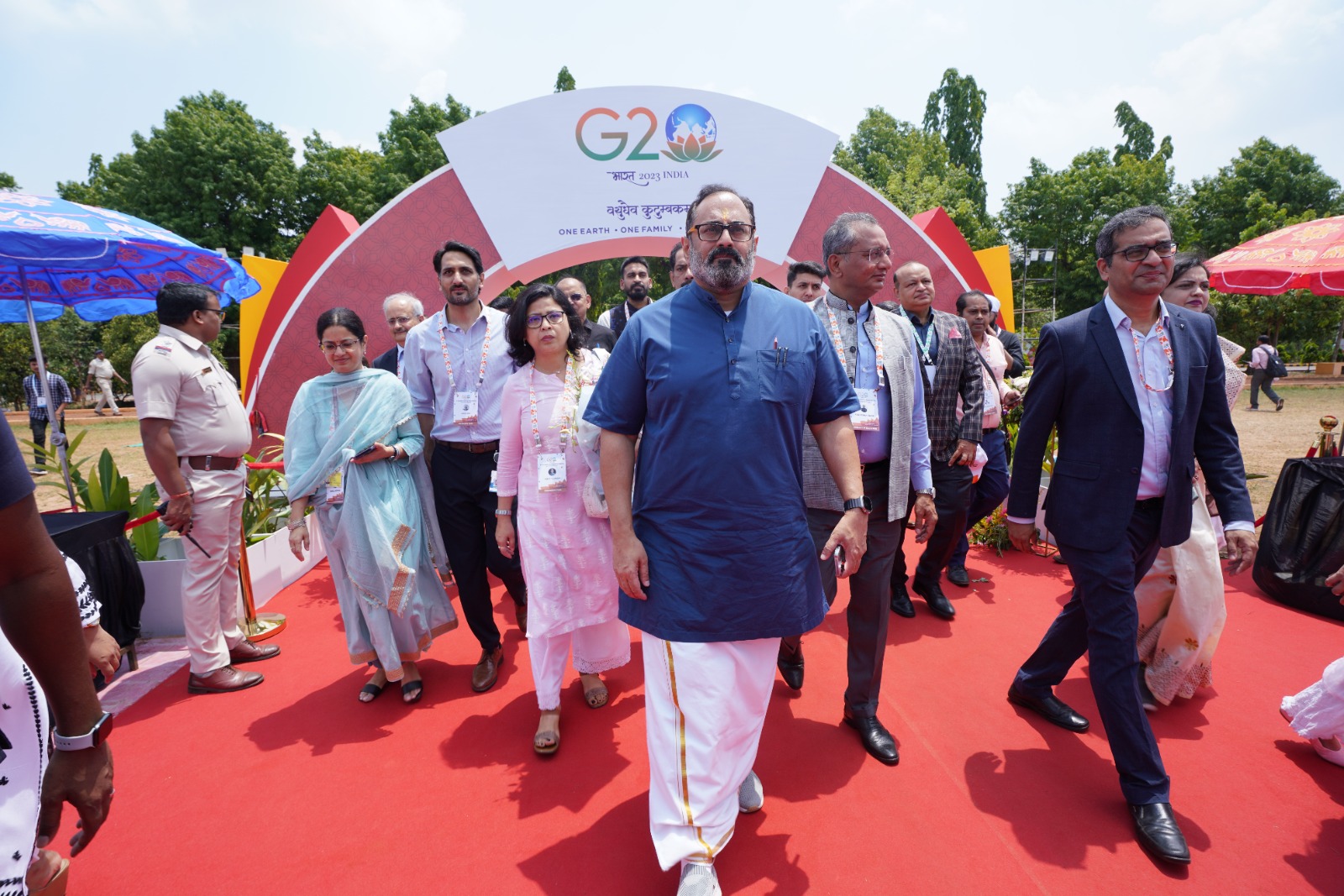 A unique Future of Work Experience Zone that has been setup aims to display to the youth that how the Future of work will evolve by getting a preview of the required advanced technical skills and softer transferrable skills at this experience zone, to remain market relevant. The exhibition will showcase a variety of technologies from different sectors that will shape the future of work, including innovations in modern workplaces, the integration of technology in traditional sectors, and novel delivery models. The exhibition will provide an exceptional opportunity for technology leaders, influencers, and academics to showcase the best practices in adapting to the future of work.
Hon'ble PM always says future is about Skilling, Reskilling & Upskilling. There is no full stop to learning: Union Minister @Rajeev_GoI at the #G20 3rd #EdWG Meet Conference in #Bhubaneswar.#G20FutureOfWork @g20org @MSDESkillIndia @PIB_India @EduMinOfIndia pic.twitter.com/lTG28JwYK6

— PIB in Odisha (@PIBBhubaneswar) April 24, 2023