Newdelhi:11/4/23:The Union Minister of Education and Skill Development & Entrepreneurship (MSDE), Shri Dharmendra Pradhan unveiled the digital version of the Employability Skills curriculum for students enrolled in India's Industrial Training Institutes (ITIs) at the Future Skills Forum in New Delhi today. The Future Skills Forum – is an initiative of the Future Right Skills Network (FRSN) a collaborative effort by QUEST Alliance, Accenture, Cisco, and J.P. Morgan. It brings together government skills training institutions, civil society organisations, industry and corporate social responsibility partners to help young people acquire critical skills for the future.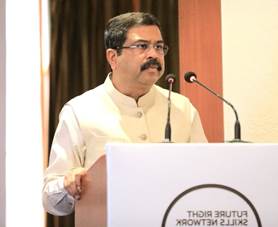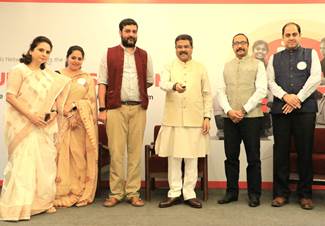 Speaking on the occasion, Shri Pradhan spoke about the trans formative power of schilling in boosting employability, shaping India's future and preparing a 21st century workforce. He said that the next quarter of the century when India will be completing its 100 years of independence, India will be the largest economy. From digital payments to vaccinations, we are already ahead in embracing technology in all walks of life and making best-in-class products & services. In this era of technology where nature of workplace is changing rapidly and where new disruptive technologies is no more limited to a small elite, skill development will be the key to unlocking the true potential of our demography, he added.
He expressed his happiness that industry leaders have come together to strengthen the skilling ecosystem as well as to think on ways to leverage new technologies, like AI, IOT for creating future-ready workforce and for larger benefit of society. As outlined by the Prime Minister Shri Narendra Modi, India's capacity will also benefit the globe. National Education Policy (NEP) has created opportunities for learning while earning, he added.
The digital lessons include modules on financial and digital literacy, diversity and inclusion, career development, goal setting and entrepreneurship. These are drawn from the upgraded ES curriculum which was launched by the MSDE in September 2022.
Aimed at fulfilling the need for anytime, anywhere learning, these modules will be accessible to more than 2.5 million learners through the Government of India's Bharat Skills Portal as well as other platforms. Developed with active industry contribution, the curriculum includes 12 modules in a bite-sized, gamified format and each lesson is followed by assessments that is designed to help learners assess the depth of their learning. The storytelling approach followed in the modules provides learners with relatable scenarios that they can apply to real-world situations. The constructive feedback system ensures that learners receive feedback that is specific, timely, actionable thus enabling improved learning outcomes.
The digital lessons will be instrumental in introducing innovative pedagogical models like blended learning in Industrial Training Institutes (ITI), which will empower educators to create and lead 21st century classrooms.