Malajanha (The Dead Moon) is a 1965 classic Odia film, which won National award. Based on the novel of the same title by Upendra Kishore Das and directed by Nitai Palit- Malajanha failed at the box office when it was released- probably because it was way ahead of its time both in terms of the content and funding.The plot of Malajanha centers around a young girl Sati who is forced into marriage with an ugly old man living with a concubine. The marriage eventually ends in tragic separation and Sati finds shelter with Nathanana, her childhood friend. The relationship between Sati and Nathanana is one of strong emotional bond though neither has ever spoken out to the other about the intensity of love. Sati, unable to bear the scandal concerning her and Nathanana, finally commits suicide by jumping into the river. This poignant love story is narrated in the context of life in rural Orissa infested by superstations, narrow caste prejudices and acute poverty. Women were like slaves with no mind and choice of their own and child marriages were widely prevalent. The agony and suffering of Sati may be seen as essentially related to the social evils that afflicted contemporary rural Orissa.JharanaDas had essayed the role of Sati while Akshya M0hanty Kashyap was  act as Nath Nana,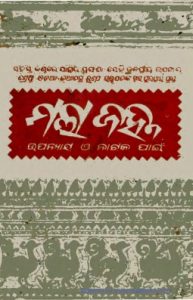 Rachit Kirtiman is the great grand son of Upendra Kishore Das. His grand mother Jasodhara was Upendra Kishore's daughter. Rachit wanted to carry the memories of his grandmother and also his family's legacy. He asked his grand mother to write 'Malajanha' and tattooed that on his arm. Jasodhara died last October.
This is for the first time I found somebody tattooing on one's body the name of a film/novel as a family legacy and also to remember one's grandmother.
Interestingly the poster of Malajanha carries the same handwriting in its title. I noticed the similarity and asked Rachit – whether the title was written by his grandmother. He did not know. But the similarity is uncanny.