Rourkela:25/2/23:  The NIT Rourkela team today welcomed 25 participants from Sikkim and 5 faculty/staff of NIT Sikkim for a week-long exposure tour to Odisha under the Yuva Sangam Programme. Yuva Sangam youth exchange programme under the Ek Bharat Shreshtha Bharat (EBSB) –Yuva Sangam programme is an initiative by the Ministry of Education, Government of India, to strengthen people-to-people connections, especially between youth belonging to North Eastern India and other states. It will provide an immersive experience of various facets of life, development landmarks, recent achievements and youth connections in the host state. During their visits, the youth will have a multi-dimensional exposure to five broad areas –Tourism, Traditions, Development, Technology, and People-to-people connect.
Boarding on Ispat Train, the team from Sikkim reached the smart city Rourkela around 1.30 pm today. Dignitaries from NIT Rourkela, Prof. Rohan Dhiman (Registrar), Prof. S. Jena (Dean, Student Welfare), Prof. Anil K. Singh (Head, Safety and Security), coordinators of Yuva Sangam-NIT Rourkela and a few student volunteers welcomed the team with a garland at the station. Representatives from IRCTC also joined the team for their warm welcome. The Sikkim troop also witnessed a folk Dhol play and dance by artisans at the station and received welcoming applauses from people there.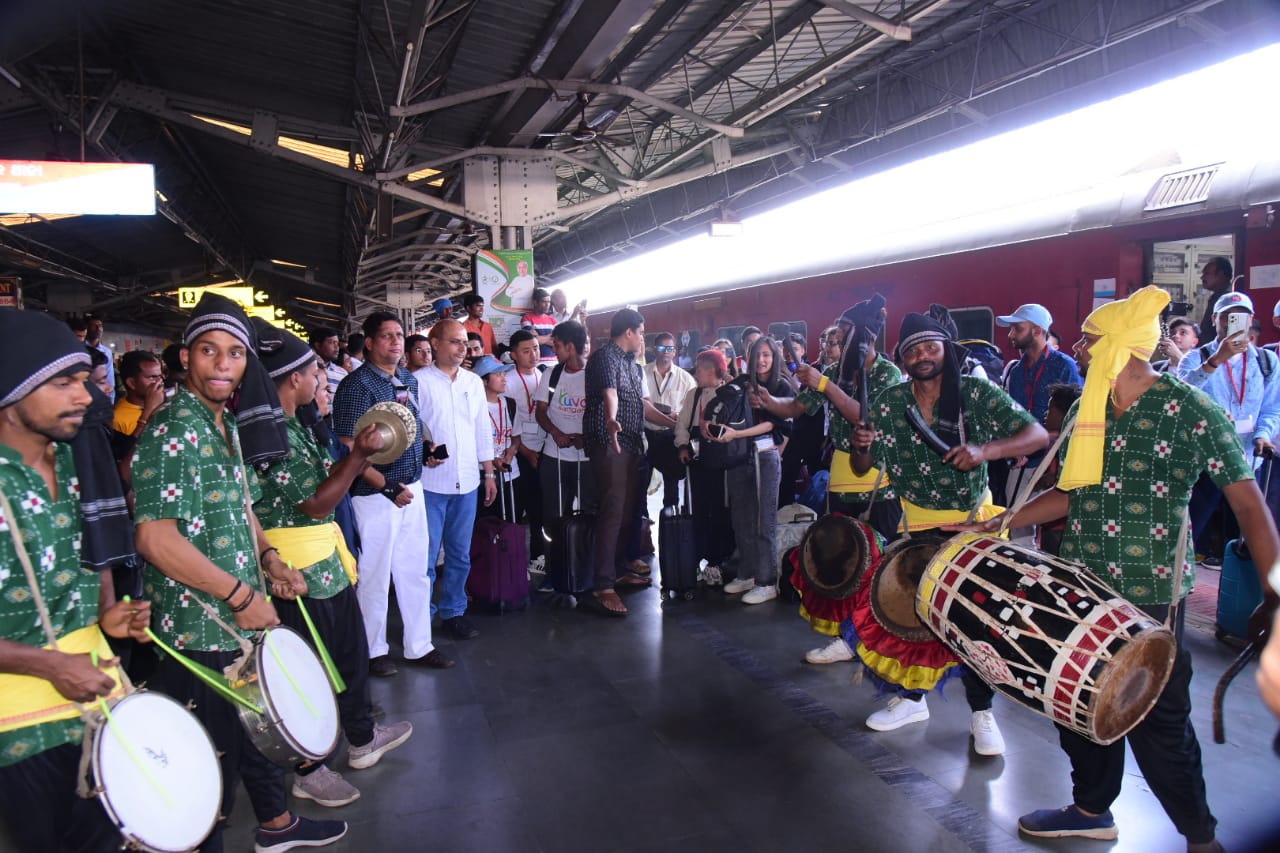 As NIT Rourkela has been chosen as the Nodal Institute for Odisha and paired with NIT Sikkim to host the Yuva Sangam youth exchange programme, NIT Rourkela will organize the 5-day tour (excluding arrival and departure day from 25th Feb to 3rd March 2023). The tour plan includes visits to different academic institutions, tourist places, notable industries, etc., like Rourkela Steel Plant, Birsa Munda Hockey Stadium & Indoor Stadium & other sports facilities around the city, Hanuman Vatika, Vedvyas Temple and Vaishnodevi Temple, Jagannath Temple, IIM Sambalpur, Hirakud Dam, Samalei Mandir Self Help Group visits etc.
Prof. K. Umamaheshwar Rao (Director) extended his warm regards to all the guests. Welcoming the students, Prof. Rohan Dhiman (Registrar, NIT Rourkela) said, "Yuva Sangam is a unique way to celebrate the diversity of India. The youth of India must know the importance of this long historical journey of various states and interact with each other to exchange traditions, technology and build connections. Participants must acknowledge the efforts of various ministries under the government of India and other respective host institutes for giving them this opportunity to add an interesting chapter to their student life. The Government of India fully funds the program. There is no expenditure for visiting students as the host institute provides accommodation and food. I thank the ministry of education for choosing NIT Rourkela as the nodal institute representing the holy land of Lord Jagannath. On behalf of the city and state, I wholeheartedly welcome our guests from Sikkim. Hope we will create an unforgettable journey together."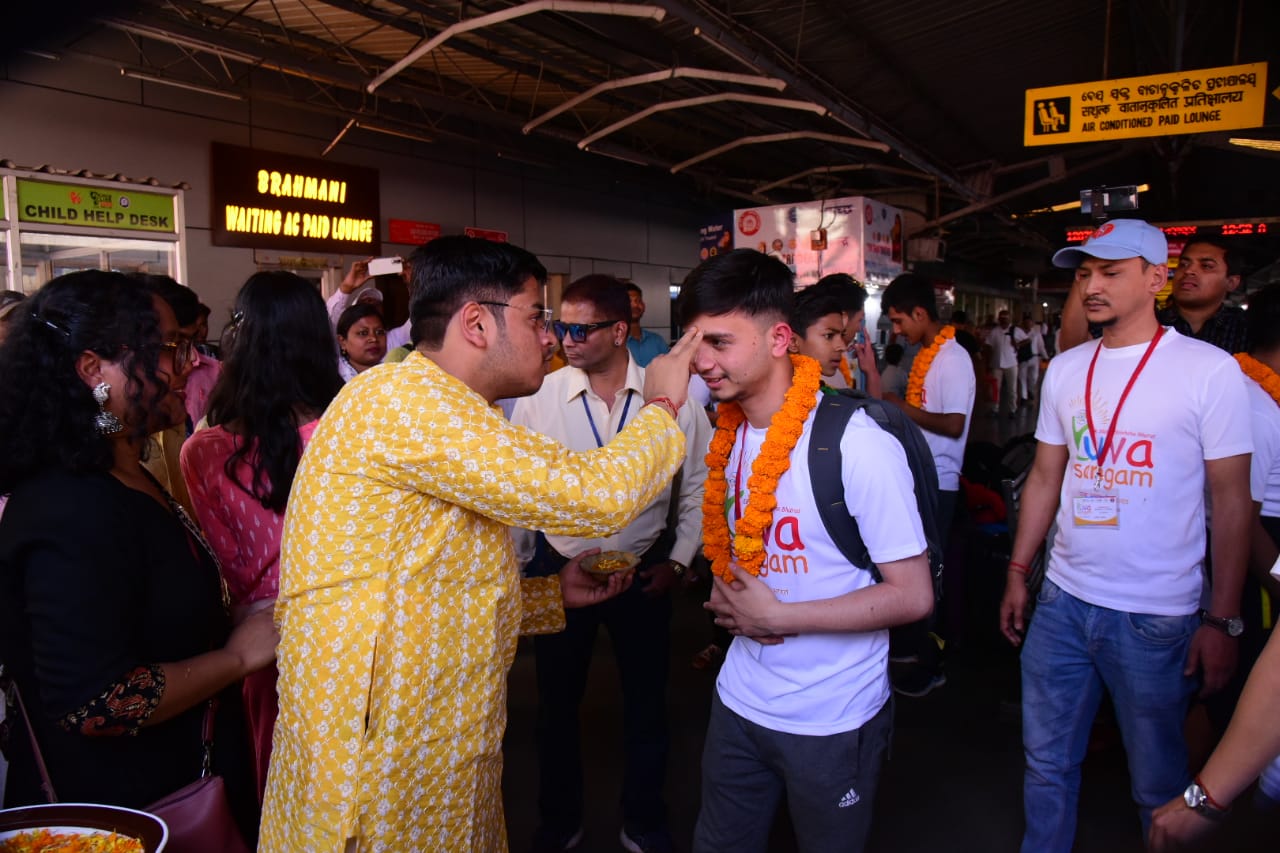 The coordinator from Sikkim Mr. Sumit Kumar said, "We are very happy to be on the land of Lord Jagannath. After travelling for almost two days, welcome received by NIT Rourkela and railway authorities took away all the tiredness as they created very exciting and warming ambience at the station. At the very initial stage only they have shown the humbleness and warmth of their culture. Whole team of EBSB-NITR made us feel all home. We all are motivating to know the Odissi culture more closely. We're all sincerely looking forward to getting to know its heritage better. On behalf of my team from Sikkim, I thank NIT Rourkela for the dynamic welcome and warm hospitality."
The nodal officer for Yuva Sangam (Youth Exchange Programme) Odisha, Prof. Winny Routray, said, "We are delighted to have guests from Sikkim amongst us, and we look forward to knowing each one of them as this is the opportunity to exchange our culture and know each other. Team NIT Rourkela will put every possible effort to leave a long-lasting impression of a state with heritage, culture and welcoming smiles in your hearts."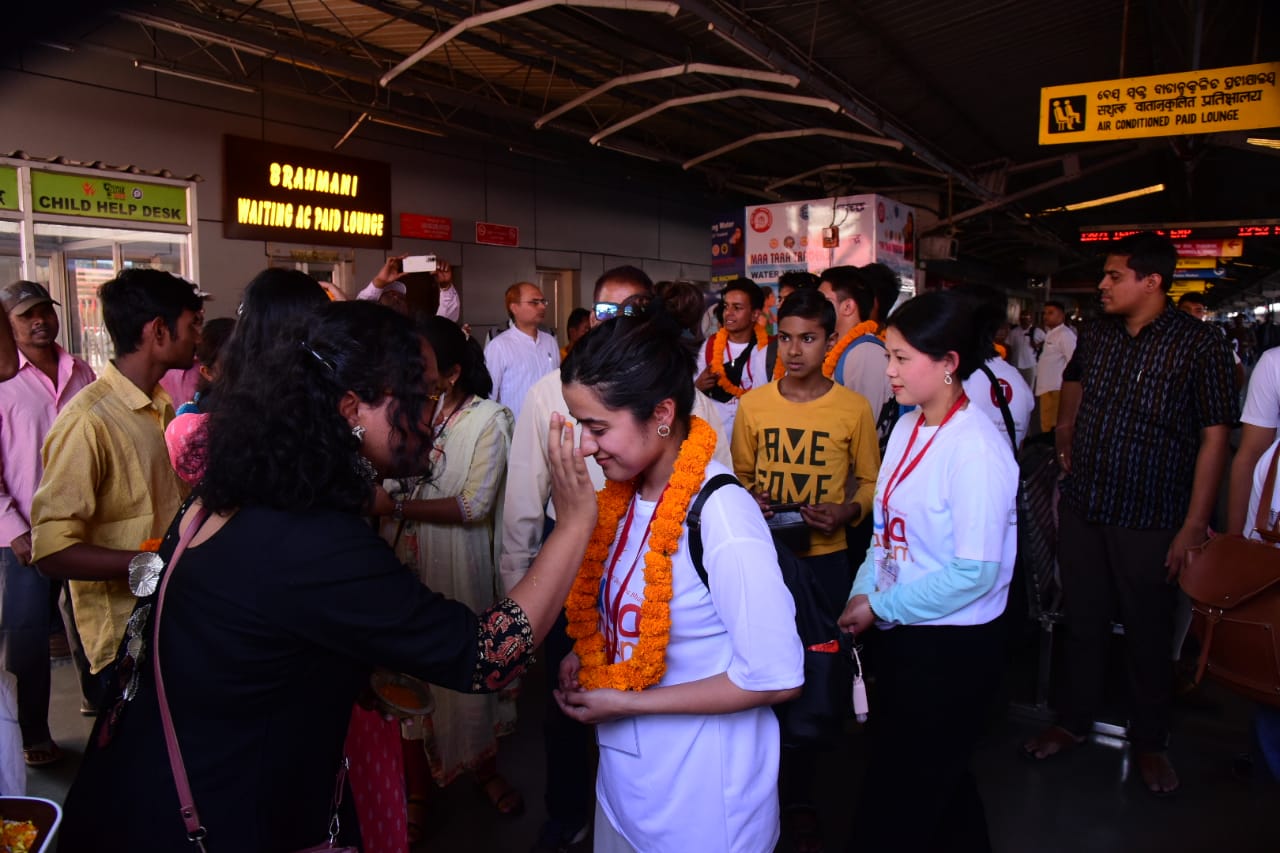 Today, in the evening (6.30 pm onwards), a cultural programme is being organized at NIT Rourkela. The programme will showcase the cultural aspect of Odisha in the form of dance and music. In the august presence of Prof. K. Umamaheshwar Rao (Director), kids from different schools from the city will perform, representing the art and culture of India and Odisha.
This program is being organized in collaboration with various other ministries and departments, including Education, Culture, Tourism, Railways, Information & Broadcasting, Youth Affairs & Sports, Home Affairs, Department for Development of North-East Region (DoNER) and IRCTC. Around 1000 youth will participate in the pilot tour of Yuva Sangam. This project uniquely connects and strengthens the bond between young people of the North Eastern States and the rest of India.