– 508 innovative ideas received from various departments across TSM
– 200 Shortlisted Innovative Ideas on Display
– Three-day event saw participation from all locations, including Meramandali, Sahibabad, Khopoli, and Hosur
Narendrapur, February 24, 2023: Tata Steel Meramandali (TSM) successfully hosted the 5th edition of Exposition on Elimination of Human-Machine Interface from February 16-18, 2023. The three-day event saw participation from all locations, including Meramandali, Sahibabad, Khopoli, and Hosur, with a total of 508 innovative ideas submitted for consideration. The event was organized as part of Tata Steel's Safety Excellence Journey, which has focused on reducing human-machine interference at the workplace.
Out of the 508 submitted kaizens, 200 were shortlisted by a selection committee and displayed for competition during the exposition. The event was inaugurated on February 16, 2023 by dignitaries from Tata Steel, including Sanjiv Paul, VP, Safety, Health & Sustainability (SH&S), Rajiv Mangal, VP, SH&S (Designate), Subodh Pandey, VP Operations- TSM, Neeraj Kumar Sinha, Chief Safety and Agam Kumar, Chief Safety TSM, in the parking area of Safety Office, SMS-1. The opening ceremony was attended by representatives from all the Tata Steel participating locations, workers, and line managers.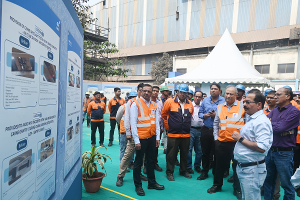 During the three-day exposition, Head of Departments (HODs) encouraged their colleagues to visit the event to gain insights into various engineering solutions that can be implemented to make the workplace safer. A total of 6,500 workers, supervisors, safety professionals, and line managers from all departments visited the exposition to learn about the various initiatives that Tata Steel has undertaken to eliminate human-machine interference.
The closing ceremony was held in the presence of Dr. Ramesh Kumar Behera, Deputy Director Factories & Boilers, Angul Division, and Er. Puspamitra Jena, Assistant Director Factories & Boilers, Dhenkanal Zone, along with Ved Prakash Thakur, Chief Shared Services, TSM and Agam Kumar, Chief Safety, TSM. The dignitaries lauded Tata Steel for its efforts in eliminating human-machine interference and reducing hazards for workers. Members from nearby industries, the District Crisis Group Angul and Dhenkanal, all Chiefs, Heads of Tata Steel and more than 400 worker representation with line managers were present at the event
.The winners of kaizens in five different categories were awarded by the guests, and the evaluation committee members were also recognized for their contributions. The event was a resounding success and demonstrated Tata Steel's commitment to workplace safety and eliminating human-machine interference. The company plans to continue its efforts in this area to ensure that workers are safe and that the workplace remains hazard-free