Bhubaneswar:16/2/23:Under the aegis of Ministry of Coal, the east zonal conference on PMGatiShakti (National Master Plan for Multimodal connectivity) and National Logistic Policy was held today in Bhubaneswar, Odisha.  The programme supported by Mahanadi Coalfields Ltd, a Government of India enterprise and the Government of Odisha focuses on integrated infrastructure development in Odisha, Jharkhand, West Bengal and Bihar. It was attended by Shri Suresh Chandra Mohapatra, Chief Secretary, Government of Odisha as the Chief Guest.
Addressing the gathering, the Chief Secretary underscored the fact that logistic is the biggest challenge before the country. Appreciating Prime Minister Shri Narendra Modi's vision in launching the PM GatiShakti program, Shri Mohapatra said it will go a long way in ending the silos style of functioning that prevailed among various departments in the transport sector. Bringing various departments and ministries on a single platform will greatly address the huge volume of transportation of minerals and materials across the country.
Referring to Odisha, Shri Mohapatra said the state alone transports thermal coal to as many as 14 to 15 states across the country. Underlining the need of logistic development in the eastern region Shri Mohapatra said this region is the growth engine of the country.  In his context, he said a robust futuristic plan needs to be put in place and executed in the sector of logistics.
In his address, as the Guest of honour the Secretary, Ministry of Steel, Government of India, Shri Nagendra Nath Sinha said, for the steel sector logistics are like a situation of life and death. Elaborating on the importance of logistics, he said for every tonne of steel that we produce, 4 tonnes of material has to be moved. So, for producing 120 million tonnes of steel, about 600 million tonnes of material has to be moved across the country. The total cost of logistics is around 28 percent of the total cost of production in the steel sector. If we need to cut down the cost of production, we have to decrease the cost of logistics, which is well envisioned in the PM Gatishakti scheme.
Besides the existing modes of transport like the rail, road and water connectivity, Shri Sinha said there is a need to think of even new mode and manner of logistical support so that the cost can be significantly cut down. He also stressed upon the appropriate mode of transport of material to reduce cost and improve efficiency. Stating that currently India is having 80 KG per capita consumption of steel as against about 700 Kg in the developed countries, the Union Steel Secretary said even when we join the middle ranking countries the demand for logistics will go up, thereby calling for significant reduction in logistic cost.
Speaking on the occasion, Shri M Nagaraju, Additional Secretary, Ministry of Coal, Government of India said the convergence approach which is embedded in the PM Gatishakti Program will enhance production capacity and employment opportunities besides reducing logistic cost and avoidance of waste in building infrastructure. Stating that all the four states that are participating in today's conclave are rich in mineral resources, Shri Nagaraju said these states constitute the backbone of industrial development of the country. He said a uniform logistic policy will greatly help these states in seamless and cost-effective transportation of goods and materials.
Shri Aboobacker Siddique P, Secretary Mines, Government of Jharkhand and Shri Prasanna Kumar Motupalli, Chairman NLCIL also spoke on the occasion. One interactive session with 10 CEO's on 'Infrastructure development of East Zone' was also held.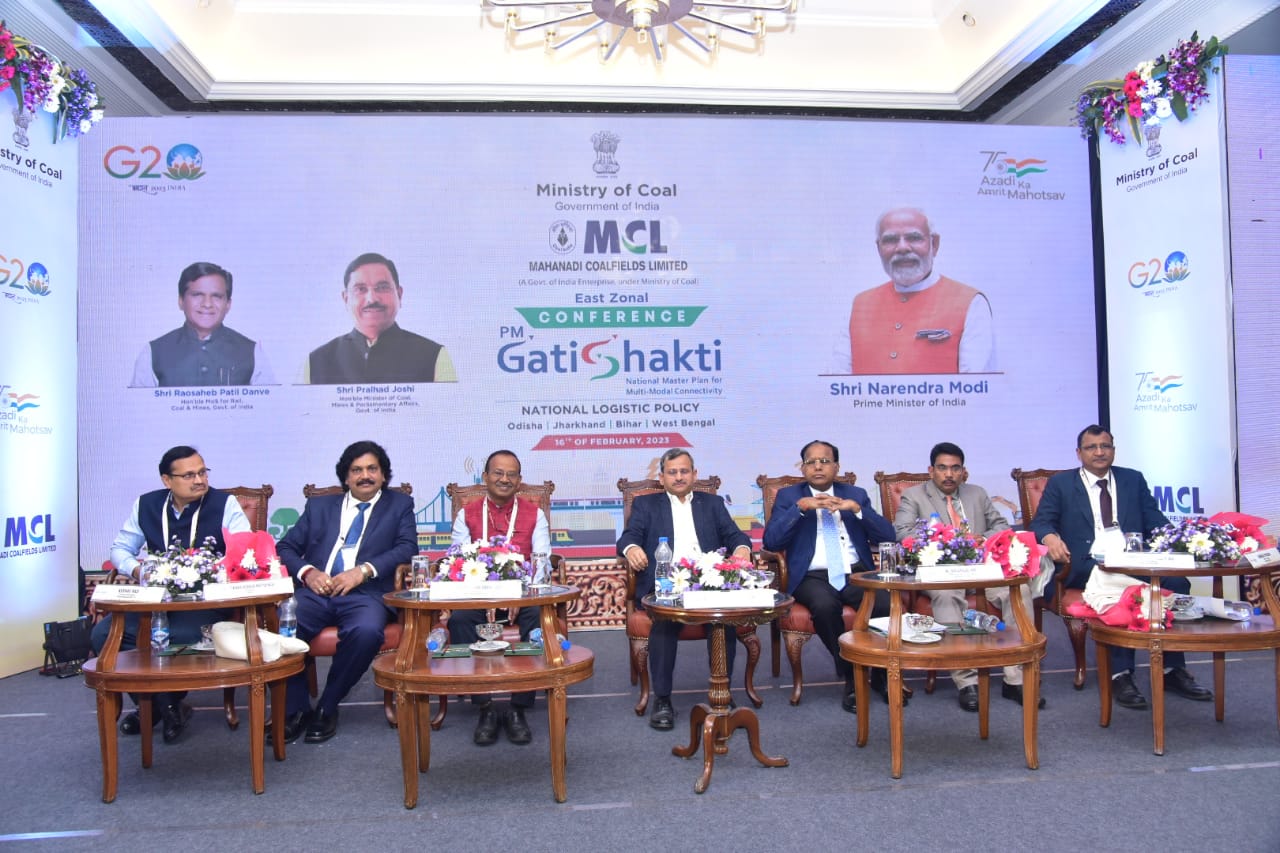 PM Gatishakti National Master Plan (NMP), a transformative approach for improving logistics efficiency and reducing logistic costs, was launched for integrated infrastructure development in the country.  The objective is to bring different Ministries/States/Departments/Industries together for integrated planning and coordinated implementation of infrastructure connectivity Projects.
East Zonal Conference will provide an opportunity for different stake holders to understand in-depth the component of National Logistic Policy.
Ministry of Coal is organizing East Zonal Conference on "PM Gatishakti: National Logistic Policy" in Bhubaneswar, Odisha for coordination in integrated infrastructure development planning in East Zonal States – Odisha, Jharkhand, West Bengal & Bihar.
The conference is attended by senior officials of East Zonal States and different Ministries like Coal, DPIIT, Railways, Power, Steel, Fertilizers & Chemicals, MoRTH, Shipping Ports & Waterways along with Industry representatives of East Zone.
The conference aims to have in depth discussions and suggestions for inclusive development of the region.