# 20 winners awarded cash awards worth Rs 4.2 lakhs
# 10 sportspersons from Dhenkanal and Angul districts felicitated
# 6 national level Volleyball players of Angul and Dhenkanal felicitated
# RashmiRanjanNayak of Khurdha  andSamsadAra Begum of Bhubaneswar are winners of 10 km run in Male and Female category respectively
# Tata Steel commits to plant one sapling for each of registered runner to promote greener planet
Dhenkanal:5/2/23:Meramandali Run-a-thon, the mega sports event organized in collaboration with the Dhenkanal District Administration, saw a turnout of over 3500 enthusiastic runners from across the country. The 10 km and 5 km runs were flagged off by dignitaries including MLA Sudhir Samal, MLA Simarani Nayak, Collector and District Magistrate Saroj Kumar Sethy,IAS,SP GyanRanjanMohapatra,Chanakya Chaudhary, Vice President, Corporate Services, Tata Steel and Subodh Pandey, Vice President – Opertaions, TatatSteel Meramandali.
This year's theme, "Run for a Greener Planet," saw participants compete in 10 KM and 7 KM categories for men and women. The runs started from the housing colony of the plant located at Kantabania, passing through the NH-55 service road and nearby village road of Shibapur.
Winners in both the men and women categories of the 10 km run were awarded cash prizes and trophies, with a total of 20 prizes worth Rs 4.2 lakhs presented. RashmiRanjanNayak from Khurdha won the 10 km men's category, while SamsadAra Begum won the 10 km women's category. In the 5 km categories, Praveen won in the men's category, and DaitaHantal won in the women's category.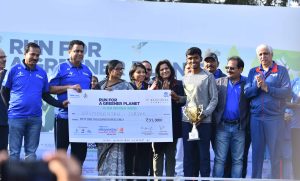 The event was held to international standards with the use of technology such as timing digital mats, RFID chips, split timing mats, tracking cameras, and wifi networks. Tata Steel partnered with a Mumbai-based agency experienced in organizing similar runs to ensure the event's success.
In addition to the winners, 10 sportspersons from Angul and Dhenkanal districts, nominated by the respective district administrations, were also felicitated, as well as 6 volleyball players who were groomed by Tata Steel and have participated in national level matches.
The event was attended by several dignitaries including ADM Ramesh Chandra Sethi, President PrajasanghaGangadhar Samal, Regional Officer of the State Pollution Control Board DrAnup Kumar Mallick, Chief District Medical Officer Ashok Kumar Das, Sub-Collector Snigdharni Dhal, COO of Rimjhim Steel Limited Pradeep Sharma, and Group Head of HR at MGM Minerals Srinivas Bramha.Besides sarpanchs from nearby panchayats like Kususpanga, Sibapur, Nuagaon, Nuahata, Kamlanga, etc were also present.