Newdelhi:25/1/23:Prime Minister Shri Narendra Modi interacted with Pradhan Mantri Rashtriya Bal Puraskar (PMRBP) awardees at his residence, 7 Lok Kalyan Marg, earlier today.
Prime Minister presented souvenirs to all the awardees and discussed their achievements on a one-to-one basis, which was followed by interaction with the entire group. He engaged in an open-hearted interaction in an informal setting. The children asked him various questions about the challenges they face and sought his guidance on a variety of topics.
Prime Minister suggested the awardees to start by solving small problems, gradually build capacity, enhance capability and develop confidence to solve bigger problems as they go ahead in life. Discussing the issue of mental health and problems faced by children, he talked about tackling stigma around the issue and the important role of family in tackling such issues. Several other topics were also taken up by the Prime Minister during the interaction, including the benefits of playing Chess, taking up art & culture as a career, research & innovation, spirituality, among others.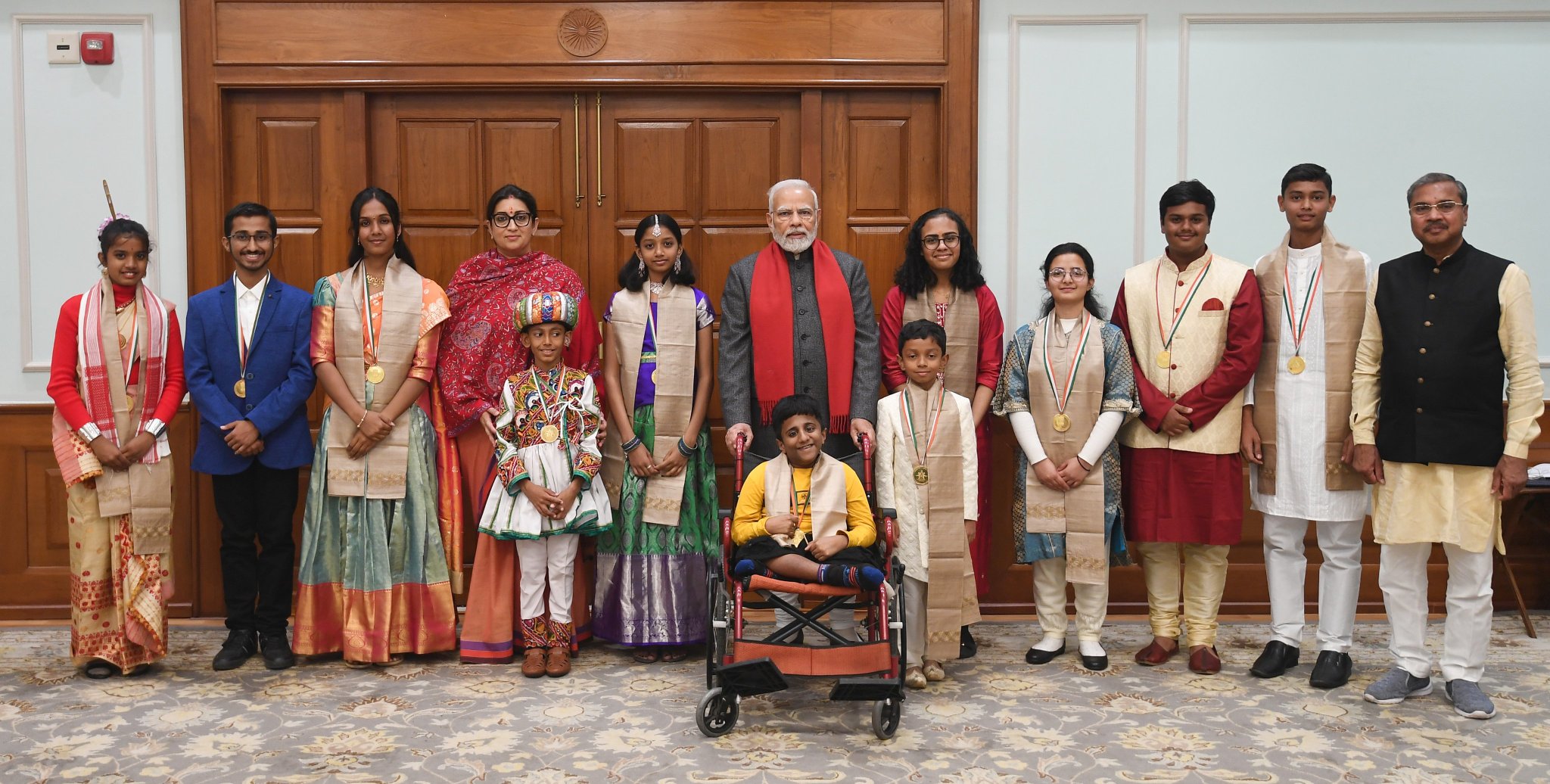 The Government of India has been conferring the Pradhan Mantri Rashtriya Bal Puraskar to children for their exceptional achievement in six categories namely Innovation, Social Service, Scholastic, Sports, Art & Culture and Bravery.  Each awardee is given a medal, a cash prize of Rs. 1 Lakh and certificate. This year, 11 children from across the country, under different categories of Bal Shakti Puraskar, have been selected for PMRBP-2023. The awardees, belonging to 11 States and UTs, include 6 boys and 5 girls, namely: Aadithya Suresh, M. Gauravi Reddy, Shreya Bhattacharjee, Sambhab Mishra, Rohan Ramchandra Bahir, Aditya Pratap Singh Chauhan, Rishi Shiv Prasanna, Anoushka Jolly, Hanaya Nisar, Kolagatla Alana Meenakshi and Shauryajit Ranjitkumar Khaire.