RCTC is operating the Bharat Gaurav AC Tourist Train on the 8 days special tour

The Train departed from Delhi with ten 3rd AC class coaches and 528 tourists.

Visit to Jagannath temple at Puri will be the major attraction along with Konark, Bhubneshwar, Kashi, Baidyanath and Gaya in the tour itinerary.

The tourist train is fitted with a well-equipped pantry car, Infotainment system, CCTV camera
Newdelhi:25/1/23:Bharat Gaurav Tourist Train "Shri Jagannath Yatra" was flagged off today from Delhi Safdarjung Railway Station on its auspicious tour by Sh. Dharmendra Pradhan Minister of Education, Skill Development and Entrepreneurship, along with Sh. Ashwini Vaishnaw Minister of Railways, Communications and Electronics & Information Technology, and Sh. G Kishan Reddy Minister of Tourism, Culture and Development of North Eastern Region. Chairman and CEO, Railway Board, Sh. Anil Kuma Lahoti, Secretary Tourism Sh. Mr. Arvind Singh, senior officers of various ministries and IRCTC were among those present on the occasion. IRCTC  Ltd, a public sector undertaking under  Ministry of Railways, is running the train.
Bharat Gaurav Tourist Train started on its very special tour Shri Jagannath Yatra with 528 tourists, covering some of the very prominent pilgrimage and heritage destinations of Uttar Pradesh, Bihar, Jharkhand and Orissa.
Speaking on the occasion, Shri Pradhan said that the train fulfils the Prime Minister's vision to enable common citizens of the country to travel within the country, particularly pilgrimage sites. He said that high quality facilities have been provided for the passengers, including accommodation, food and local transportation. He said that such initiatives will not only provide opportunities to the people to be aware about rich Indian cultural heritage, but also provide employment to many.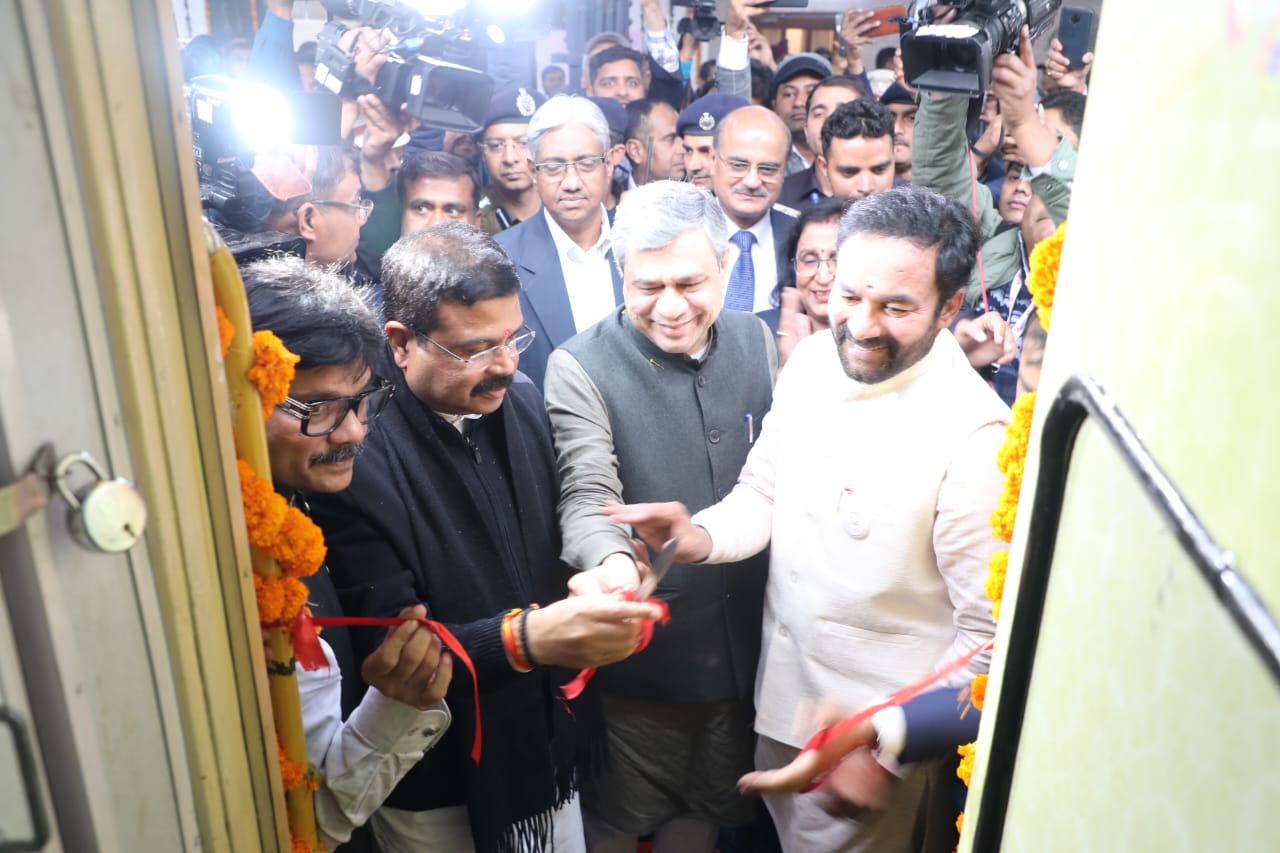 Wishing the pilgrims a safe and happy journey, Shri Vaishnaw said that eight such pilgrim circuits have already become operational, giving an opportunity to the believers to expose themselves to Indian culture. He said that India has very large number of tourist destinations, and the Prime Minister has been guiding his Ministry to provide easy access, suitable amenities, and proper information to the people for tapping them properly.
Shri Reddy said that lakhs of Indians want to visit religious places but are not able to do so due to lack of convenience and affordability. He said that today's initiative, coinciding with the Tourism Day and Voters' day, will go a long way in promoting domestic tourism, particularly among the common people of the country. The Minister said that domestic tourism in the country is expanding rapidly.
The train embarked on its journey on the 8  days  tour  wherein  the  one  among  the  Char Dhams of India ie Jagannath temple of Puri will be visited by the tourists. The visit of Varanasi, Baidyanath Dham, Konark and Gaya are added attractions of the tour.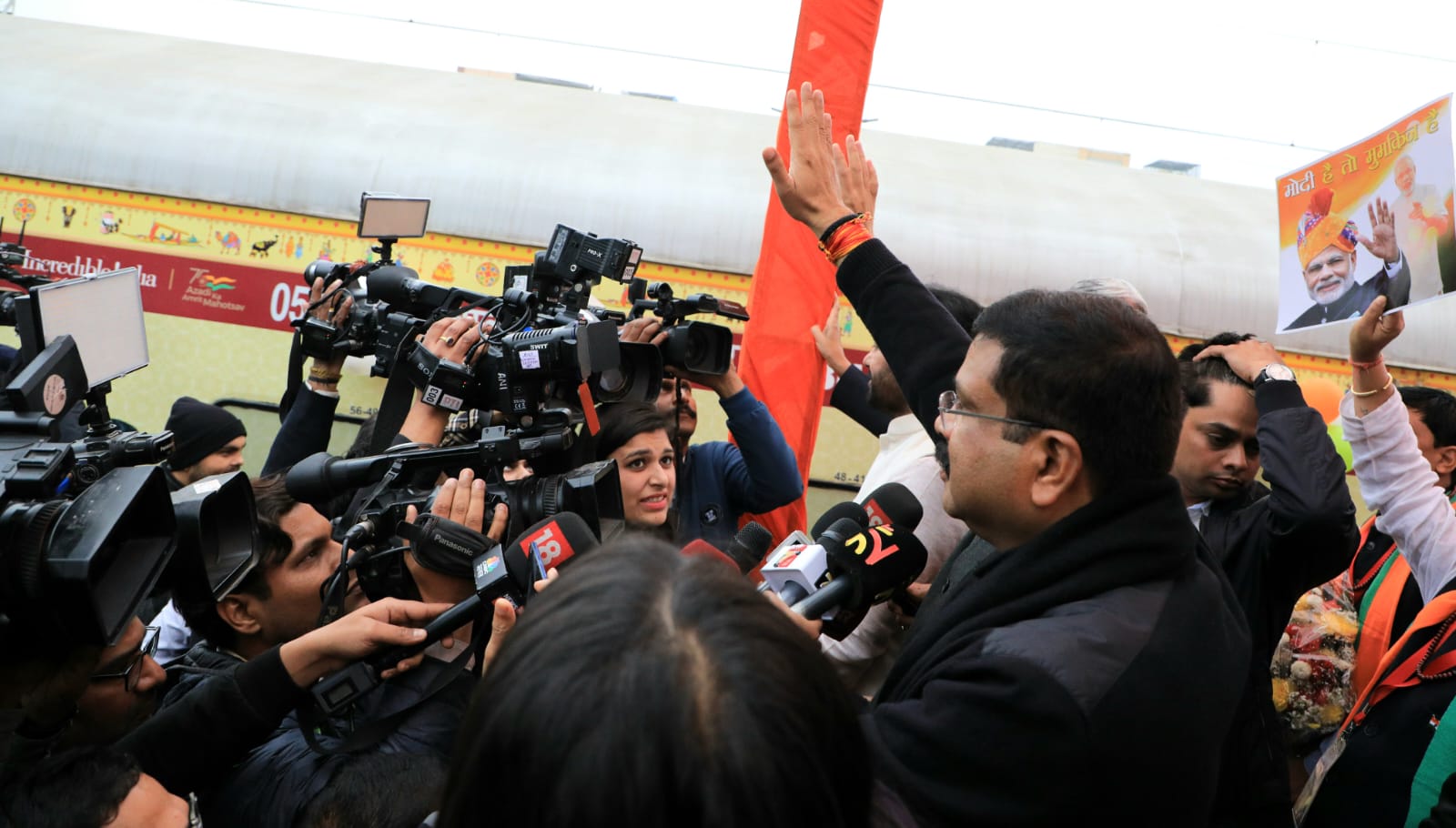 The 8 day Bharat Gaurav Tourist train tour has its first stop at Varanasi,  the ancient holy city, where tourists will visit Kashi Vishwanath temple & Corridor along with the Ganga ghat. After Varanasi, the train will move to Jashidih Railway station in Jharkhand and tourists will proceed to visit Baidyanath dham Jyotirling temple. Further train will depart from Jashidih to Puri where stay for two nights has been arranged for them in the hotels. While at Puri, tourists will visit Jagannath temple, Golden Puri beach, Sun temple at Konark and temples of Bhubaneshwar. After Puri, Gaya will be the last destination where the visit of Vishnupad temple will be covered in the tour. Train will return back to Delhi on 1st Feb 2023.
Coupled with a modern state of the art AC rake, the tourist train has options to board/de-board the train at Ghaziabad, Aligarh, Tundla, Etawah, Kanpur and Lucknow stations in the tour.
Freshly cooked vegetarian meals will be served on board to the guests from the well equipped modern pantry car. The train has also been fitted with infotainment system for the entertainment of the passengers as well as for public announcements. Clean toilets to enhanced security features of CCTV Cameras  and Security  Guards  for each coach have also been provided.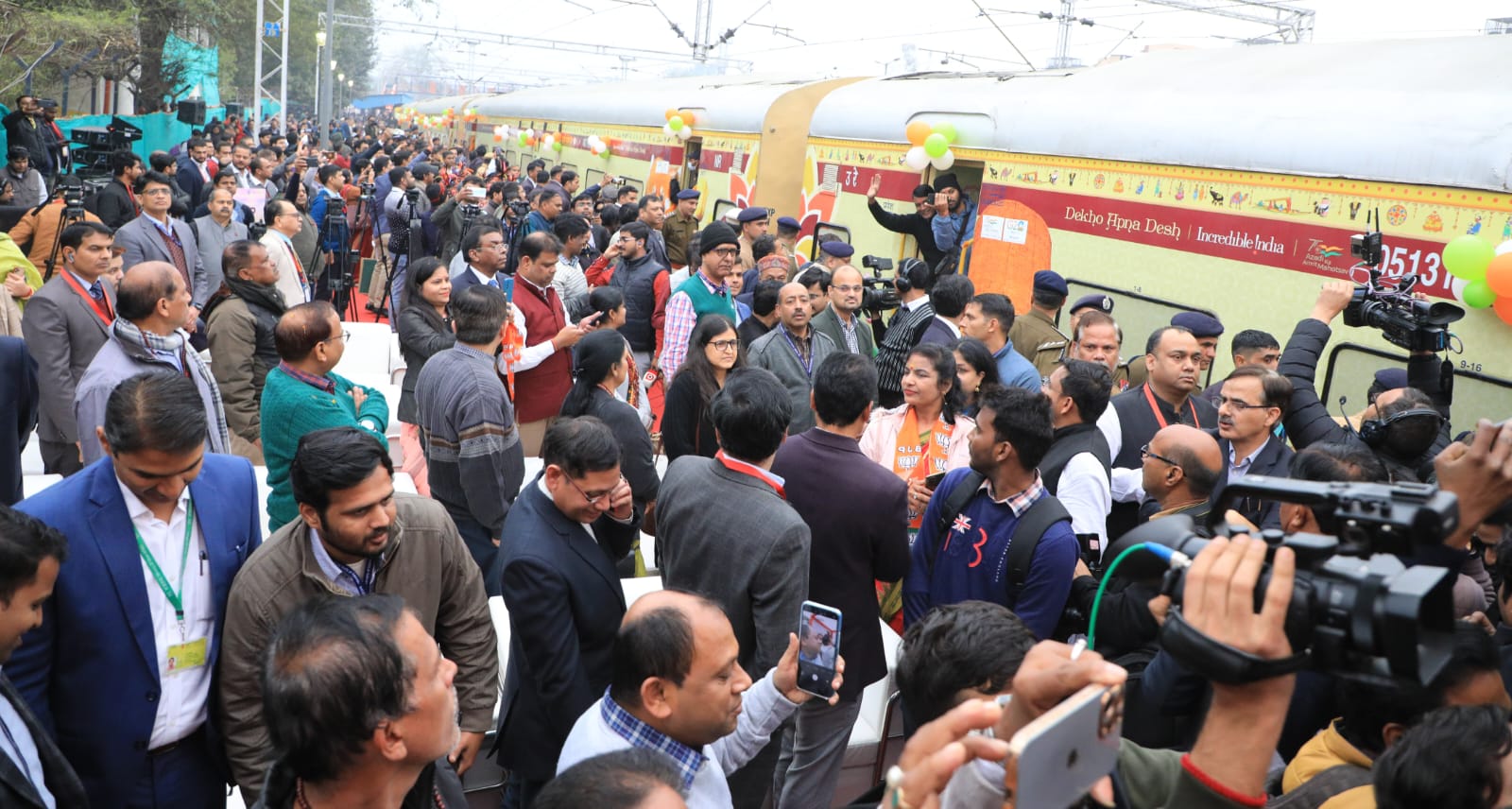 Bharat Gaurav Tourist Train  launch  is  in  line  with  the  Government  of  India initiative "Dekho Apna Desh"  to  promote  domestic  tourism.  At  a  price  range starting from Rs. 17,655/- per person, the  tourist  train  will  be  an  all inclusive tour package covering train journey  in  3rd  AC,  Night  stay  at  hotels,  All meals (VEG ONLY), all transfer  &  sight-seeing  in  buses,  Travel  Insurance  and services of guide  etc.  All  necessary  health  precautionary  measures  are being  taken care o