Newdelhi:13/1/23:Prime Minister Shri Narendra Modi held an interaction with noted economists and experts at NITI Aayog earlier today.The deliberations were based on the theme "India's Growth & Resilience Amidst Global Headwinds". In his remarks, Prime Minister noted that while there were risks, the emerging global environment offers new and diverse opportunities in areas such as digitization, energy, health care and agriculture. To seize these opportunities, public and private sector need to leverage synergies and think out of the box. Prime Minister applauded the success of the India Digital story and the rapid adoption of fintech across the country, and the potential for inclusive growth and development it promises. He underscored Nari Shakti as a key driver of India's growth and urged to continue making efforts to further enable and boost women's participation in the workforce. In the ongoing International Year of Millets, Prime Minister highlighted the need to promote Millets in view of their potential to transform the rural and agri sector, with their attributes such as being carbon neutral, conducive to natural farming, and affordable source of nutrition.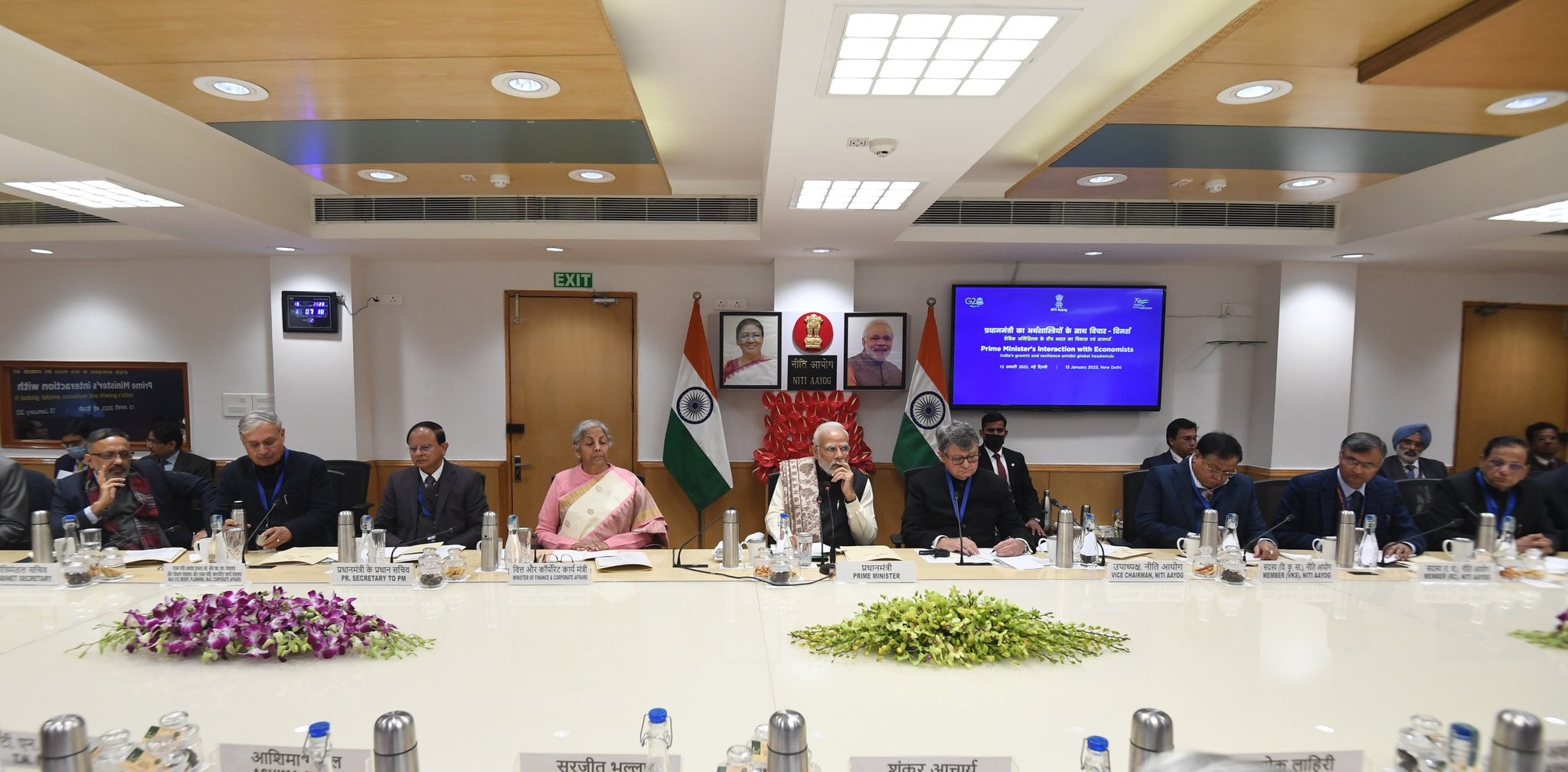 Participants in the meeting offered practical measures on ways in which India could prudently sustain its development momentum. Ideas and suggestions were shared with the Prime Minister on diverse topics ranging from agriculture to manufacturing. Recognizing that the underlying global headwinds are likely to continue, strategic recommendations were also shared for further strengthening India's resilience. There was agreement that due to its resilience, India has emerged as a bright spot on the turbulent global stage. It was suggested that new growth impulses would need to build upon this foundation through holistic development across all sectors.
The Prime Minister thanked the economists for their views and exhorted them to assist in the development of our nation by continually sharing their transformative ideas.
Union Finance Minister, Minister of State for Planning (I/C), Vice Chairman, NITI Aayog, Principal Secretary to Prime Minister, Members of NITI Aayog, Cabinet Secretary, Chief Economic Adviser and CEO, NITI Aayog were also present at the meeting.