Highlights:
The five-day festival will witness the Youth Summit, which will have   plenary discussions on five themes stemming from G20 and Y20 events as Future of Work, Industry, Innovation and 21st Century Skills; Climate change and disaster risk reduction.
There is complete restriction on single-use disposables at all venues of the Festival.  The green initiatives are being reinforced through messaging across the venues.
Hubbali:12/1/23:The Prime Minister, Shri Narendra Modi inaugurated the 26th National Youth Festival in Hubbali, Karnataka today. The programme has been organised  on National Youth Day, which is celebrated on the birth anniversary of Swami Vivekananda, to honour and cherish his ideals, teachings and contributions. The theme of the festival is 'Viksit Yuva – Viksit Bharat' and it brings diverse cultures from all parts of the country on a common platform and unites the participants in the spirit of Ek Bharat, Shreshtha Bharat. Karnataka Governor Shri Thaawarchand Gehlot, Karnataka Chief Minister Shri Basavaraj Bommai, Union Minister of Youth Affairs and Sports Shri Anurag Singh Thakur; Union Parliamentary Affairs Minister Shri Prahlad Joshi, Union Minister of State for Youth Affairs & Sports Shri S. Nisith Pramanik were among other dignitaries present on the occasion.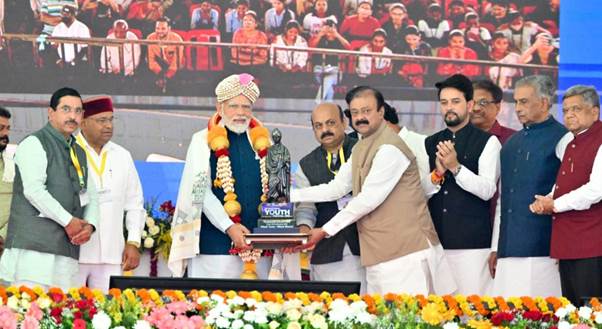 Addressing on the occasion, the Prime Minister highlighted  the importance of National Youth Day in the year 2023, and  remarked that on one hand, we have the exuberant National Youth Festival and on the other hand there is the Azadi Ka Amrit Mahotsav. "Arise, awake and stop not till the goal is reached," the Prime Minister exclaimed quoting Swami Vivekananda Ji and said that it is the life mantra of the youth of India and said that we must emphasise and understand our duties to take the country forward in the Amrit Kaal. The Prime Minister highlighted the inspiration from Swami Vivekananda Ji derived by the youth of India in this endeavour. "I bow my head at the feet of Swami Vivekananda Ji on this special occasion", the Prime Minister remarked.
The Prime Minister reminded the changing nature of national goals in the light of changing times and said that this time of 21st century is very important as today India is a young country with a huge young population. "Yuva Shakti is the driving force of India's journey", said the Prime Minister. The next 25 years are important for building the nation. The dreams and aspirations of Yuva Shakti decide India's direction and destination and Yuva Shakti's passion decides India's path.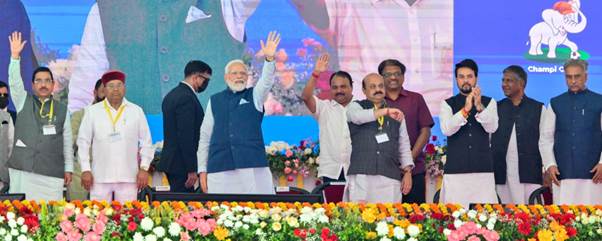 The Prime Minister said that India today is the 5th largest economy and "our goal is to take it into the top 3." The Prime Minister reiterated emerging opportunities in the agriculture and sports sector and credited the power of the youth for this revolution. The Prime Minister emphasised the role of women power in keeping the nation's strength alive and touched upon the instances of women shining in armed forces, space technology, space and sports.