Newdelhi:3/1/22:Raksha Mantri Shri Rajnath Singh dedicated to the nation 28 infrastructure projects of Border Roads Organisation (BRO), worth Rs 724 crore, during an event organised at Siyom Bridge on Along-Yinkiong Road in Arunachal Pradesh on January 03, 2023. The projects comprise 22 bridges, including Siyom bridge; three roads and three other projects in seven border States/Union Territories of Northern & North-Eastern regions. Eight of these projects are in Ladakh; five in Arunachal Pradesh; four in Jammu & Kashmir; three each in Sikkim, Punjab & Uttarakhand and two in Rajasthan. In addition, three telemedicine nodes – two in Ladakh & one in Mizoram – were inaugurated.
The Raksha Mantri, in his address, described the projects as a testament to the concerted efforts of the Government and the BRO towards the development of border areas in order to enhance the operational preparedness of the Armed Forces and ensure socio-economic development of the far-flung regions. He asserted that it is the top priority of the Government, led by Prime Minister Shri Narendra Modi, to connect the border areas and ensure the development of its residents.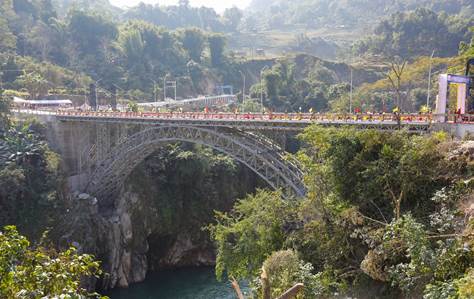 The Raksha Mantri further highlighted the crucial role played by the BRO in bolstering the country's security through infrastructure development in border areas. "Recently, our forces effectively countered the adversary in the Northern sector and dealt with the situation with bravery & promptness. This was made possible due to adequate infrastructural development in the region. This motivates us even more for the progress of far-flung areas," he said.
Terming infrastructure development as a game changer for the people residing in border areas, Shri Rajnath Singh lauded the BRO for ensuring socio-economic development in far-flung regions. He stressed that the government is paying special attention to the development of the North-Eastern region, which has strengthened the country's security system. For the Organisation's relentless efforts to support the Armed Forces and the local people, Shri Rajnath Singh coined a new phrase "BRO is the nation's bro (brother)". Quoting a famous phrase 'It's not the destination, it's the journey', he said the construction of road infrastructure in border areas is a journey for BRO and a strong and prosperous India should be its destination.