Bhubaneswar:17/5/18;Representing the state of Odisha this year, Shrutiksha Nayak is confident and excited to start her journey with fbb Colors Femina Miss India 2018. Hailing from the state that houses more than hundreds of temples, fbb Colors FeminaMiss India Odisha 2018 Shrutiksha Nayak is extremely proud to represent her state. The gorgeous lady who is determined to take the crown home spoke to us about the beauty of her state, what keeps her motivated and what got her this far in life. Excerpts from the interview…

After being crowned as the representative of your state, what was the first reaction of your friends, family and well wishers back home?
Everyone was so, so happy for me that there was a huge crowd gathered at the airport eagerly waiting for me post my win. My family and friends were proud of my achievement. The people of Odisha have been extremely supportive of me until now and they have given me all the blessings and wishes which are most needed for me to be successful in life.
You won the crown from a sea of other participants, how are you feeling?
I cannot even get over the feeling that I'm already crowned Miss Odisha, but yes, as this is the first time I'm competing in a beauty pageant. I feel really blessed that I've succeeded until here. I wish that God stands with me in each and every step of my life.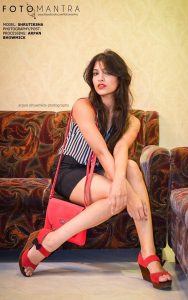 How would you describe the beauty of Odisha?
I really feel very lucky to be born in Odisha, the city of temples, Bhubaneswar. I must say that Odisha is the "Soul of India". My people are the best and my land is the best!!
What are your expectations from the pageant and yourself this year?
I really think that showcasing myself through this pageant would make me a role model and inspiration for many young girls. I believe that I can absolutely bring about a change in the society for wellness and good. This pageant has given me the opportunity to prove myself and no doubt, I'll definitely work on it!

Since you are a fitness trainer, tell us about the importance of physical fitness?
I believe if we don't keep ourselves fit then how will we be able to keep our society fit? I think fitness and diet is the only key for humans to succeed since our mental and physical fitness comes first. I truly can't survive without going to the gym as I'm a fitness freak!
Being a professional dancer, tell us something about the art and how it has influenced you? 
It's been 16 years I've been dancing. I had started off from Odissi and ended up being a versatile dancer. I can perform almost every dance form, just name it. Oddisi is such a beautiful dance form that if you once learn it, it becomes much easier for you to learn other dance forms; in short it perfects your body line and expressions.

What keeps you focused and determined?
I think that it's my family for whom I'm so dedicated and focused in this pageant. They've given me all their support and blessings and they make me more confident. I need to prove it to them that I'm really worth it.

If not a beauty queen what would you rather be?
If not a beauty queen, I would still be as beautiful as ever. I would always have that invisible crown on my head and I would shine bright!