Bhubaneswar, 01/10/2023: AIIMS BHUBANESWAR, in alignment with the Ayushman Bhav Swachhata Hi Seva campaign, conducted a significant Swachhata Shrama Dan (cleanliness drive) at DERAS Dam today. This picturesque tourist destination, beloved by the people of Odisha, boasts a natural beauty that AIIMS BHUBANESWAR is dedicated to preserving and protecting. Led by Executive Director Dr. Ashutosh Biswas, students, faculty, and employees of the National Institute came together for this massive cleanliness initiative. In the spirit of Prime Minister Shri Narendra Modi Ji's vision for a cleaner environment, AIIMS BHUBANESWAR is wholeheartedly committed to maintaining garbage-free surroundings. Executive Director Dr. Ashutosh Biswas remarked, "We are actively participating in the Swachhata Hi Seva campaign to ensure the cleanliness of both our academic institution and the surrounding areas."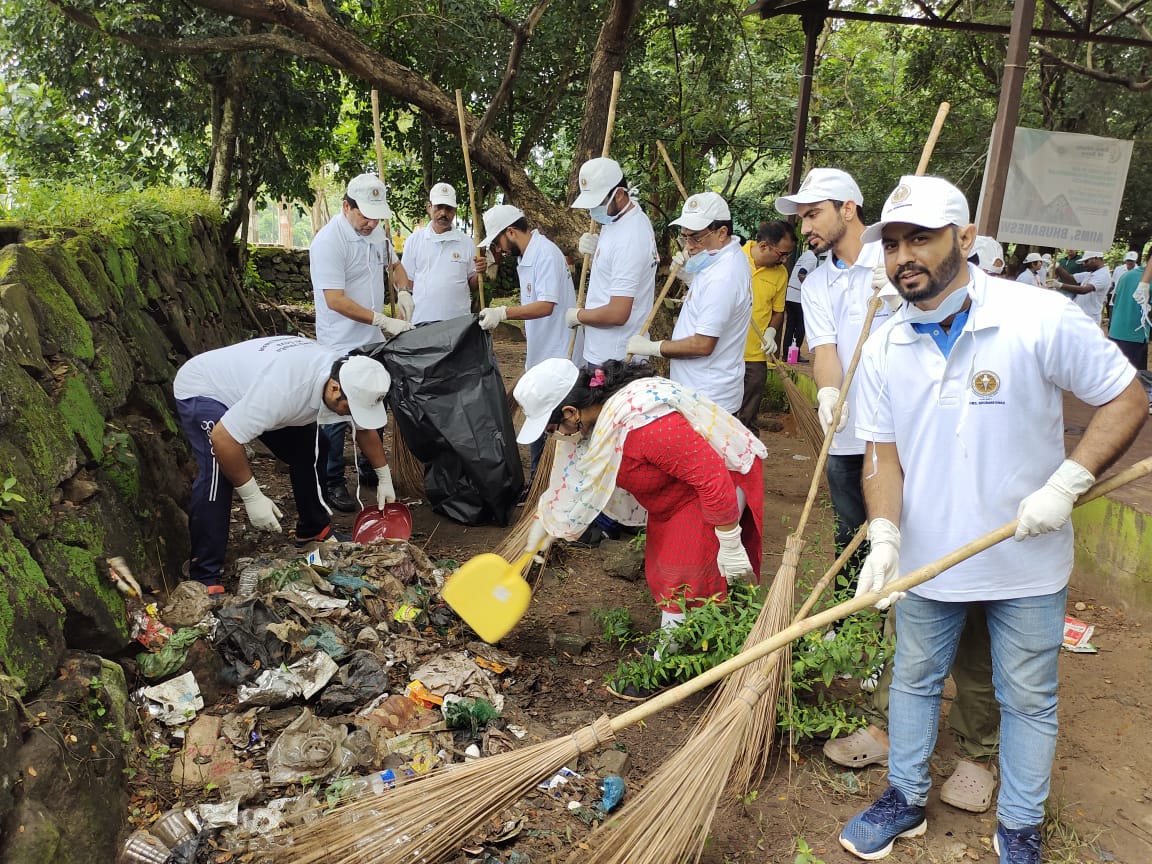 AIIMS BHUBANESWAR took it a step further by raising awareness among tourists and locals about the importance of keeping DERAS Dam pristine. Today, as the nation united in a one-hour cleanliness drive at the Prime Minister's call, AIIMS BHUBANESWAR joined in and contributed one hour of Shramdaan (voluntary labor) for the cause. Notably, students and employees even cleaned a toilet facility at the dam, setting an inspiring example for all.
In addition to Executive Director Dr. Ashutosh Biswas, the campaign witnessed active participation from Medical Superintendent Dr. Dillip Kumar Parida, Dr. Manoj Kumar Mohanty, Dr. Soubhagya Kumar Jena, Dr. Prabhas Ranjan Tripathy, Dr. Ashok Kumar Jena, DDA(I/c) Rasmi Ranjan Sethy, as well as enthusiastic students and employees. AIIMS BHUBANESWAR remains committed to contributing to the cleanliness and preservation of our natural treasures and encourages all members of society to participate actively in such initiatives.