Ashok Palit
An alumnus of Film and Television Institute of India (FTII) at Pune, Raj Gopal Mishra was popularly known as Raju Mishra. He was known for introducing the element of commercial cinematography in Odia cinema.Born on 26th October 1949, Both his parents Sumati Devi and Bimal Kishore Mishra were musicians, yet they dissuaded the young Mishra from taking up music as a career as it offered little remuneration
His graduating film from FTII, 'Sudama Into The Thirsty Night', fetched him the Best Student Film award at the Indian Panorama and he went on to assist Sharad Navle in the 1979 Marathi film 'Sarvasakshi' which was directed by Ramdas Phutane and had Smita Patil as the lead actress. In Assam, he has been associated with various projects as a cinematographer since the early 1990s. He  had carved a special identity in the Industry for his innovative direction for a large number of blockbusters in a career spanning around three decades. A versatile filmmaker also had brief stints as an actor, writer and music director
A year later, he returned to Odisha and did cinematography for 'Muhurta' but the film did not see a commercial release. Mishra debuted as an independent cinematographer, filmmaker and music director with 'Ulka' which was jointly directed by him and Surya Mishra and released in 1981. The film, produced by Rajlaxmi Pictures, also fetched him the State Award for Best Cinematography.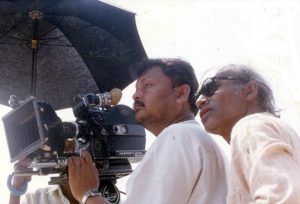 Two years later, he collaborated with Nirad Mahapatra as an operative cameraman in the internationally acclaimed 'Maya Miriga'. As an independent cinematographer, Mishra worked in several popular films including Jaga Hatare Pagha (1985), Mamata Mage Mula (1985), Jor Jaar Mulak Taar (1986) and Aei Ama Sansar (1987). Although Mishra was deeply influenced by the parallel cinema movement, he turned to commercial films for survival in the industry. Yet, he never gave up on making good cinema.
As a director, he went on to make four films which had an element of Jagannath Culture  – Pua Mora Kala Thakura (1988), Chaka Aakhi Sabu Dekhuchi (1989), Aasuchi Mo Kalia Suna (1989) and Pathara Khasuchi Bada Deula (1992).
"He was perhaps the first filmmaker who used commercial cinema to portray Jagannath culture in daily lives of people. People connected with the stories and the films did well commercially. Not only did he dabble in cinematography and filmmaking but also composed music, wrote screenplays and dialogues for many films. Apart from Odia films, he did cinematography in around 10 Assamese films, six of which received the National and State awards besides the screening in Indian Panorama. For his three-decades-long contribution to Odia film industry, Mishra was conferred the prestigious Jaydev Samman and several other awards.
Coincidentally, Raj Gopal's journey with Odia cinema bears some striking similarities with Bollywood legend Raj Kapoor. And incidentally, he was immensely inspired by Kapoor during his formative years.
"Following my graduation at the Film & Television Institute of India (FTII) in Pune, I had moved to Bombay to explore possibilities. Luckily, the famous RK Studios was opposite our office where I had started working with ad-films. I was very lucky to observe Raj Kapoor there. His persona and philosophy of film-making had inspired me the most," Mishra had revealed during an interview.
Like Raj Kapoor, Raju Mishra left his indelible mark on both the genres of film-making – the artistic and the commercial as well, claiming both critical appreciation and commercial gains. Kapoor became bankrupt by making his landmark movie Mera Naam Joker but Bobby brought him huge monetary gain. Similarly, Mishra's Ulka, made in 1981, claimed five State Awards but ended as a box office disaster. For both the filmmakers, the shift from meaningful movie-making to money-spinning blockbusters was never a choice but a compulsion to survive in the industry.
"In 40 years of my film-making career, I have worked for more than 40 films of which 14 have won National Awards apart from several Odisha State Film Awards. I have also worked with 10 Assamese films of which six have got Assam State Film Awards and some National Awards as well. Landmark Odia films like Maya Miriga and Laxmira Abhisara have given me the best self-satisfaction as a filmmaker. However, I must admit that I had to dabble in making of many worthless films just for my survival," was his candid confession.
Though trained in cinematography, Mishra made his mark in almost all departments of filmmaking including acting – like Raj Kapoor, his idol. And like his idol, he was neither tired of and nor wished to retire from his chosen avocation till his end came at the age of 72. Born to parents who were into music, Mishra has a musician in him. He composed music for six of his movies apart from scoring background music for all the movies he directed.
Among the Mishra directed film includes Ulka(1981), Jor Jar Mulak Tar(1986), Chaka Aakhi Sabu Dekhuchi(1987) Asuchi Mo Kalia Suna(1989) Pua Moro Kala Thakura(1988) Rupa Gaan Ra Suna Kania(1988) Pathara Khasuchi Bada Deulu(1993), Sagar Ganga(1994) Singha Bahini(1998 )Laxmi Ra Abhisara(1998 )Hari Bhai Harena(2000) Sata Michha(2003 )Jiwan Mrutyu(2005)'Kotiere Gotie Mana'(2019)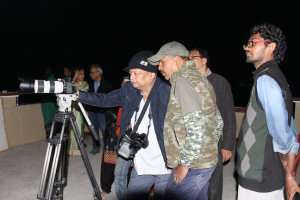 After 14 years Raju Mishra's basck with flick 'Kotiere Gotie Mana' with a  hope to bring back originality in the Odia cine industry.An an interview Mr,Mishra said that  "The film is based on an original storyline written by me. Not only that, it is a contemporary film which reflects how media people work under pressure while their family life gets disturbed. The human relations, happiness and sorrow is the essence of the film, which people love to watch. It is a complete family entertainment, a factor which is missing now-a-days," said Mishra whose first claim to fame was 'Ulka' released in 1981. Produced under the banner of Milan Movies, the film has been produced by Dillip Dhir Samant.This film was conferred with five Odisha state Film award  in his 31st edition & Raju mishra had adjudged as best music director,Raj Gopal Mishra  passed away on November  2,2020, the Odia film industry has lost yet another jewel.
Copyright by www.odishanewstimes.com: All rights are reserved by author. No part of this article may  be reproduced, stored  in or introduced into  a retrieval system, or transmitted in any form by any means(electronic,photocopying, recording or otherwise)  without  the prior  written permission above  mentioned  web  portal owner.