Tustin:3/4/23:Southern California Odia  community celebrated Odisha Divas on March 26th, Sunday at Chinmaya Mission in Tustin. The main aim of the program was to connect the kids to Odisha and its rich culture and heritage. This was an attempt to showcase Odisha to others in a foreign land.
The program started with the welcome speech by Asish Satpathy of Cheer Up Foundation, a non profit organization which organized the event. Kids sang the Mo odisha song followed by Sarbsang by Adults to give a feel of Odisha to the audience and send the positive spirit back to Odisha. Odissi dance were performed by Guru Pabitra Pradhan and Sharanya Mukhopadhyay S. Guest of Honor, Swami Ishwarananda blessed the occasion by lighting the lamp and thought-provoking speech about the motherland and language.
Srikshetra Ru Sahijata, the national award movie by Ashutosh Pattnaik was premiered on the occasion to remind the people of the culture of Odisha. Sambalpuri dance and comedy drama were performed bythe community.  Small kids portrayed Odisha Legends effortlessly.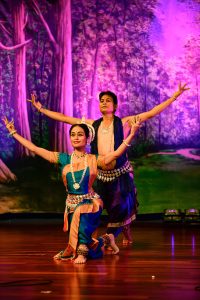 Ananda, digital magazine was inaugurated by Debaprasad Mohapatra on the eve of Odisha Divas. Due to the efforts of Senior Journalist Ashok Palit of Odisha, articles for Ananda could be arranged from esteemed writers and poets of Odisha. Tribute to Late Saroj Behera, a scientist and philanthropist, from Gajapati of Odisha was included in the magazine.Presentation on Cheer Up Foundation's past and current social and cultural activities were shown in the program. Fund raised in the program will be sent to Odisha for the current activities it has planned for. CORD USA represented by Darshan Shah was recognized for their services in Odisha.
Awards were presented to Sneha (Dolly) Mohanty for her contribution to the Community, Music and Literature whereas Prof. Laxmi Narayan Bhuyan for his contribution to Education and Research respectively. Young Satvik Pattnaik was awarded for his dedication to social work and publication of Amazon book.
Main co-ordinators and volunteers for the program were Sunita Nayak(Leena), Banita Panigrahi, Chinmayee Mishra, Pratima Brahma and Swayam Pati, Basanta Sahu, Anima and Bibhu Dash and all other volunteers. EMCEEs presented in the evening very well.Svetlana Tulasi and Shiv Nadkarni electrified the crowd with Bollywood, Bhangra and Odia songs. Community also danced to their tunes on the stage to celebrate the occasion. People were all happy to join and celebrate the event with full joy.