New Delhi, 25.3.2023: Odisha's art, culture, rich heritage is continuing its pour in Delhi in 'Bharat Ka Garv, Odisha Parba'. On second day Odisha's popular singer Mantu Chhuria and Global icon Odishi exponent Sri Saswat mesmerized the Delhities. In the cultural extravaganza of Odisha Parba 2023, the evening witnessed heavy footfall. Hon'ble Union Minister for Information & Broadcasting and Youth Affairs & Sports, Shri Anurag Thakur was graced the event as Chief Guest. In other dignitaries Guest of Honour Padma Vibhushan Smt. Sonal Mansingh, Member of Rajya Sabha was also present. Welcome address by President Odia Samaj Shri Sidhartha Pradhan. Vote of thanks was delivered by Shri Prakash Chandra Sahu,Trustee Odia Samaj.
Started by enthusiastically chanting Jai Jagannath, Shri Anurag Thakur in his speech praised Odisha's unique sandstone art. He also applauded Odia Samaj for organizing an event like this in such a grand scale after a difficult time brought by the Covid pandemic. He specifically cheered Odia Samaj for successfully bringing Odisha's art and culture to limelight and making people across the nation embrace it with joy.
After this MP Padma Vibhushan Smt. Sonal Mansingh said that Odisha is the treasure land of art, culture, literature and heritage, and expressed her immense pride for being born here. She also stated that apart from Delhi, Odisha Parba should be given its due recognition in other cities of India like Mumbai and Chennai, thus spreading our motherland's distinct identity, culture and its cuisine.
Daughter of Her Excellency President Smt Draupadi Murmu Smt Itishree Murmu visited Odisha Parba and experienced the extravaganza with authentic odia dishes, visiting the stalls and purchasing amazing handloom sarees for herself.
The three day conclave has continued on its second day also. The second day's theme for the Odisha Conclave was 'Odia Swabhiman'. The discussion was featured by eminent personalities like, Shri Satya Ranjan Satpathy, Ex-Cricketer, Team India; Shri Santakar Chelapila, Journalist with Voice of Children; Shri Surya Deo, Film historian. Awarded the National Film Awards for 'Best Writing on Cinema'; Shri Soumya Ranjan Biswal, UN- India YuWaah advocate,  Accolades from United Nations India IMIM, Youth Climate Leader, SDG 14, Limca Book Record; Shri Ayaskanta Mohanty, Founder, MD Tatwa Technologies; Shri Siddhartha Mishra, International Mathematician/ Winners of the Infosys Prize in Mathematics at the Swiss Federal Technical Institute.
On the second day of Odisha Parba 2023, Odissi exponent Ratikant Mahapatra and his disciples mesmerized the audience with their magical performance 'CHITRA VITNAAM'. Adi Badya "Swara ra Murchhna" –a beautiful musical performance using folk instruments and a glorious folk dance TIKITA KITA (Real folk tunes & real Odisha) by celebrity dancer Shri Saswat Joshi and his troupe hypnotized the spectators. The evening concluded with "Atulya Parampara", a musical presentation by popular Sambalpuri singer Mantu Chhuria and his group that kept the Odia as well as the non-Odia viewers glued to their seats.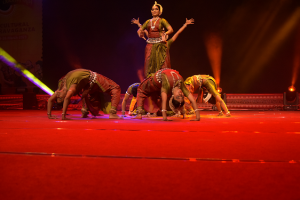 Apart from this, outdoor activities like Sankha Dhwani & Ranapa, Bonda primitive Tribal dance, Oram Tribal dance, animal mask dance, Sahijata & Ghoda Nacha, Western Odisha folk dance, Martial art & Paika Nacha and Danda Nrutya will be performed by Odisha's eminent and renowned artists. Along with this to pull off extra Odia feelings, this event will have a uniqueness of authentic tangy-spicy flavoured Odia cuisines and street foods.
Beautiful stalls of handicrafts from different districts of the state, such as Silver Filigree, artistic Pattachitra paintings, amazing jute products, wood crafts, brass products, appliqué works are attracting all the avid shoppers. Along with this Odisha's unique handlooms are also available for handloom lovers of Delhi.
Besides these cultural activities, invited farmers from Odisha had got an exposure visit to Indian Agricultural & Research Institute, New Delhi and discussed regarding use of advanced technology in farming. Along with this the winners' students of essay writing competition organized by Odia Samaj, also got an opportunity to visit Google office and Rashtrapati Bhawan.