Newdelhi:10/2/23:Union Secretary for Health & Family Welfare, Shri Rajesh Bhushan launched a nationwide Mass Drug Administration (MDA) campaign aimed at ending disease transmission through the door-to-door administration of anti-filarial drugs, especially in 10 filaria affected states. This launch comes a month after the program received resounding support from the Hon'ble Health Minister Dr. Mansukh Mandaviya to eliminate Filariasis by 2027, three years ahead of the global target.
High-burden districts in Bihar, Chhattisgarh, Jharkhand, Maharashtra, Uttar Pradesh, West Bengal, Karnataka, Odisha, Madhya Pradesh, and Andhra Pradesh jointly launched the campaign today. India has ramped up efforts in eliminating Lymphatic Filariasis a Vector Borne Disease caused by Culex mosquitoes which causes disability well ahead of global targets to safeguard communities from disability, social and economic insecurity. Government of India has already unveiled a renewed five-pronged strategy for elimination of LF as shown in the figure below.
hile launching the campaign, Shri Rajesh Bhushan said that "collective action is required to tackle LF." He guided all the states to focus on Directly Observed Therapy rather than distribution of the drugs. He emphasized focusing on intensive monitoring at block level. He also pointed out the need for daily analyses of coverage and monitoring reports at all the levels besides monitoring of the monitors to ensure quality data. He suggested that good practices from states can be taken up by other states too, this will help in tackling LF efficiently.  As India gears up to eliminate Filaria by 2027, the timing is perfect to resonate this aim with the Sustainable Development Goals which aims to end all forms of hunger and disability / morbidity.
Shri Bhushan also interacted with the Principal Secretaries and Mission Directors of National Health Mission (NHM) from participating states who shared updates of their preparedness and commitment to ensuring the success of the campaign.
Innovative best practices and work plans were shown at the event by the states.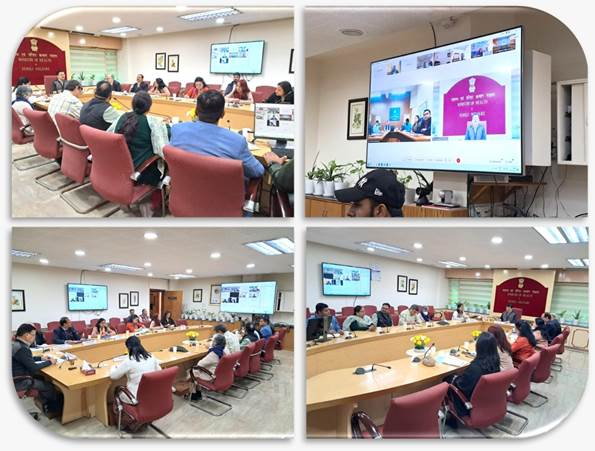 Uttar Pradesh informed that through the D2C (Direct to Consumer) campaign it is reaching out to 80 lakh families with LF messages and importance of MDA drugs through social media.
Jharkhand will be conducting these rounds in 81 sites which cover close to 12,032
villages.
Odisha aims to cover 1.36 crore beneficiaries through efforts in camps, schools,
and colleges as well as preparation of village level micro plans like polio campaigns.
West Bengal will be conducting these rounds in 7 districts covering a population of
almost 60 lakh and will also be deploying mobile health teams to avert any untoward
incidents.
Chhattisgarh will be undertaking rounds in two endemic districts and have also deployed rapid response teams.
Andhra Pradesh has engaged health volunteers that will go house to house to ensure consumption of these drugs in one district.
Maharashtra will be covering 4 districts and 16 blocks and have ramped up efforts to ensure
consumption of drugs in the presence of health workers by leveraging the Jagruk Balak
Programme.
Madhya Pradesh will be conducting rounds in 8 districts with targeted focus on IEC and mobilisation through intersectoral collaboration and will converge the Vikas Yatra 2023
activities with the MDA to optimize drug consumption at booths. Mobile teams have been
constituted to reach out migratory population in the state.
Karnataka will be targeting the endemic district and 2 blocks and will ensure collectors are inspecting and ensuring maximum coverage.
Bihar has ramped up efforts towards a successful MDA by appealing to the community and beneficiaries to come forward and enthusiastically participate in the rounds. Engagement of celebrity Manoj Bajpai and Khan sir who have a huge fan base
on social media has been roped in for the MDA campaign.
Smt. Roli Singh, Additional Secretary and Mission Director (NHM), Ministry of Health and Family Welfare said that "We have adopted a multi-pronged approach with MDA round in two phases, where 1113 blocks in 90 districts across ten states will be launching a campaign against Filariasis. It was informed that in spite of 10-15 MDA rounds in the past, the LF elimination could not be achieved due to sub optimal coverage. She highlighted that over the last month, states have adopted some innovative mechanisms to reach out to communities such as Bihar has roped in 120 colleges for MDA, the Panchayati Raj Institutions (PRI), Self-Help Groups (SHGs) and other allied departments have collaborated in the MDA states to sensitize communities on MDA." She expressed that with the collaborative efforts during this MDA campaign, the MDA outcomes are expected to be much better.
Shri Rajiv Manjhi, Joint Secretary, Dr. Atul Goel, Directorate General Of Health Services (DGHS) along with senior officials from Ministry were present in the meeting.