Koraput:16/11/22:The Central University of Odisha organized the Janajatiya Gourav Diwas to commemorate the sacrifice of Bhagawan Birsa Munda, eminent tribal freedom fighter, on 15 November 2022 at its Centre for Tribal Welfare and Community Development Building, Koraput. Hon'ble Vice-Chancellor of the University, Prof. Dr. Chakradhar Tripathi presided over the meeting. On the occasion he also inaugurated the Tribal Digital Literacy Centre and Dr. Ambedkar Centre of Excellence, initiated by the Central University of Odisha. The programme was also attended by eminent dignitaries on the dais including Padma Shri Gobardhan Panika, eminent handloom artist, Prof. Jagabandhu Samal, Secretary, COATS and Dr. Asit Kumar Das, Registrar of the University. Floral tribute was offered to Bhagawan Birsa Munda and Saheed Laxman Nayak.
Speaking on the occasion, Prof. Tripathi stressed the need for Indian value system to be put in education so that education in India will be strengthened. He remembered the sacrifice of Bhagwan Birsa Munda and his heroics in freedom struggle. He said that culture of Adivasi is culture of heart and intellect combined. The Adivasis are tolerant and honour mother earth. We should acknowledge the unsung and unseen Adivasi heroes, he said. The Adivasis taught us that nature and human beings are linked. They also taught us how to achieve sustainability in development. Our culture under threat now and we have to uphold it through good education, he advised the students.
Padma Shri Panika spoke on the heroes of the Koraput region who are immortal due to their sacrifice to bring freedom to the nation. He called upon the student community to give great importance to education. Hard work is the road to success, he pointed out.  Prof. Samal focused on the role of Adivasi freedom fighters in bringing independence to the nation. We should always remember their sacrifice, he said.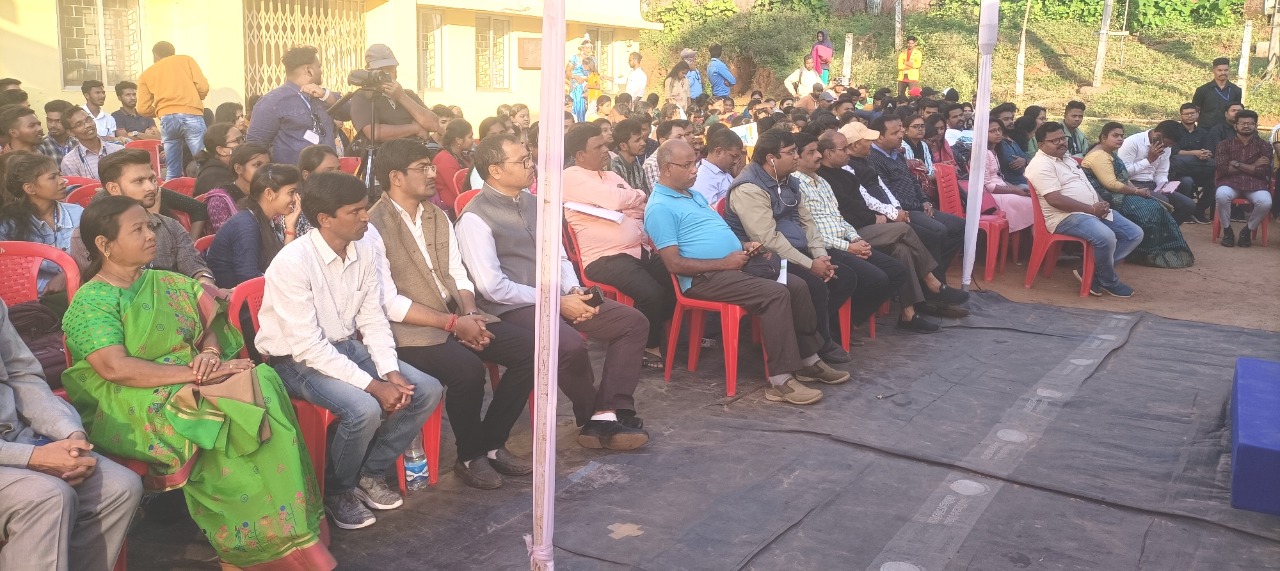 Dr. Asit Kumar Das, Registrar of the University delivered the welcome note. He also briefed about the Tribal Digital Literacy Centre and Dr. Ambedkar Centre of Excellence, two units of the University. He also thanked FIDR, who helps in promoting Tribal digital literacy through CUO. Dr. Kapila Khemundu, Honorary Director, Centre for Tribal and Community Development, CUO coordinated the whole event. The Vote of thanks was given by Dr. B.K. Srinivas, Coordinator, Dr. Ambedkar Centre of Excellence. He also briefed about the present status of DACE, running by the University. The meeting was also attended by Dr. Phagunath Bhoi, PRO, Dr. Jayanta Kumar Nayak, Controller of Examination I/c, Dr. Pradosh Kumar Rath, HoD I/c. Journalism and Mass Communication, Shri Sudhakar Patnaik, OIC, other faculty members, local dignitaries, research scholars and students of the University. A cultural program was also organized where Odissi dance and Dhemsa, folk dance of the area were performed and it was coordinated by Dr. Kakoli Banerjee, Asst. Professor, DBCNR.