Newdelhi:23/6/22:The Prime Minister, Shri Narendra Modi inaugurated 'Vanijya Bhawan' and launched the NIRYAT portal in Delhi today. Union Ministers Shri Piyush Goyal, Shri Som Prakash and Smt Anupriya Patel were among those present on the occasion.
Addressing the gathering, the Prime Minister said today another important step has been taken in the direction of the journey of Citizen-Centric Governance in New India on which the country has been moving for the last 8 years. The country has got the gift of a new and modern commercial building as well as an export portal, one physical and other digital infrastructure, he said.
The Prime Minister noted that today is also the death anniversary of the country's first Industries Minister Dr. Shyama Prasad Mukherjee. "His policies, decisions, resolve, and their fulfillment was very important in giving direction to independent India. Today the country is paying its humble tribute to him", he said.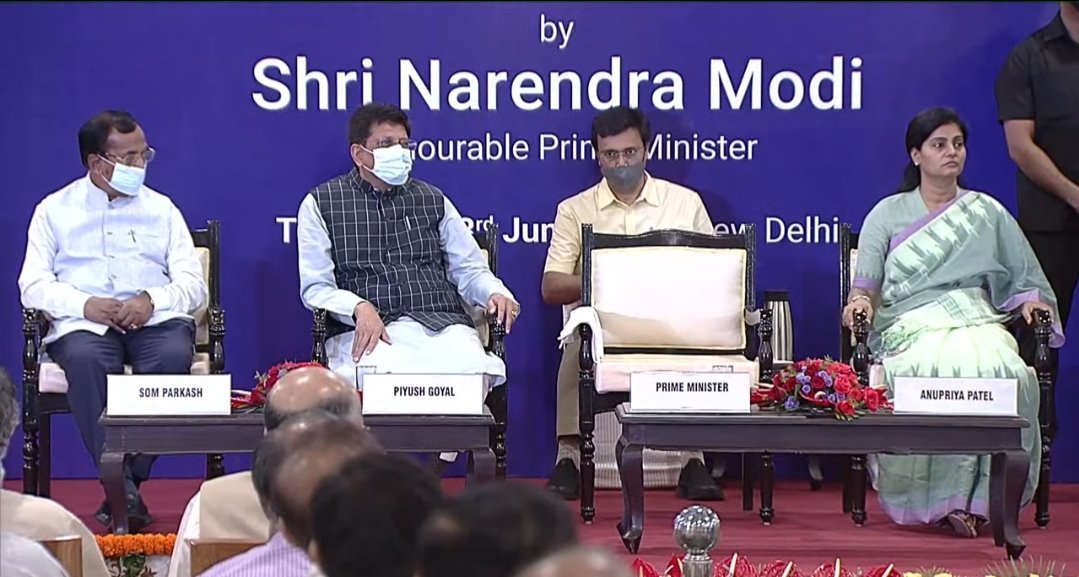 Referring to the new infrastructure of the Ministry, the Prime Minister said that this is also time to renew the pledge of ease of doing business and through that 'ease of living too. Ease of access, he said, is the link between the two. He said that there should not be any hindrances in communicating with the government and making the government accessible with ease is a major priority of the government. This vision is clearly reflected in the policies of the government, he added.
Referring to many examples of the recent past, the Prime Minister said that in the new work culture of New India, the completion date is part of SoP and is strictly adhered to. He remarked that only when the government's projects do not hang for years and are completed on time, similarly, the government's schemes reach their goals, then only, the taxpayer of the country is respected. Now we also have a modern platform in the form of the PM Gatishakti National Master Plan. He said that this Vanijya Bhawan will give a push to the nations 'Gati Shakti'.In conclusion, the Prime Minister requested every department to periodically review the portals and platforms that have been developed in recent times. "The goals with which we have developed these tools, how far they are being achieved and if there is a problem then efforts should be made for solving them."