This year, five films from India have been shortlisted by the Ministry of Information and Broadcasting for Marche Du Films' Goes To Cannes section at the Cannes Film Festival – Baghjan (Assamese-Moran), Bailadila (Hindi-Chhattisgarhi), Ek Jagah Apni (Hindi), Follower (multilingual) and Shivamma (Kannada).
Being a part of the section means that these filmmakers – who were shortlisted by the NFDC Film Bazaar for its Work-in-Progress Lab 2021 – will get to showcase their original work-in-progress titles to sales agents, distributors or festivals.
Ahead of their Cannes debut, we speak to these directors about their films, their journey leading up to the festival and what this exposure means for them
.Shivamma (Kannada)
Director: Jai Shankar
The film – declared one of the winners of the WIP Lab 2021– revolves around a poverty-stricken woman named Shivamma who invests her money in a network marketing business, putting her daughter's marriage at stake in the process. "80% of the film is based on real-life incidents woven into a fictional story. We cast non-professional actors in the film as we wanted to be authentic," says Jai Shankar, who hopes "to find agents who can take our film to international film festivals and of course, distributors" at Cannes.
Baghjan (Assamese)
Director: Jaicheng Zxai Dohutia
This 75-minute feature film in Assamese and Moran – declared one of the winners of the WIP Lab 2021– is about the Baghjan blowout, the oil and gas leak disaster that took place in 2020. "Though it's not a documentary, we filmed it at real locations with real people who have suffered due to this disaster," says director Jaicheng Zxai Dohutia, whose debut feature film Haanduk (The Hidden Corner) won the Best Regional Film award at the 64th National Film Awards. About his film heading to Cannes, he says, "This is indeed a huge opportunity for our film, and I hope that this exposure at Cannes will help the film get funding for the next step of our project."
What is the WIP Lab of the NFDC Film Bazaar?
The Work In Progress Lab of the NFDC Film Bazaar is for feature films aiming for theatrical releases and a maximum of five films are selected for it each year. The directors and editors receive feedback from international mentors. In the past, films such as Paka (River of Blood) (2020), Eeb Allay Ooo! (2018), Lipstick Under My Burkha (2015), Miss Lovely (2011) and Ship Of Theseus (2011) were part of this Lab and premiered in major festivals.
Ek Jagah Apni (Hindi)
Director: Ektara Collective
"Our film is the story of two trans women, Laila and Roshni, who are searching for a house after they are evicted from their place. We cast two trans women in these roles, who were acting for the first time. While writing the film, we even took into account their experiences," say Rinchin and Maheen Mirza from the Ektara Collective, an independent, autonomous group of creative people based in Bhopal, that's earlier made films like Jaadui Machchhi (2013) and Hotel Raahgir (2020).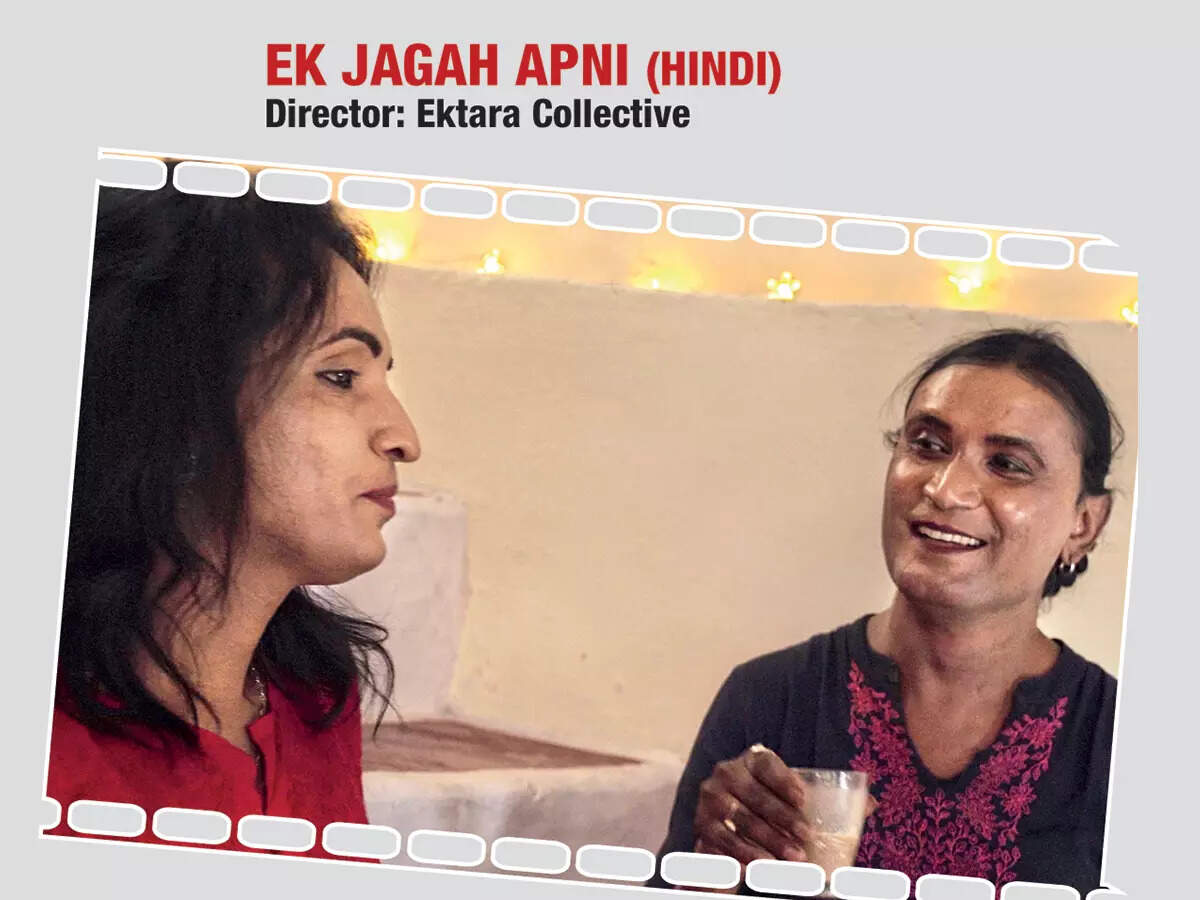 Follower
(Hindi-Kannada-Marathi-Dakhani)
Director: Harshad Nalawade
Follower is a partially crowdfunded film revolving around a journalist in the town of Belgaum, and the conflict between two communities. "I wanted my film's cast to speak the local language of Belgaum, and that's the reason I decided to cast people from Belgaum, and it added a lot of value to the film," says Nalawade. Talking about how the WIP Lab helped shape his film, the director says they realised that for many international mentors it was hard to differentiate between so many different Indian languages."For the international viewer, there is no difference between Marathi and Hindi, so we came up with the solution of separate colours for subtitles for each language. We got objective feedback from mentors and it helped in shaping the film," he says.
Bailadila (Hindi-Chhattisgarhi)
Director: Shailendra Sahu
This is Sahu's debut film, set in a mining town of the same name in Chhattisgarh. "As a boy, I lived in this town for three years (from Class 7-10), and the film is a fictionalized version of my memories," says the Jamia Millia Islamia alumnus, adding, "We had no budget for the film. My friends have acted and worked as crew for free. I told them when I earn money from this film, I'll pay them first." He adds that this will be the first time he's traveling abroad – " aur Cannes toh hamare jaise filmmakers ke liye Mecca Medina hai. I plan to meet sales agents, distributors, and festival programmers so that we can take the film to eastern European film festivals."