Newdelhi:26/1/22:The Nation is celebrating 73rd Republic Day today. The main function was held at Rajpath in the National Capital where President Ram Nath Kovind took the salute of the parade presented by the Ceremonial Battery of 871 Field Regiment. On the occasion, Jammu and Kashmir Police ASI Babu Ram were conferred with Ashok Chakra posthumously for displaying valour and courage during an anti-terror operation in 2020 in Srinagar in which he killed three terrorists. His wife and son received the award from President Kovind.
The Republic Day Parade ceremony started this morning with Prime Minister Narendra Modi visiting the National War Memorial where he led the nation in paying solemn tributes to the fallen heroes by laying a wreath.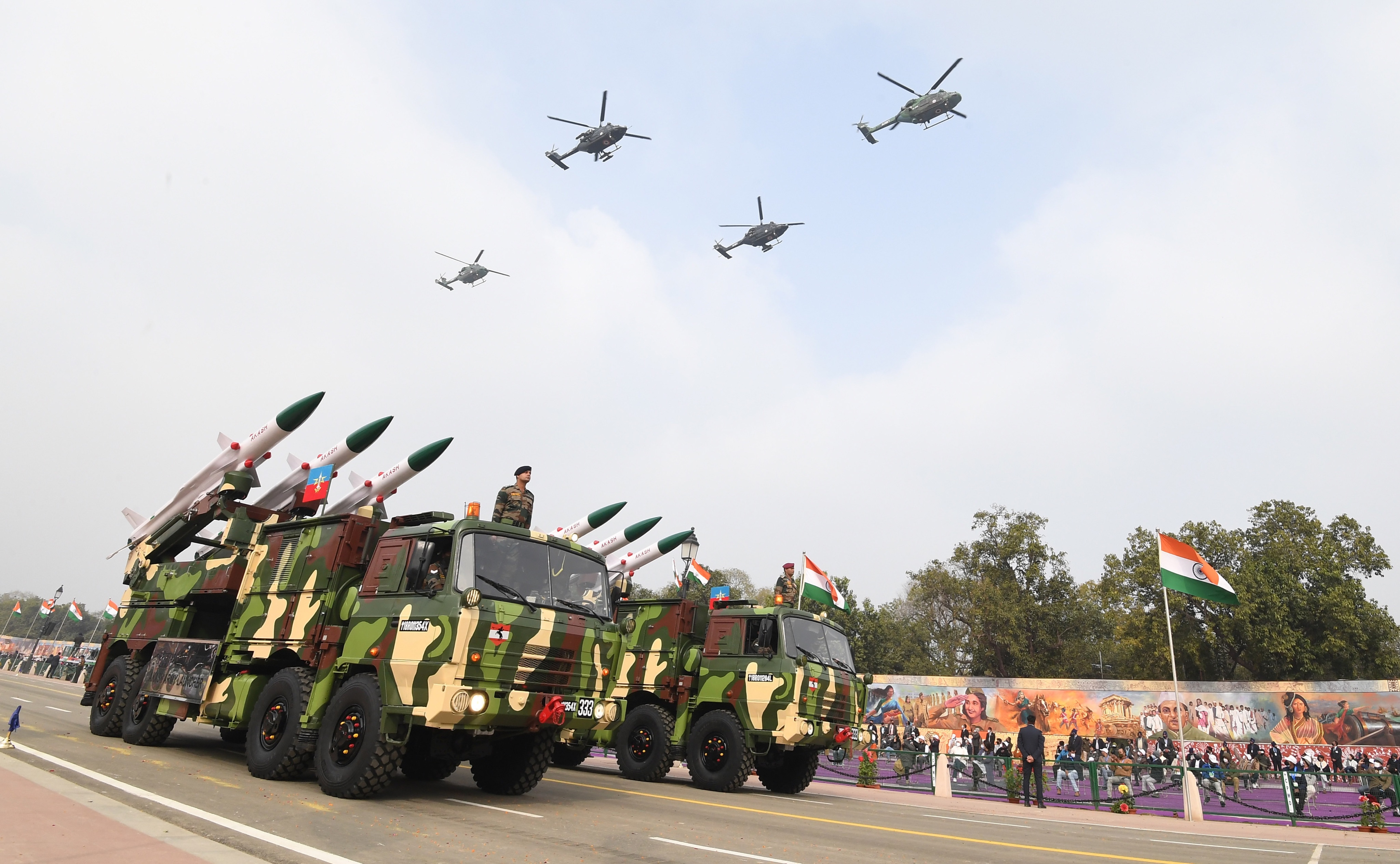 The Ministry of Defence conceptualised a series of new events for the main parade on Rajpath. Special arrangements were made to give an opportunity to those segments of society which usually do not get to watch the parade. Some sections of auto-rickshaw drivers, construction workers, safai karamcharis and frontline health workers were invited to watch the Republic Day Parade.
People braved the biting cold of Delhi and gathered in huge numbers at Rajpath to celebrate Republic Day. There were a total of 16 marching contingents in the Parade – six from the Army, one each from Navy and Air Force, four Central Armed Police Forces, one from Delhi Police, two from National Cadet Corps and one National Service Scheme. They filled the hearts with pride and the air with music. Lieutenant Manisha Vohra leading the Army Ordnance Corps Contingent was a sight to behold. She is the first woman to lead the all-male Army Ordnance Corps contingent.
Adding more colour to the celebrations were the 12 Tableaux from different States, Union Territories and 9 from Ministries and Departments. Biodiversity of Maharashtra, the cradle of traditional handicrafts of Karnataka, Kashi Vishwanath Dham, Meghalaya's 50 years of Statehood, Punjab's contribution in freedom struggle UDAN, National Education Policy, 150 years of Shri Aurobindo, Subhas @ 125 were some of the themes of tableaux. Jal Jeevan Mission, which is changing lives in rural areas of the country, also featured among the themes
.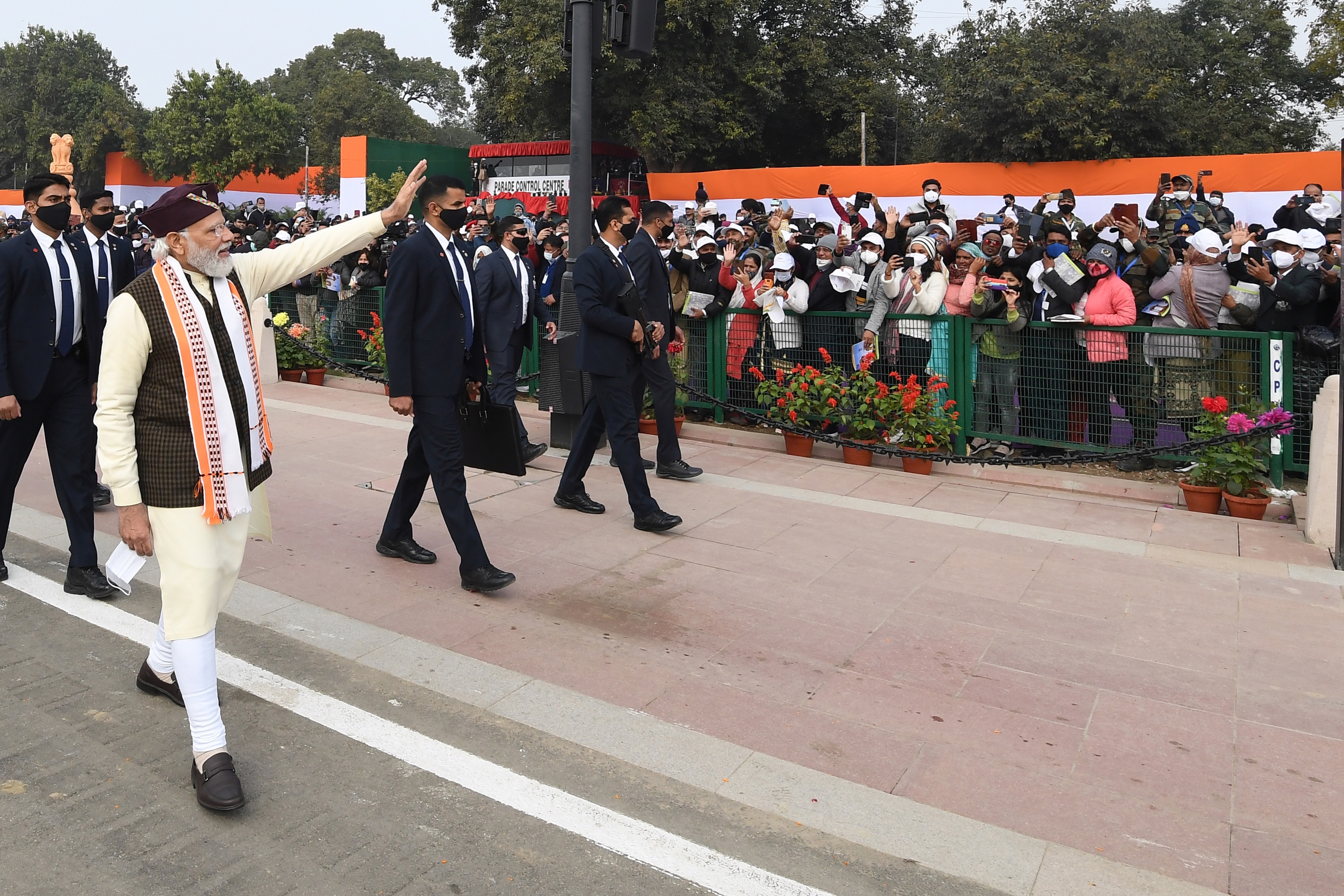 Symbols of Goan Heritage warmed every Goa lover's heart. The tableau showcased Fort Aguada, Martyrs' Memorial at Azad Maidan in Panaji and Dona Paula.The tableau of Haryana had the theme – Number One in Sports!
Besides, 480 dancers were selected through Vande Bharatam dance competition performed today at Rajpath. Detachments of Centurion Tank, PT-76, MBT Arjun MK-I, and APC Topaz participate in the parade.Flypast, which is the most awaited segment, had 75 aircraft and helicopters of Indian Air Force. Vintage as well as modern aircraft like Rafale, Sukhoi, Jaguar, MI 17, Sarang, Apache and Dakota displayed different formations including Rahat, Eklavya, Trishul, Tiranga, Vijay and Amrit.The Ceremony culminated with the National Anthem and release of Tricolour Balloons. This is a day to commit oneself to the service of the nation.