Key Highlight:
Sindhu defeated He Bing Jiao of China by 21-13 and 21-15 in the bronze medal match
President Shri Ram NathKovid and Prime Minister Shri Narendra Modi congratulate Sindhu  for her stupendous performance
Congratulating Sindhu, Sports Minister Anurag Singh Thakur says, you made history
Tokyo:1/8/21:Indian shuttler P V Sindhuwon the bronze medal in women's single match in Tokyo Olympics today. PV Sindhu defeated He Bing Jiao of China by 21-13 and 21-15 in the bronze medal match and became the first Indian woman to win two Olympic medals. Sindhu won silver at Rio 2016. Wrestler Sushil Kumar is the first and only other Indian to win two Olympic medals. President Shri Ram NathKovind, Prime Minister Shri Narendra Modi, Sports Minister Shri Anurag Thakur and Indians from all corner of the country congratulated PV Sindhu for her achievement.
President Sri Ram NathKovind wished Sindhu on her win. ShriKovind tweeted,""PV Sindhu becomes the first Indian woman to win medals in two Olympic games. She has set a new yardstick of consistency, dedication and excellence. My heartiest congratulations to her for bringing glory to India."
Prime Minister Shri Narendra Modi congratulated Sindhu for her performance. Shri Narendra Modi tweeted, "We are all elated by the stellar performance by @Pvsindhu1. Congratulations to her on winning the Bronze at @Tokyo2020. She is India's pride and one of our most outstanding Olympians."
Congratulating P V Sindhu, Sports Minister Anurag Singh Thakur tweeted, ""SMASHING VICTORY PV Sindhu !!! You dominated the game & made history #Tokyo2020 ! An Olympic medalist twice over! India is so proud of you & awaits your return! YOU DID IT !"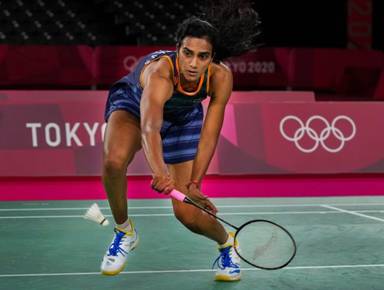 PV Sindhu is a Silver Medalist (Rio 2016 Olympics). Her parents were both national-level Volleyball players. Her father is an Arjuna Award Recipient.  She started playing badminton at the age of 8 under the guidance of Mehboob Ali and learnt the basics of badminton at the badminton courts of the Indian Railway Institute of Signal Engineering and Telecommunications in Secunderabad. She traveled a distance of 56KM every day from her residence to the badminton courts to learn and practice the sport. She joined the PullelaGopichand Badminton Academy and won several titles under the 10-years category.
Personal details:
Date of Birth: July 05, 1995
Home location: Hyderabad, Telengana
Training Base: PGBA & GMC Balayogi Sports Complex, Gachibowli
Personal Coach: Park Tae Sang
National Coach: PullelaGopichand
Achievements:
Silver Medal, Rio Olympics 2016
Gold Medal, CWG 2018 (Team Event)
Silver Medal, CWG 2018
Silver Medal, Asian Games 2018
World Champion, 2019
Key Govt. Interventions
Visa Support Letters for various international competitions and foreign trainings
Physiotherapist and Fitness Trainer supported under TOPS for International Competitions and foreign training.
Physiotherapist Support under TOPS (GayatriShetty for 03 months in 2018)
Financial assistance towards 52 International Competitions in the current Olympic Cycle
Provided Game Ready Recovery System,for carrying to Tokyo to support her quick rehabilitation. The amount was released to her within 24 hours of her request.
Special training at Gachibowli Stadium in collaboration with Telangana State, including funding for the Court Mats placed there.
Provision for Individual Foreign Coach – Park Tae Sang under ACTC.
Logistical support for international competitions during COVID for her and her personal staff.
National Coaching Camp under ACTC
Conducted Sensitization programs for understanding of Covid-19 protocols, Life at Tokyo, Anti Doping and travelling from India with pride.
Financial Assistance
TOPS: Rs 51,28,030
ACTC: Rs 3,46,51,150
TOTAL: Rs 3,97,79,180
AWARDS
Padma Bhushan (2020)
Padma Shri (2015)
Rajiv Gandhi KhelRatna Award (2016)
Arjuna Award (2013)
Grassroot Coach: Mehboob Ali (Age:8-10), Mohammad Ali, Arif Sir, Goverdhan Sir & Tom John (Age:10-12)
Development Coach:PullelaGopichand& Various at Gopichand Academy
Elite Coach:Mulyo, Kim, Dwi, Rifan& Park Tae Sang (2018 onwards till now)