Newdelhi:19/12/Dr. Harsh Vardhan, Union Minister of Health & Family Welfare chaired the 22nd meeting of the high-level Group of Ministers (GoM) on COVID-19 by a video-conference, here today. He was joined by Dr S. Jaishankar, Minister of External Affairs and Sh. Hardeep S. Puri, Minister of Civil Aviation, Sh. Ashwini Kumar Choubey, Minister of State, Health & Family Welfare and Sh. Nityanand Rai, Minister of State, Ministry of Home Affairs. Dr. Vinod K Paul, Member (Health), NITI Aayog, Sh. Amarjeet Sinha, adviser to Hon. Prime Minister and Sh. Bhaskar Khulbe, adviser to Hon. Prime Minister were present virtually.
Observing the fact that despite festivals in the month of October November, no new surge of cases were observed in this period due to comprehensive testing, tracking and treatment policy implemented on the ground, the Union Health Minister and Chairperson of the GOM reiterated his concern and appeal to diligently maintain COVID Appropriate Behaviour even at a time when the country is at the cusp of authorizing the first set of vaccines. He also expressed the need for an expeditious vaccination drive to cover all the target populations estimated to be around 30 crores.
Dr. Sujeet K Singh, Director (NCDC) presented a detailed report on how the data driven graded government policies have helped India achieve a significant control over the pandemic. He showed figures related to number of cases, number of deaths, their growth rate and how they compared favourably to the rest of the world which is witnessing a meteoric rise in these parameters. He presented a granular analysis of the trajectory of the pandemic in each state pointing out critical parameters like positivity, RAT & RT-PCR percent breakup, concentration of cases in particular districts and other trends like fatality, and fatality within 48 and 72 hours of hospitalization. He also presented data on the total dedicated Covid-19 facilities in the country.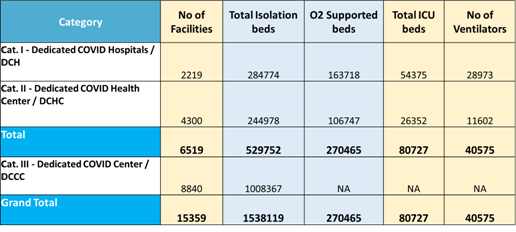 Sh. Ravi Capoor, Secretary (Textiles), Ms. S. Aparna, Secretary (Pharma), Shri Amitabh Kant, CEO NITI Aayog, Sh. Govind Mohan, Addl. Secretary (Home Affairs), Sh. Dammu Ravi, Addl. Secretary (MEA), Sh. Arun Kumar, DGCA (Civil Aviation), Sh. Amit Yadav, DG, Foreign Trade (DGFT), Sunil Kumar, DGHS and other senior government officials participated through virtual media. Dr. Samiran Panda (NICED) represented the Office of DG (ICMR).