Mumbai:6/8/20:National Film Development Corporation is organizing a first of its kind, online patriotic film festival. The festival, a part of Independence Day Celebrations 2020 by the Ministry of Information and Broadcasting, begins on 7th August 2020 and runs till 21st August. The festival will showcase Indian history that marks the bravery of our freedom fighters and aims to create a festive and patriotic mood among Indians across the globe.
The festival will showcase high-quality Independence Day themed patriotic films daily at the websitewww.cinemasofindia.comfree of cost.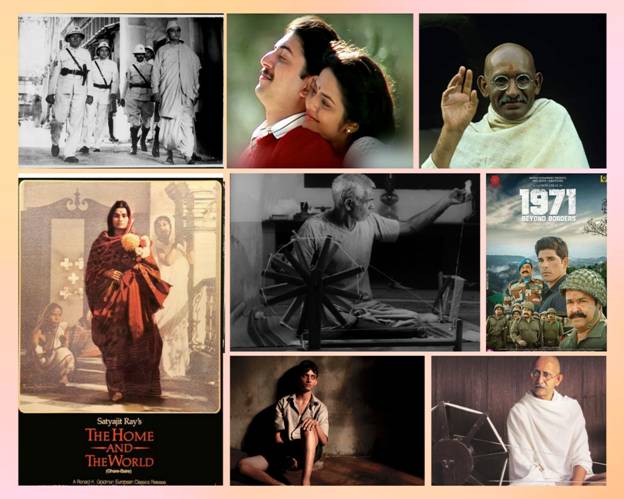 Critically acclaimed films from various Indian languages including Hindi, Marathi, Telugu, Tamil, Bengali, Gujarati and Malayalam will showcased in the festival. The selection showcases a consolidated collection of films from National Film Development Corporation (NFDC), National Film Archive of India (NFAI), Children's Film Society India (CFSI) and Films Division.
Moreover, for the first time ever, the film Gandhi (1982) by Sir Richard Attenborough will be made accessible and can be enjoyed by people with vision and hearing impairment.
The link will be hosted on the website of MIB (mib.gov.in), and the social media handles of Press Information Bureau and MyGov. Additionally, the same link will be shared with the Ministry of External Affairs for sharing it further with the Indian missions abroad.
The films which will be showcased are:
Independence Day Film Festival 2020 – Film List
Sl.No.
Name of the Film
Language
Year
Director
1
Gandhi (Accessible)
Hindi
1982
Sir Richard Attenborough
2
Gandhi
Hindi
1982
Sir Richard Attenborough
3
Chittagong
Hindi
2012
Bedabrata Pain
4
The Legend Of Bhagat Singh
Hindi
2002
RajkumarSantoshi
5
Tango Charlie
Hindi
2005
Mani Shankar
6
Khakhee
Hindi
2004
RajkumarSantoshi
7
Gandhi Se Mahatma Tak
Hindi
1996
ShyamBenegal
8
Qayamat – City Under Threat
Hindi
2003
Harry Baweja
9
Batallion 609
Hindi
2019
BrijeshBatuknathTripathi
10
PehlaAadmi
Hindi
1950
Bimal Roy
11
Life of Netaji Subhash Chandra Bose
Hindi
2004
Live Footage/NFAI
12
Bapu Ne KahaTha (Gandhiji's Saying)
Hindi
1962
Vijay Bhatt
13
AbhiKal Hi Ki Baat Hai (Not So Long Ago)
Hindi
1970
Clement Baptista
14
HedaHoda (The Blind Camel)
Hindi
2003
Vinod Ganatra
15
ChotaSipahi (The Little Soldier)
Hindi/English
2004
JayshreeKanal& A S Kanal
16
The Making of the Mahatma
English
1996
ShyamBenegal
17
VeeraPandiyaKattabomman
Tamil
1959
B. RamakrishnaiahPanthulu
18
Roja
Tamil
1992
Mani Ratnam
19
Andhra Kesari
Tamil
1983
Vijaychander
20
1971- Beyond Borders
Malayalam
2017
Major Ravi
21
VandaeMaatharam
Malayalam
2010
T. Aravind
22
Uttarayanam
Malayalam
1974
G.Aravindan
23
UdayerPathey (Towards the Light)
Bengali
1944
Bimal Roy
24
42/Forty-two/Biyallish
Bengali
1949
Hemen Gupta
25
Subhash Chandra
Bengali
1966
Piyush Bose
26
HagaluVesha
Kannada
2000
Baraguru
Ramachandrappa
27
Harun Arun
Gujarati
2009
Vinod Ganatra
28
Senani Sane Guruji
Marathi
1995
Ramesh Deo
29
Spread The Light of Freedom (HarDil Main JagayenRashtraJyot)
Musical
1996
Films Division
30
The Flag (My India, Our India)
Musical
1999
Films Division
31
Ae VatanTereLiye
Hindi
1999
Films Division
32
Shahadat
Hindi
2001
Films Division
33
NM0552 : VandeMataram
Hindi
2007
Films Division
34
Sat SatPranam
Hindi
2008
Films Division
35
SatyamevaJayate
Hindi
1972
Films Division
36
13 04 1919 (L.V.)
Hindi
2019
Films Division
37
India Independent
English
1949
Films Division
38
India Wins Freedom
English
1985
Films Division
39
We The People of India
English
1986
Films Division
40
1857 – A Salute
English
2008
Films Division
41
The Flag Flies High
English
2011
Films Division
42
Sardar Patel : A Nation Stands United
English
2016
Films Division
43
A Song Eternal
English
1976
Films Division