Stockholm:14/10/19: The Royal Swedish Academy of Sciences has awarded the 2019 Nobel Prize for Economics to Abhijit Banerjee, Esther Duflo and Michael Kremer.
The three were awarded the prize, officially known as the 'Sveriges Riksbank Prize in Economic Sciences in Memory of Alfred Nobel', for their experimental approach to alleviating global poverty.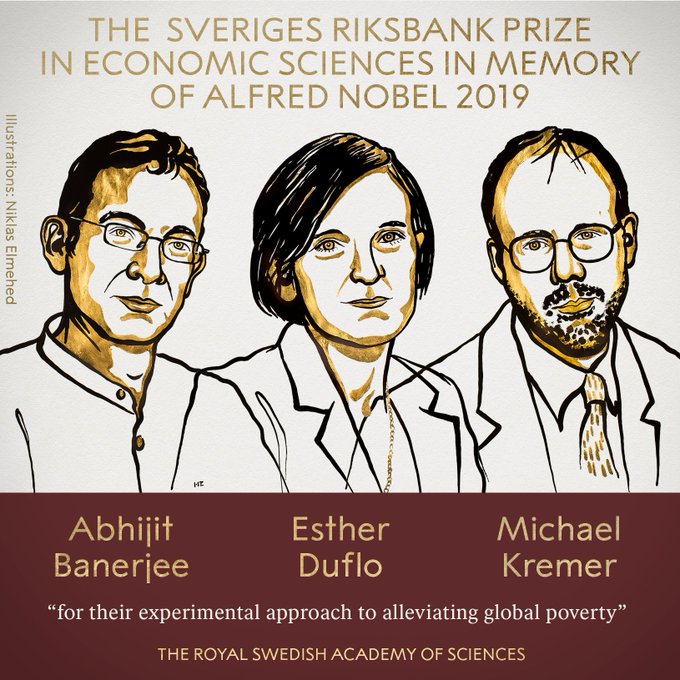 "Abhijit Banerjee and Esther Duflo, often with Michael Kremer, soon performed similar studies of other issues and in other countries, including India. Their experimental research methods now entirely dominate development economics," the committee said in a tweet.
Banerjee was educated at the University of Calcutta, Jawaharlal Nehru University (JNU) and Harvard University, where he received his PhD in 1988. He is currently the Ford Foundation International Professor of Economics at the Massachusetts Institute of Technology (MIT).
Notably, the prize was created by Riksbanken, the Swedish central bank, in 1968, and the first winner was selected a year later. So far, 81 Nobel laureates in economic sciences have been awarded.
Last week, six Nobel prizes were given medicine, physics and chemistry plus two literature awards, and the coveted Peace Prize.