Bhubaneswar:30/6/19: As the International Day of Parliamentarism was observed across the globe on June 30, Odisha Chief Minister Naveen Patnaik acknowledged the roles played by the parliamentarians.
The BJD Supremo took to the microblogging site and pledged to "make the pillar of democracy robust to reflect the true voice of people, advancing their aspirations".June 30 is the day designated to celebrate the International Day of Parliamentarism. This date was chosen by the United Nations General Assembly in Resolution 72/278 as it coincides with the day in 1889, close to 130 years ago, that the IPU—the global organization of parliaments—was founded.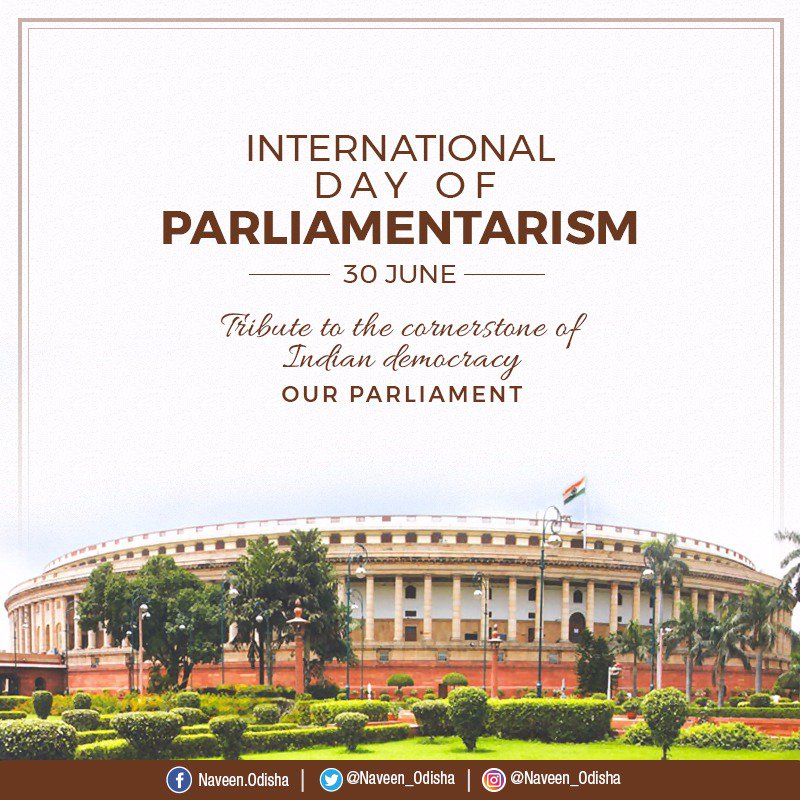 This Day celebrates parliaments and the ways in which parliamentary systems of government improve the day-to-day lives of the people world over. It is also an opportunity for parliaments to take stock, identify challenges and find out ways to address them effectively.
The United Nations General Assembly proclaimed the Day in May 2018 itself through its resolution A/RES/72/278, recognising the role of parliaments in national plans and strategies.
The resolution called on the United Nations system and Member States to work more closely with parliaments as well as the Inter-Parliamentary Union (IPU) on issues relating to human rights, health, gender equality, peace and youth empowerment.
The parliaments represent the voice of the people, pass laws, allocate funds to implement laws and policies and hold governments to account.
International Day of Parliamentarism is not only an occasion to stress the critical importance of parliaments in any democratic society but also to reinforce the call for a global parliament.
The first International Day of Parliamentarism was celebrated on June 30th, 2018, to highlight the role of parliaments worldwide as indispensable cornerstones of democracy.