Bhubaneswar:31/12/18:"Satadalare Yagnaseni" , a literary event with a difference organized by the reputed publication house,Adya Prakashanee, marked the release of the 100th edition of eminent writer Pratibha Ray's epic novel, Yagnaseni i(Odia). The Chief Guest of the occasion, Dr.Sitakant Mahapatra released the 100th edition of Yagnaseni i in an exclusive ceremony at city Hotel among a galaxy of writers, translators, critics and readers on 30th Dec 2018.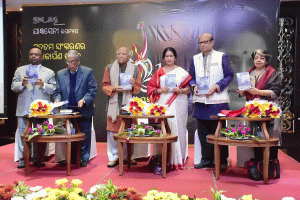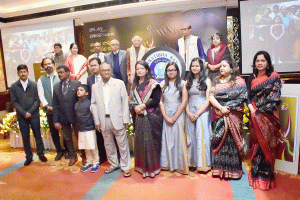 This occasion also marked the release of the Pratibha Ray Foundation Trust, formed by Pratibha's family members with the goal of preservation and propagation of Pratibha's and Odia literature.Dr.Pradip Bhattacharya, Guest of Honour released the Hindi translation of Ray's "Magnamati", published by the prestigious publication house,Rajpal & Sons, New Delhi.Meera Johri  released yet another book of Pratibha Ray, "College Gapa".The Chief Speaker, Shri Basant Panda, elaborated on the significance of Jagyaseni as a unique and timeless creation.The President, Shri Debi Prasanna Patnaik,highlighted the importance of Yagnaseni as Pratibha's best creation.
The writer, in her speech said she sat on the ground and wrote with blood. She spoke about her tryst with Jagyaseni and how the readers and her fans had been instrumental in making her a household name through their appreciation for this novel.The writer was felicitated with a standing ovation by the audience as she was felicitated by her loyal fans from all corners.The President, Odisha Society of Americas Shri Lalatendu Mohanty, The President , Canosa, The Canada Society of , Smt.Sunanda Panda , Shri Dhirendra Kar from Raleigh, US were also present on this occasion.The welcome address was delivered by Dr.Adyasha Das while the vote of thanks was given by Shri Lalit Das, ADG, Odisha Police.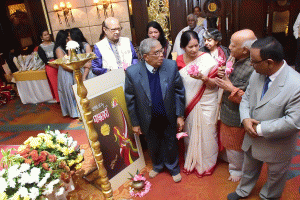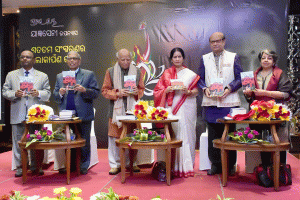 Twenty translators of Pratibha's works representing different Indian languages, publishers as well as distributors were felicitated , a gesture that was the first of its kind.The second session was the cultural program of various events showcasing Jagyaseni.Shri Lalit Das & Shri Tanmay Panda presented brilliant saxophone and vocal performances.The audience were spellbound with the Pala adaptation of Jagyaseni, splendidly staged by Khageswar Martha and his friends.This was followed by the screening of the dance adaptation of Jagyaseni by Shrimati Kumkum Mohanty. The program was hosted by Shri Deba Prasad Dash
PRATIBHA SAMMANA
Anubada:
Sankarlal Purohit, Hindi
Pradeep Bhattacharya, English
Kavita Dutta Goswami, Assamese
Jayashree Mohanraj, Telugu
Bhagirathi Nanda, Sanskrit
Bharati Nandi, Bengali
Bindya Suba, Nepali
Rajendra Prasad Mishra, Hindi
Radha Joglekar, Marathi
V.S. Joglekar, Marathi
Bikram Das, English
Prafulla Kumar Mohanty, English
Monalisa Jena, English
Abdul Matin Jami, Urdu
Annie Ray, Hindi
Prakashan Pratibha Sammana
Meera Johari, Rajpal & Sons, Delhi
Kapish Mehra, Rupa & Co. Pvt. Ltd., Delhi
Soumyaranjan Sahu, Nalanda Prakashani
Kala Pratibha Sammana
Shri Ashok Mohanty, Eminent Artist, Bhubaneswar
Shri Soman Patnaik, Eminent Artist, Bengaluru
Pustak Prasar Pratibha Sammana
Shri Arun Kumar Mishra, Cuttack
Shri Soumyakanta Khandai, Cuttak
Shri Satya Narayan Choudhury, Cuttack
Shri Akshaya Kumar Nayak, Bhubaneswar