Bhubaneswar:26/12/18: A couple of day after Prime Minister Narendra Modi targetted the Naveen Patnaik government on the issue of corruption and posed some unpleasant questions during his Odisha tour, senior party leaders Dharmendra Pradhan and Juel Oram on Wednesday launched a frontal attack on the Chief Minister, accusing him of misleading people about centrally-sponsored schemes, ignoring farmers plight and resorting to double-standard on women's issues.
Sounding the poll bugle ahead of Lok Sabha and assembly elections slated next year, both the leaders accused the ruling dispensation of failing to utilise central funds and providing lands as promised for expeditious completion of rail and road infrastructure in the state.
Launching the party's 'Jabab Maguchhi Odisha' campaign' coinciding with BJD's foundation day celebration, Dharmendra said the campaign is aimed at encouraging voters to ask questions which would then be forwarded to the Naveen Patnaik government. "I hope the questions will wake up the administration from its deep slumber. Its days are numbered now," he said a gathering on the occasion, graced by top state BJP functionaries.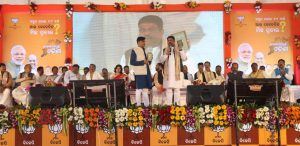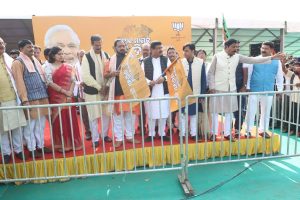 Giving a point-by-point rebuttal to questions which the CM posed to the Modi government at the foundation day event, Dharmendra said that he had no rights to do so when his administration itself had failed on all fronts.
Through his questions, Naveen had slammed the Centre over the worsening NHs, poor mobile connectivity and non-completion of Khurda-Balangir railway line. Dharmendra dismissed the charges.
The Petroleum Minister challenged the CM to show him an "inch of land" which the state had provided as promised for completion of the Khurda-Balangir project. He alleged that the indifferent attitude of the state government was visible in the Talcher-Bimlagarh as well as the Paradip-Haridaspur rail projects. His Cabinet colleague Oram claimed lands for coastal highway project were not provided either.
Taking potshots at the CM's style of functioning, Oram said he managed to run the government on the "name and the legacy" left by his father late Biju Patnaik but now people have come to realise the follies of this administration.