What transpired in the mind of this strong woman of character as she submitted herself to the tragic turn of events in her life? The dance ballet, which is based on the Oriya novel "Yajnaseni' by Pratibha Ray attempts to look into the mind of Draupadi, as she submits herself to grievous acts even by her own- her sense of duty that makes her accept the five Pandavas as her husbands, her confusion at having to share herself with the five brothers, her intense feelings of jealousy and sadness when Arjun returns after 12 years with a new bride Uttara (Lord Krishna's sister), her begging and pleading with her five husbands to help save her dignity after they have lost her in a game of chess, her reaction to the war itself and the final scene where her five husbands, in their quest to reach heaven, leave her behind alone in the Himalayas and she is enveloped by the icy cold mountains, as she chants the name of Lord Krishna.
The dance ballet succeeded in essaying the mind of Draupadi brilliantly. Looking stunningly beautiful, graceful and every bit the character she was portraying, Hema Malini walked the audience through her life with scenes depicting her swayamvar, her vastra-haran, the incidents leading to the kurukshetra war etc. Her heart warming, playful relationship with Lord Krishna was also subtly brought to the fore.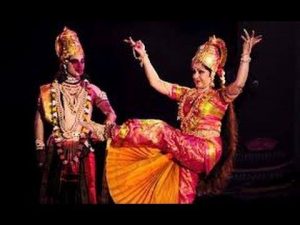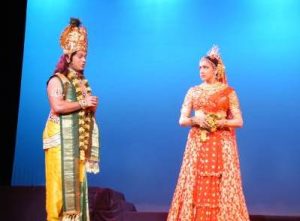 Very few in the audience would have remained untouched by the moving story of Draupadi, retold from her perspective. One couldn't help but wonder about the complexities of her life, and feel indignant about the way she was treated even by her own husbands, in return for her selflessness and care.
With fluid dance moves and compelling expressions, Hema Malini brought alive the complex character of Draupadi against the backdrop of the epic 'Mahabharata' in a dance ballet of the same name. The ballet was organized by the Georgia Association of Physicians of Indian Heritage (GAPI) for the American Association of Physicians of Indian Heritage (AAPI) Charitable Foundation at the Clayton County Schools Performing Arts Center on October 9th.
'Draupadi' was presented by Naytyavihar Kala Kendra and choreographed by Bhushan Lakandari. Around 25 artistes breathed life into the ballet against a very dramatic and colorful stage setting that included an audio-visual presentation of the central character of Draupadi narrating the turn of events in her life and speaking aloud her thoughts.